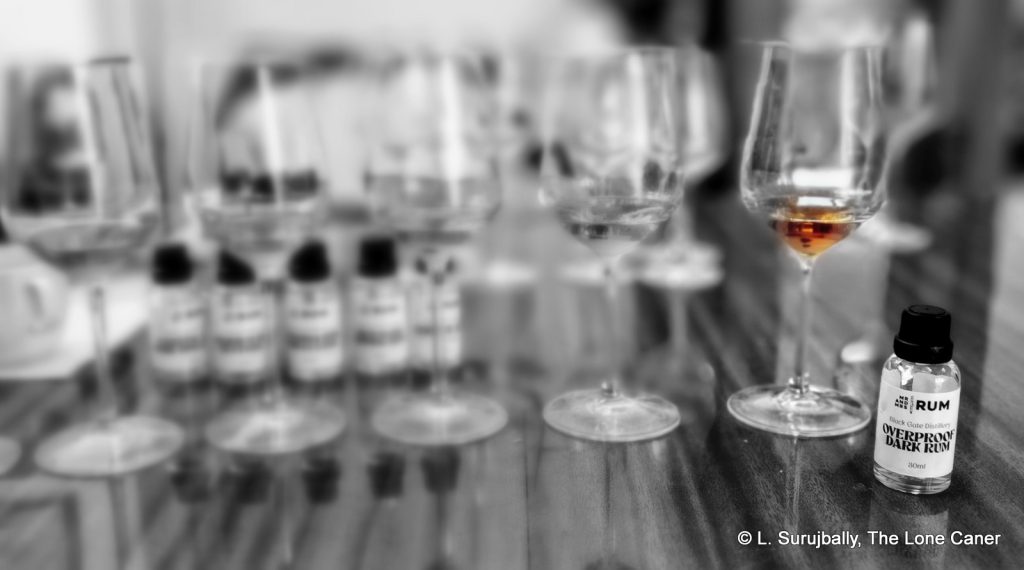 Without question, Black Gate Distillery's "overproof" rum 1is one of the best of the crop of the New Australians that I've tried in the last years, and the standout of the 2021 advent calendar. It is a 52% pot-still molasses-based bag of bragaddocio, it sports an attitude, it's big, it's bold, and completely the sort of thing John Wick would have in order to finish off the evening in a style we can best describe as, oh, "assertive".
This is all the more remarkable since we're talking about not only a relatively new distillery (founded in 2009) with relatively few products, but a rather young rum – it's three years old. Yet it deserves the accolade, because its aromas it displays and the quality of the first few minutes with it not only set the tone for all that comes after, but suggest there's even better to come in the years ahead.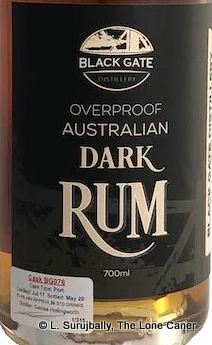 Consider how it opens: it's, in a word, lovely. It blows right out of the glass, and reeks of rich red wines, plums, blackberries and cherries on this side of too ripe. It reminds me of the Tin Shed S.S. Ferret rum I looked at before but without the dusty, cereal, mouldy notes of an abandoned house. Here the house is in fresh paint and good nick, and you smell that glossy paint, varnish, furniture polish, acetones; and if that isn't enough, the depth of the aromas provides more – strawberries, sorrel, the pungent smell of mauby. I got a well-remembered sense of my mom's kitchen in Guyana just nosing the thing.
The palate doesn't drop the ball in the slightest. The 52% strength allows the rum's profile to be really robust, precise: it's dry, with dark fruit bonded to crisp herbals, and solid initial notes of brine, olives and spicy miso soup. It's around the edges that other fruits come out to play – sweet Thai mangoes, apricots, cherries, raspberries, attended to by honey, salt, cloves and even a flirt of lemon zest and cumin. The finish is long and doesn't introduce anything new, and functions more as a summing up of most of what came before – some dark fruits, a touch of vanilla, red wine, caramel, sorrel, lemon zest and cranberries – which I assure you is more than enough to elevate this rum beyond the mere ordinary.
About the only thing you have to watch out for is which one you're getting, because there are several bottlings under this name, and each set comes from a single aged cask (or two) with its own identifier – the rum I speak of here is from casks #BG081 and 82, distilled in September 2017, bottled in November 2020, and if my reading around is right, just about everyone who has had one of these overproofs really really likes it.
They're right to do so. It is, I feel, a really fantastic young rum, and one can only wonder where it would be in another five years (or ten) if they had kept any behind to age some more. I know many reading this will prefer their old tried and true Caribbean varietals, but I can wholeheartedly endorse this new Australian expression. It's as near to an exquisite badass as you can possibly get without being ten proof higher and ten years older. Too many rums we try these days are similar variations on old themes which have lost some lustre and originality, so it can be wonderful to find a rum like this, which finds a different way to tell the same story in a new and exciting way.
(#929)(86/100) ⭐⭐⭐⭐
---
Other notes
Founded in

2009,

Black Gate Distillery is located in Central West New South Wales

,

in the small rural town of Mendooran

.

Like most of the micro-distilleries of the New Australians

,

it's a husband and wife operation where

–

in this case

–

Genise Holingsworth does the good stuff and makes the rum

,

while her husband Brian dutifully makes that other obscure drink and handles the maintenance aspects

(

he's a fitter machinist and auto mechanic by trade

).

They sourced two pot stills

–

relatively small at

630

litres and

300

litres capacity

–

and work with food grade molasses

,

commercial yeast and water

,

to make their various rum expressions

.

All are small batch

,

which stands to reason when one considers that the rum output of the small operation is only about 2o00 litres annually

.

So far

,

Black Gate makes various Dark Rums

,

overproofs mostly with different finishes or cask maturations

,

and one called Tawny

.

Aside from whiskies

,

no cash flow stalwarts such as gins or "cane spirit" seem to be made

.

Rums are aged in Port or Sherry casks

(

or both

)

for a minimum of two years

.

This

rum

was aged for three years in two Australian port

(

'tawny'

)

casks

:

one of 225L and the other of 100L

.

A more recent

54.6%

edition

of the overproof was aged for five years

.

Labels are all the same for all these dark overproof rums no matter when made

:

the specifications are

,

in a clever bit of economising

,

white printed stick-ons

.