Rumaniacs Review #134 | 0902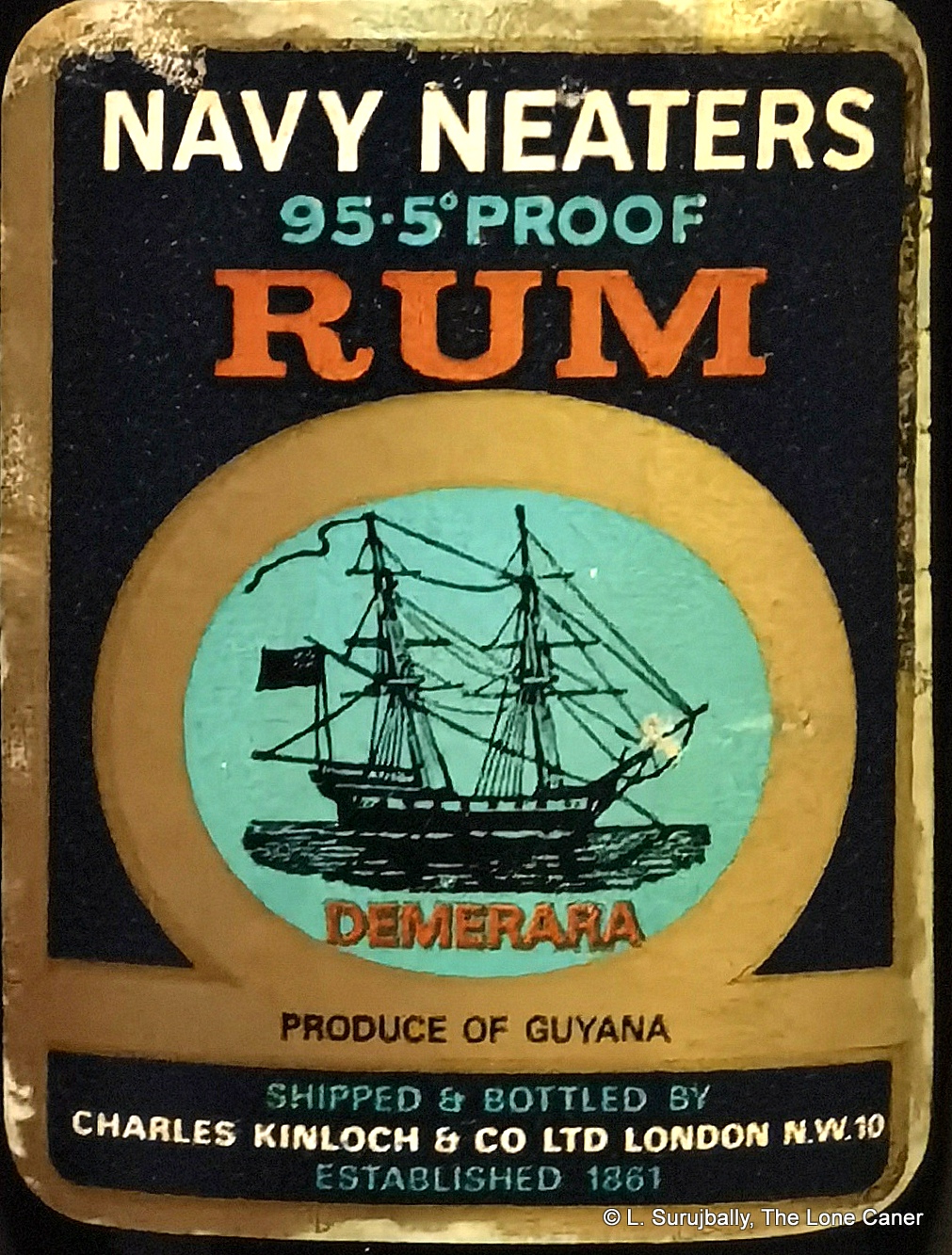 Back in 2015 I tasted another one of these older Navy-style rums, also called Navy Neaters and I have no idea why that rum didn't make the Rumaniacs series. That one was a Guyana-Barbados blend, while this one is Guyana only; both were made by the same company of Charles Kinloch & Co. Kinloch made light white filtered rums and a Jamaican or two, plus various blends, but by the 1980s no rum bearing the Kinloch name were being made any longer.
Four basic background facts are involved here and I'll just give them to you in point form.
"Neaters" were the full strength (neat) rum served onboard ship to the petty officers (NCOs) and above; ratings (regular sailors), were served with a measure of rum famously known as the tot, which was usually diluted and also called grog, and if you don't know the terms, well, are you sure you're into rum?

The rum is bottled at 95.5º proof, and the ABV conversion is not actually half that (47.75%) according to modern measures, but 54.5%. And that's because originally 100 proof rum was actually ~57% and so the maths works out to true navy strength of 54.5%. You can read a

brief explanatory essay on the matter

to get the gist of it, or a more involved discussion on the Wonk's site on strength (here) and Navy rums generally (here)

The spelling of Guyana makes the rum date to post-1966 (independence). The use of degrees (º) proof is a vestige of the British imperial measurement system abandoned for metric in 1980 so 1970s is the best dating for the Neaters we can come up with.

Charles Kinloch & Son were wine and spirits merchants who were in existence since 1861, and formally incorporated as a company in 1891. They eventually joined the Courage Brewery group in 1957 – the Kinloch brand was retained, and they issued several rums from Barbados, Guiana and Jamaica. Courage itself had been around since 1757 and after many mergers and acquisitions was taken over by the Imperial Tobacco Group in 1972, eventually passing to the Foster's Group in 1990. In 1995 Scottish & Newcastle bought Courage from Foster's and it changed hands again in 2007 when Wells & Young's Brewing company bought all the brands under that umbrella.  By then Navy Neaters had long been out of production, Kinloch was all but forgotten and the company was formally dissolved in 2008 after having been dormant for decades. The current holding company of the Courage brand name is now is more involved in pubs and beers in the UK than in rums of any kind. (As an aside, Kinloch's building at 84 Back Church Lane E1 1LX, complete with a sign, is still visible on

Google Maps's street view

– it was converted to apartments in

1999

, but the sign remains)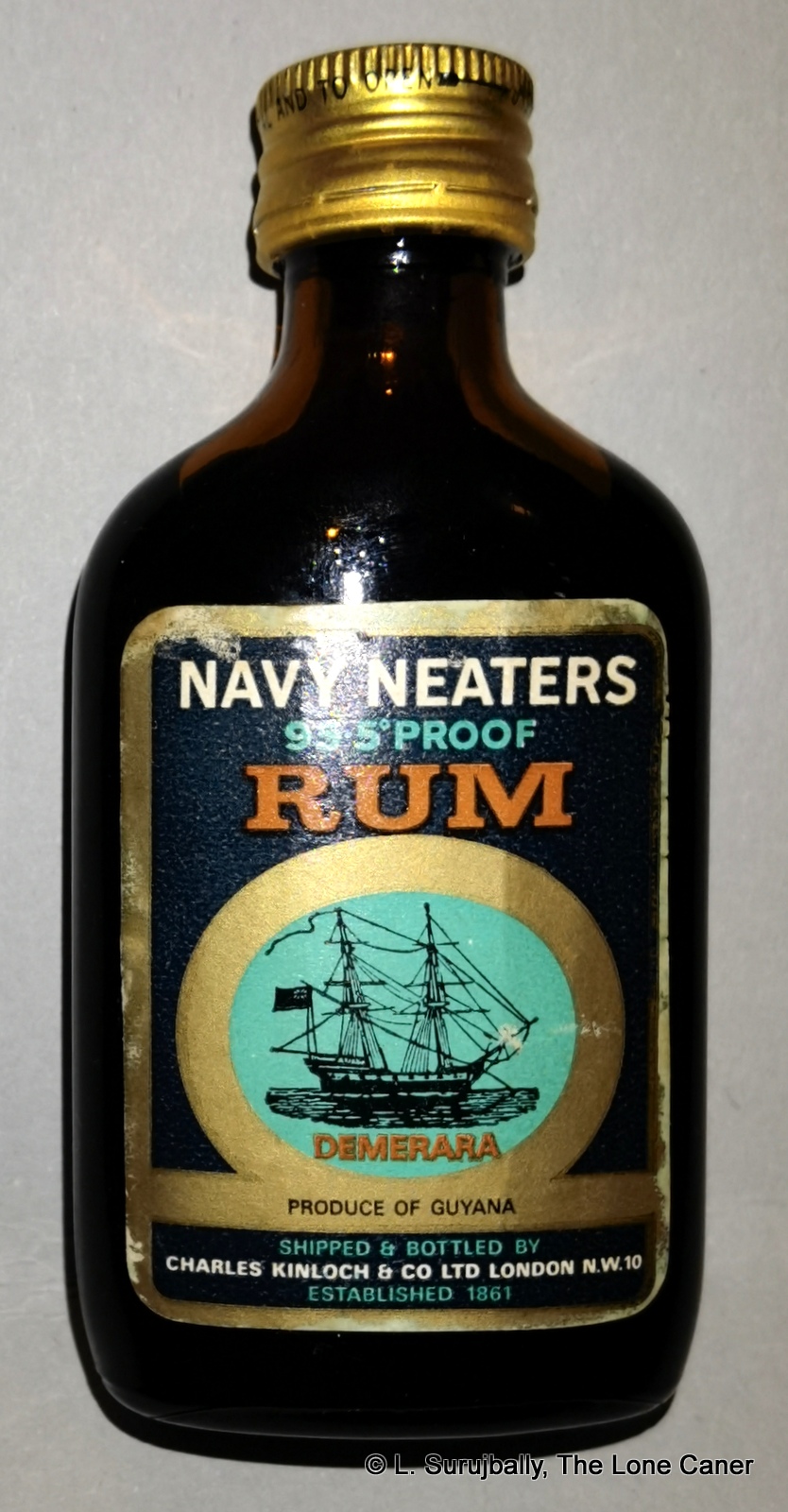 Colour – dark mud brown
Strength – 54.5%
Nose – Tree bark, mauby, dark unsweetened chocolate, white grapes,  Airy and sweet.  Coca cola, raisins, molasses and strong dark licorice.
Palate – Dark licorice, leather, cola; plums and mauby drink. There's some bitterness of coffee grounds and very powerful unsweetened black tea, plus some prunes and plums. The heaviness suggests some doctoring, but was unable to confirm this at the time.
Finish – Long, thick, tongue-coating, sweetish.  Feels longer than it is.
Thoughts – Rums from the past hailing from familiar distilleries which are tasted with modern sensibilities and an experience with modern rums, are a window into the way things were a long time ago: blends, ferments, ageing, stills, all aspects of the production process made for completely different rums.  I would peg this as a Demerara rum, sure, and probably PM or VSG distillate. Beyond that, it's just a pleasure to marvel at how well the familiar Guyanese wooden still profile has held up over the decades.
(85/100)