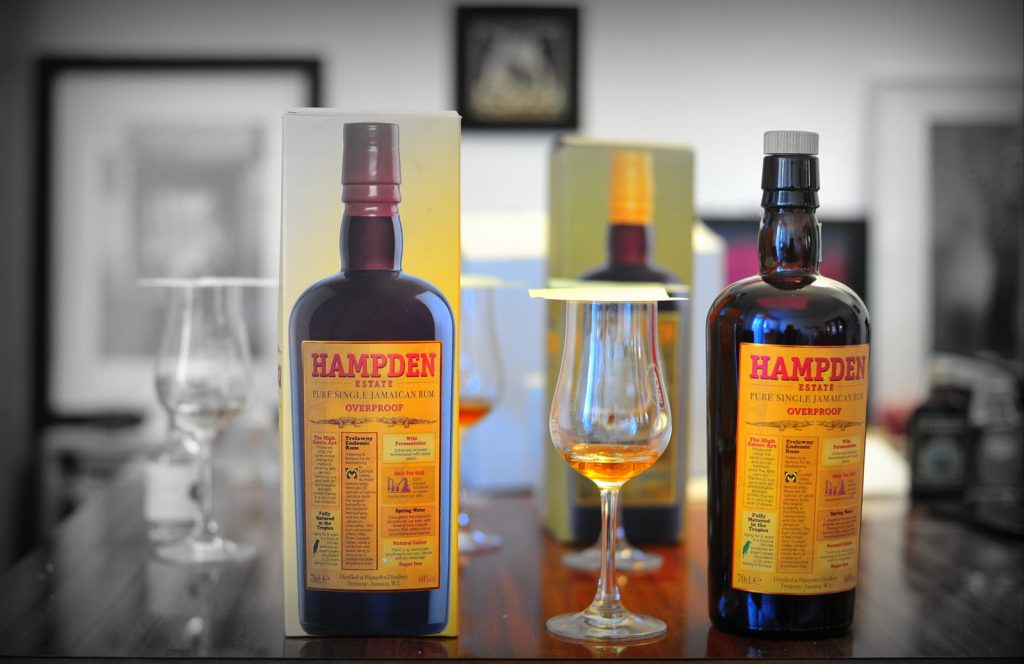 My own personal memories of the Hampden Overproof will always be combined with the Tasting of the Century in London, where we tried those magnificent old rums the Harewood 1780, St James 1885, Bally 1924 and Skeldon 1978…and the two new Hampdens. Truth to tell, my focus was so fiercely on that geriatric quartet, that I had little time to pay attention to the twins….time kind of ran out on me, and I could barely do them justice. So knowing I had the bottles in Berlin, I waited until October and then dealt with them there again.
Velier, as is now quite well known, has dibs on the distribution of Hampden rums from 2018 (and, I think, 2019) through their new organization of La Maison & Velier.  Both the 46% and the 60% versions of the rum are the same, the former just being diluted down, so in this review I'll be talking about the overproof version, although the notes are the same for either, with the strength being the only true variable.
Technical schtick for the rum curious: what we have here is a rum based on fermentation with wild yeast, distilled in 2010 on a double retort copper pot still; the ageing was fully tropical for eight years and it was bottled in 2018; the level of esters was not disclosed except insofar as to note it was "very high"; and of course, no additives of any kind, not sugar, not colouring, nothing.  All of which, by the way, is on the hugely informative label that in its graphic detail is somewhat at odds with the famed Spartan labels of yore, but never mind. One thing that isn't on the label is the outturn, but the source was 31 barrels, so assuming a 6% angel's share per year, we can estimate that around 10,000 bottles were released into the global market.
What always surprises me about Hampden rums is how relatively restrained they are, irrespective of the strength.  You expect that say, from an exquisitely blended Appleton, and certainly do not from Worthy Park offerings which cheerfully lunge out of the bottle like a hungry face-hugger, yet Hampdens find a sweet spot between the two that is nothing short of delectable.  The nose is a combination of soft and crisp, initially redolent of pencil shavings, paraffin, varnish and sawdust, bitter chocolate, unsweetened cocoa, damp, freshly turned earth and tar, and, like many such strong rums, rewards patience as these aromas develop, and then fade.  They are then replaced by green grapes, unripe mangos, and lots of sharper, unripe-but-sweet fruits, balsamic vinegar, sweet gherkins and a very nice background of aromatic tobacco and port-infused cigarillos.
Ah, and the taste – really nice.  Strong and bordering in sharp, yet even at 60% ABV it presents as amazingly controlled, even moderate.  The tastes are all there, deep and intense, rolling easily and crisply across the palate, yet not so ester-heavy as might be inferred from the label.  You'd laugh when I say that I tasted well-oiled leather and sweaty shoes, and then take comfort in more traditional flavours of brine, olives, maggi cubes, cardboard, black bread and cereals (there's a sort of creamy aspect to the whole experience I found very pleasing), which formed a bed upon which dates, figs, crisp peaches and pears and mangoes rested easily, dusted over with a lovely hint of cumin and cinnamon and lemon peel, leading into a crisp, snappy finish that sumed things up nicely, mostly with sharper fruits and crushed hazelnuts, lemon zest and that odd bit of tar from the nose making a belated appearance (perhaps out of mischief).
It's possible that gently diluting the rum to about 55% from 60% might make it more approachable and an easier drink: for my money, it's damn near perfect for what it is, a really well blended Jamaican which even Sandor Clegane might like, something that enhances the street cred of both estate and country.  It requires, like all full-proof, dunder-squirting yardies, some patience; it's a drink to savour, not swill, and is an exemplary rum in almost all aspects of its profile.
I've remarked on more than one occasion that my appreciation for righteously funky Jamaicans vacillates between Worthy Park and Hampden (though it must be acknowledged that Plantation is making inroads, and the Compagnie's New Yarmouth rums also deserve a place at the table).  It's when you try something as powerful and tasty as this that you understand why the comparisons can and need to be made. We are living in a Golden Age of new Jamaican rums, where pole position is being taken over and held by exactingly made blends produced by the distillery of origin, retaining all their unique heritage and profiles, rather than an unknown mix marketed under the uninformative sobriquet of "Jamaican rum".
What seems to have happened is that after years and decades of somnolence, rum aficionados gradually got acquainted (or re-acquainted) with estate-specific rums from Jamaica that weren't Appleton as a consequence of  the efforts of the continental independents.  Through the limited single cask releases of a few hundred bottles here and there, we began to recognize the individuality, the idiosyncrasy – the sheer dynamism – of Monymusk, of New Yarmouth, of Worthy Park…and of Hampden. That gradually-building groundswell of appreciation has turned into a roaring wave in 2018, and this edition of a really superlative rum is the result – thousands of bottles, not just a few hundred, all coming from Hampden, all made and developed and aged there, and meant for all of us who love the massive taste bombs out of the island. It is, in my own estimation, one of those rums whose reputation will only increase with the passage of the years, and to have tasted the first versions out of the gate was and remains nothing less than a privilege.
(#582)(89/100)
---
Other Notes
Luca Gargano has made it clear that these are not Velier rums – his company is just the distributor.  I chose to believe his fingerprints are on the bottles nevertheless, most likely in the selection of which 31 barrels made up the blend.  However, in accordance with his wishes regarding attribution, I have not referred to this as a "Velier Hampden Estate Overproof Rum." Though I think many of us harbour our own thoughts on the matter.