The Cor Cor "Green", cousin to the molasses-based "Red" (both are actually white – the colours refer to their labels' hues) is an order of magnitude more expensive than its scarlet labelled relative, largely because it is made from cane juice, not molasses, and therefore rather more seasonal in production.  The question is, how does the cane juice white compare when run up against its intriguing (if off-beat) molasses-based white. Both are, after all, made by the same master blender who wanted to apply an awamori sensibility to making rum.
Tasting the Red and Green side by side, then, is an instructive experience, akin to doing a flight of white Habitation Veliers. Given that everything else is constant – sugar cane, the pot still distillation apparatus, the resting in steel tanks (neither is "aged" in the classical sense), the lack of any additives or filtration – then the only thing that should make a difference in the taste is the molasses versus cane juice, and the length and method of the fermentation cycle.
But even that is quite enough to make a clear difference, I assure you.  The Green is most definitely not the Red, and is discernibly an agricole style cane juice rum with all this implies, filtered through the mind of the Japanese culture and love for their own spirits.  However, let it also be noted that it is not a standard agricole by any means…and therein lies both its attraction to the curious, and potentially its downfall to the masses.
To illustrate the point, consider how it noses: it's intriguing and pleasantly flinty, and has the initial tang of mineral water into which have been dunked some salt and olives, a sort of poor man's martini.  There is a background of sweet and light florals and white fruit, and if you stick with it, also something more maritime – seaweed and iodine, I suggest. It's mild, which is a function of the living room strength at which it's issued (40% ABV), and the memory you'll carry away from smelling it, is of the sea: brine and iodine and herbaceousness, only partially balanced off by sweeter and lighter components.
The taste is where the resemblance to a French island agricole comes more clearly into focus. Sweet sugar water, fresh-cut grass, citrus peel, some eucalyptus and gherkins in pimento vinegar, and a very nicely balanced series of light fruit notes – papaya, guavas, pears, watermelon.  As I said above, it's different from the Red (to be expected – the sources are Montague and Capulet, after all) yet some minor family resemblance is noticeable; and although the rum tastes a little watery, the finish lasts so long and it coats the mouth and tongue so well, it allows it to skate past such concerns, leaving behind the fond memories of miso soup, pimento, apple cider and some citrus…and, of course, an olive or two.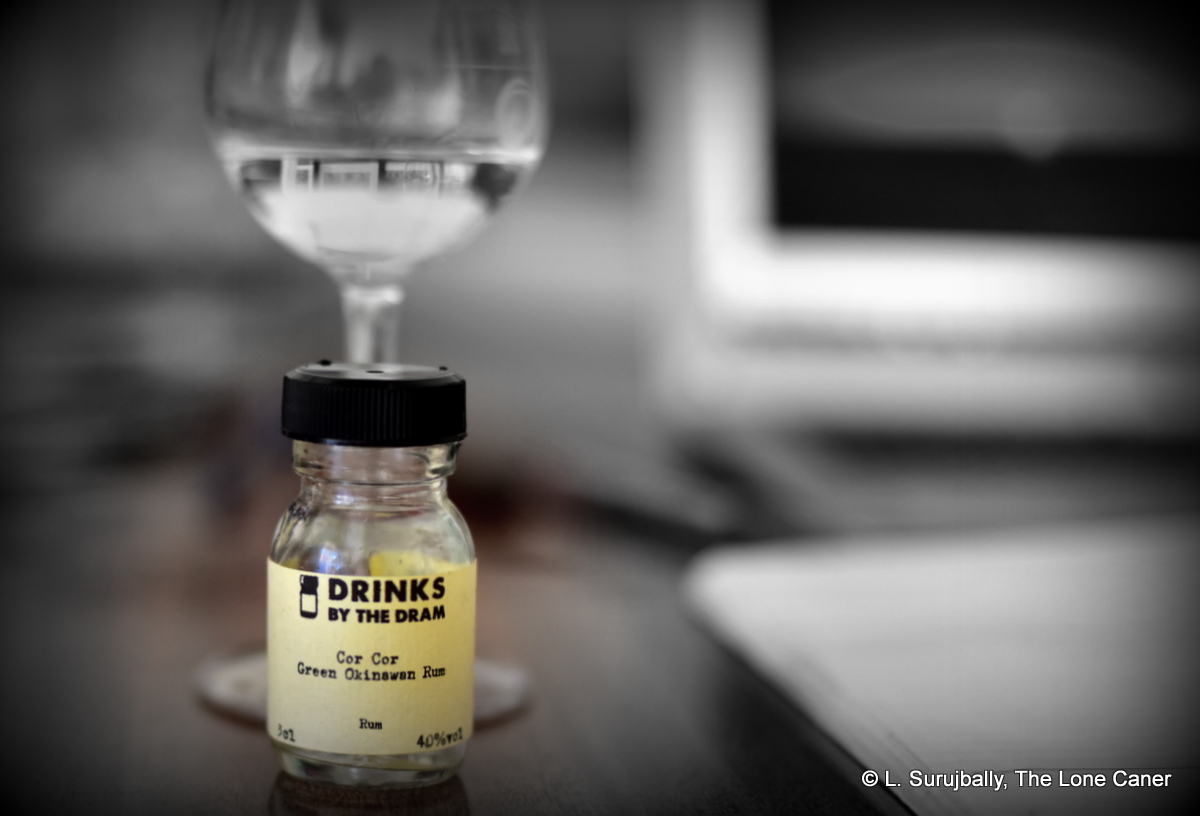 Even though the Green was offbeat in its own way, I liked it more than the Red. It's not really a true agricole (comes off a pot still, for example, produced with a different distillation philosophy) and lacks something of that feral nature of those whites bottled in the Caribbean that have spoiled me.  Clairins and blancs are a take-no-prisoners bunch of badass 50% rowdies, and I like them precisely for that air of untamed wild joy with which they gallop and spur across the palate — and the Green is not at that level.
So, it's unusual, and decent, and complies with some of the notes we want and look for in a cane juice rum.  It'll excite some interest in the regular rum world for sure. But to my mind it's not yet aggressive enough, strong enough, good enough, in a way that would make a bitchin' daiquiri or a ti-punch, or cause a drinker to wake up, sit up, and say wtf in Japanese. Not yet. Though admittedly, if they stick with it and continue developing juice like this, then they're getting close to making a rum that does precisely that.
(#710)(82/100)
---
Other Notes
The label is a stylized map of South Borodino island (the Russians named it so in the 19th century after the ship Borodino surveyed it – the Japanese name is Minamidaito) where the distillery is, overlaid with a poem I'll quote here without comment:
Bats, dancing in the night sky
Suspended magic, falling in drops
These are the things
That make men and women covet love
This is the magic of rum,
a sugarcane love potion