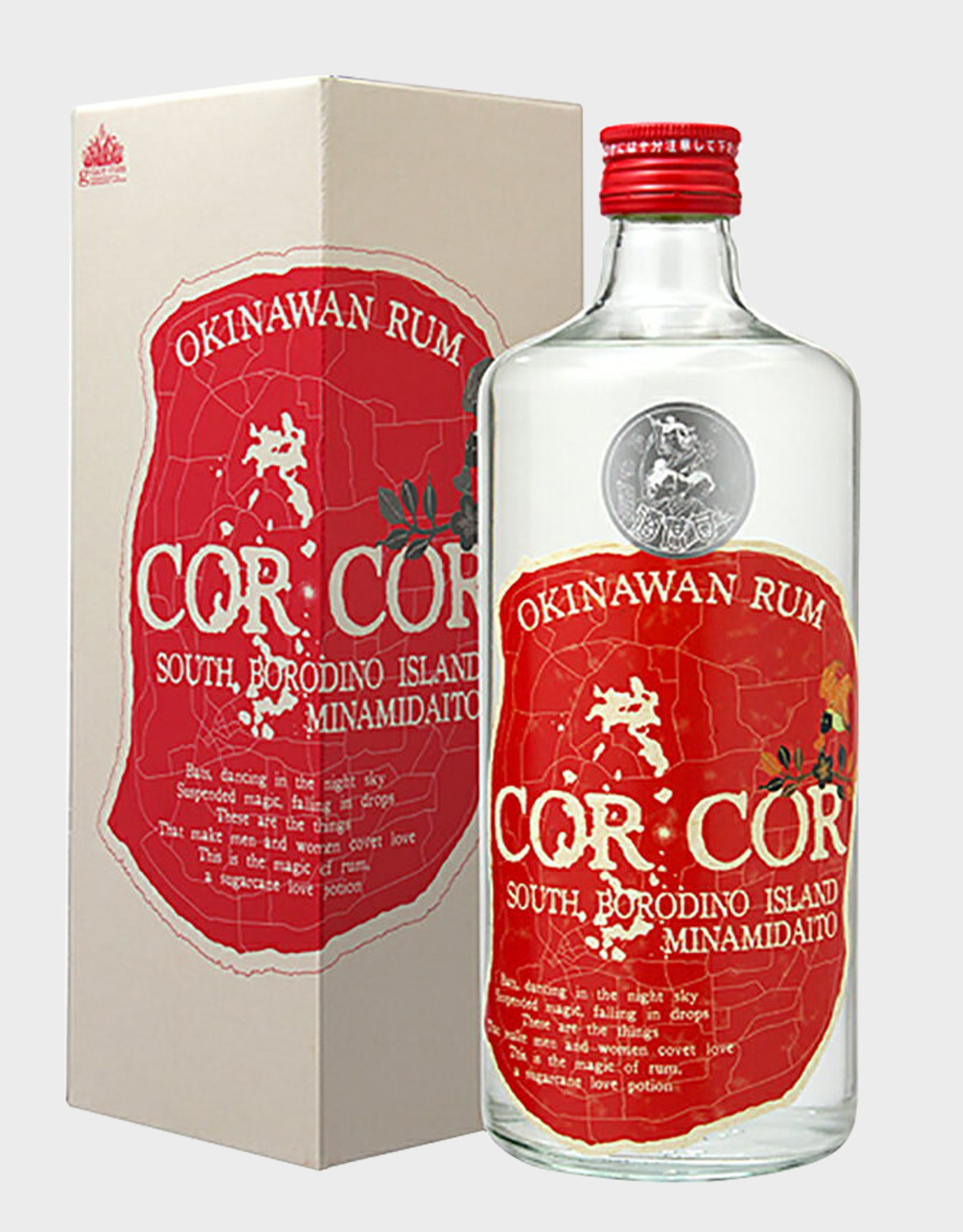 Given Japan has several rums which have made these pages (Ryoma, Ogasawara, Nine Leaves, Helios, Seven Seas), by now most should be aware that just about all of them source their molasses out of the southern islands of Okinawa, if not actually based there themselves. The Grace distillery, who make the Cor Cor line of rums, conforms to that informal rule, yet is unusual in two ways – first, it is still very much a manual operation, somewhat surprising for a nation with a massive technological infrastructure; and it produces rums from both molasses (the red labelled rum we're looking at today) and cane juice (the green labelled one). 
Cor Cor as a title has no deep transliterative meaning — it is derived from English (the opposite is true for games maker Atari, as a counter-example) and uses the first letters of the words "coral" (the island where it's made is formed from a coral reef) and "corona" (which the island resembles). Grace Distillery itself was formed in 2004 in a building that used to be a small airport terminal, on the tiny Okinawan island of Minamidaito, and use a steel pot still, and do not practice ageing – another point of departure. Instead, their rum is rested in inert tanks and after a suitable period determined by their master blender, it's bottled at 40%, as-is, unfiltered, uncoloured, un-added-to.
Some of my research shed some interesting light on the profile of the rum, but I think I'll leave that for the end: suffice it to say that this was both normal with respect to other Japanese rums, and abnormal with respect to what we in the west are used to. The nose was sweet, light and faintly briny, with a metallic medicinal hint to it.  I knew there was more to come, and so set it aside and came back to it over time, and picked out black pepper, vegetable soup, biryani spices, seaweed. And, later, also dry cereal, butter, olives and flowers. Frankly, I found it a little confusing – it was nice and a ways better than the rank meatiness of the Seven Seas which had shuddered and put away – but nosed at a tangent from the norm of "regular" rums I've had more often.  
Palate – oh, much nicer.  Dry dusty citrus-infused sugar water, peas, salty cashews. There was a dusting of salt and cooking spices and miso soup, with lemon grass and sour cream somewhere in there.  I liked the development better, because what had been confusing about the nose gelled into a better harmony. Still a little off-base, mind you…but in a nice way. I particularly enjoyed the herbal and iodine background (not overdone, more a hint than a bludgeon) which set off the light fruit and brine in a way that complemented, not distracted.  Finish was long and dry, sugary and watery, redolent of delicate flowers and fruit. It was surprisingly durable, for a rum at 40%.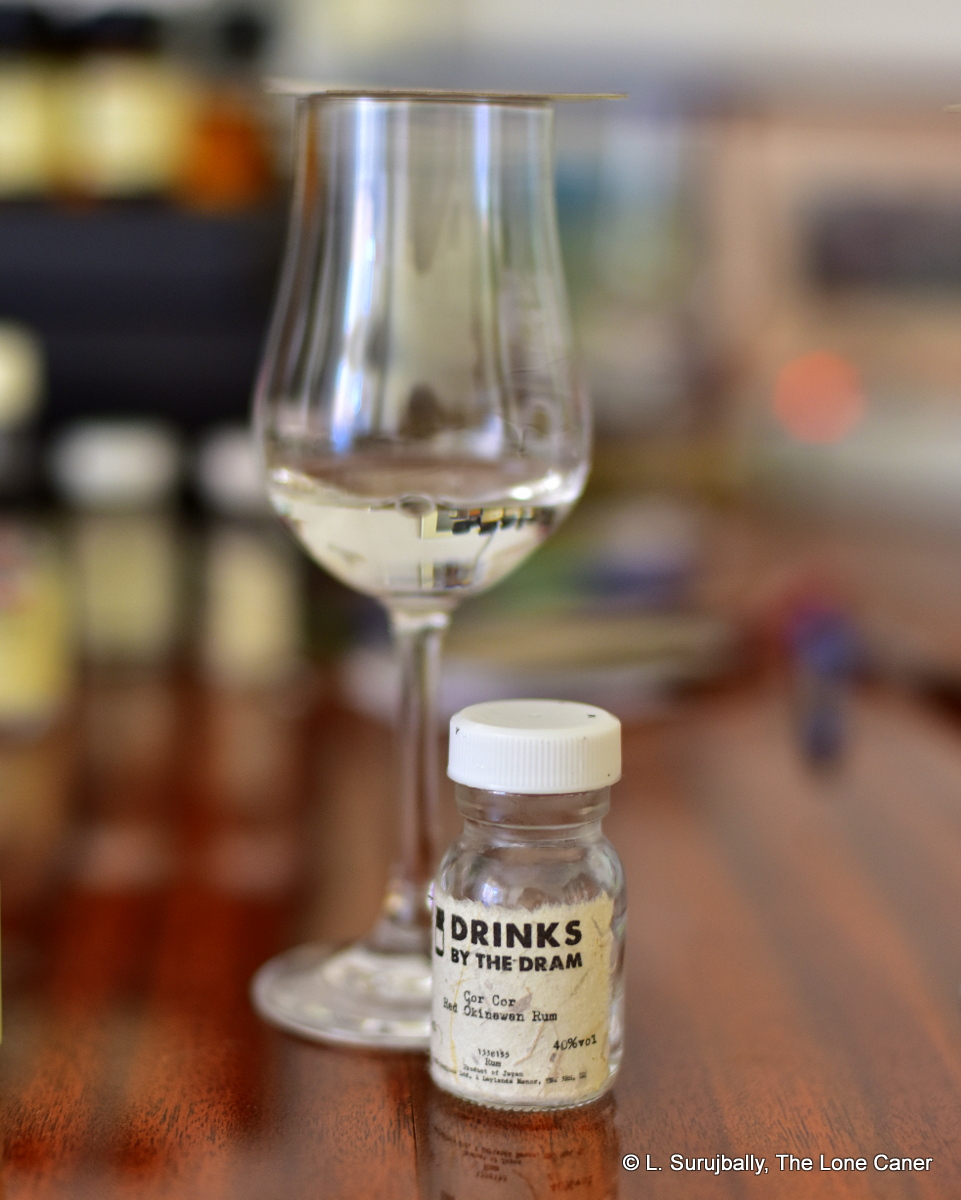 The Cor Cor Red was more generous on the palate than the nose, and as with many Japanese rums I've tried, it's quite distinctive. The tastes were somewhat offbase when smelled, yet came together nicely when tasted.  Most of what we might deem "traditional notes" — like nougat, or toffee, caramel, molasses, wine, dark fruits, that kind of thing — were absent; and while their (now closed) website rather honestly remarked back in 2017 that it was not for everyone, I would merely suggest that this real enjoyment is probably more for someone (a) interested in Asian rums (b) looking for something new and (c) who is cognizant of local cuisine and spirits profiles, which infuse the makers' designs here. One of the reasons the rum tastes as it does, is because the master blender used to work for one of the awamori makers on Okinawa (it is a spirit akin to Shochu), and wanted to apply the methods of make to rum as well.  No doubt some of the taste profile he preferred bled over into the final product as well.
The Cor Cor duo raised its head in the 2017 and 2018 rum festival circuit, and aside from a quick review by Wes in the UK – he commented that it was a pair of rums that engendered quite some discussion – it has since sunk almost completely from public consciousness.  I have to give it a cautious endorsement just because it's so damned interesting, even if I couldn't entirely find it in my heart to love it. Years from now Japan may colonize the rumisphere, the same way they have made themselves space in the whisky world. For now, this probably won't get them there, however intriguing it might be to me personally.
(#708)(80/100)
---
Other Notes
I reached to to several friends in Japan for background: thanks in particular to Yoshi-san, who managed to get in touch with Grace directly on the question of the still and the master blender.

Grace also releases a Cor Cor Premium and Koruroru 25 rum variations, but I have never seen them for purchase.

Yuko Kinjo is the CEO and founder of Grace Rum. She was introduced to rum whilst sitting in a friend's bar in the early 2000s, and asked herself "Why not make rum right here, a unique spirit made completely of local ingredients?" Cor Cor Rum is made only of sustainable local sugarcane and is a joint effort between Kinjo-san and the Minamidaito Island Chamber of Commerce.