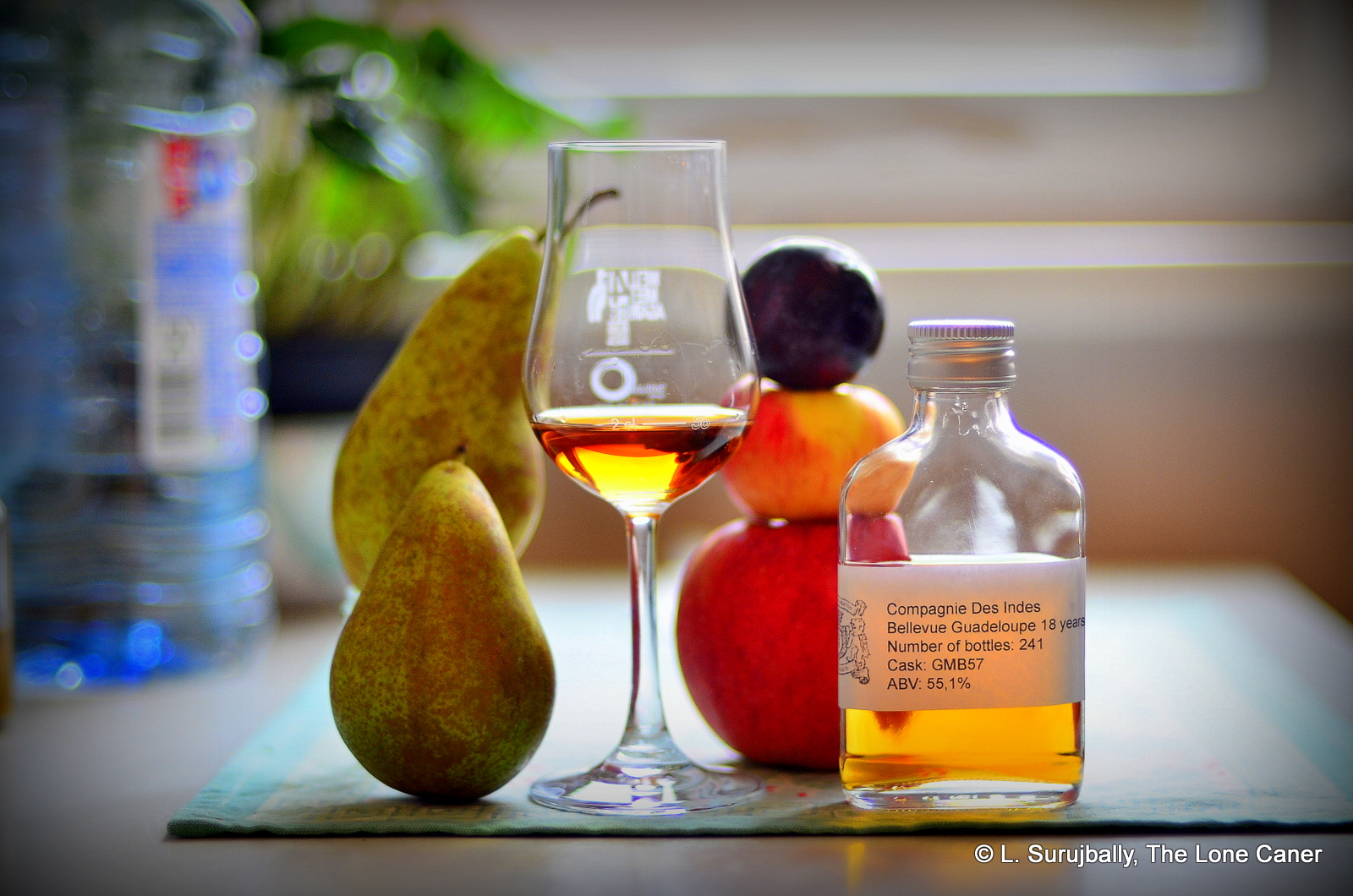 #372
It's always a pleasure to circle back to the now-established independent bottlers, especially those with which one has more than a glancing familiarity; they are the outfits who have carved themselves a niche in the rumiverse which for us consumers is composed of one part recognition, one part curiosity and eight parts cool rum.  The Compagnie des Indes is one of these for me, and while everyone is now aware they have started to issue the cask strength series of rums alongside lesser proofed ones (much like L'Esprit does), there will always remain a soft and envious green spot in my heart for the now-famous, Denmark-only, cask-strength editions.
This particular Danish expression is a Bellevue rum from Guadeloupe (Damoiseau, not the one on Marie Galante), and here I have to pause for a moment, stand back, and happily observe that in this day and age of rising prices, lowering ages and instantly sold out Bajan rums (did someone say Triptych? … sure you did), we can still get a rum aged for eighteen years.  I am aware that a simple calculus of years (and continental years at that) does not always confer quality – look no further than the Chantal Comte 1980 for an emphatic refutation of that idea – but when made properly, they often do.  And bar some hiccups here and there, this one is exceedingly well done.
As always, let's start with the details before getting into the tasting notes. It's a French West Indian rhum which does not adhere to the AOC designation, bottled at a crisp 55.1%, gold in colour, and with a 265-bottle outturn.  It was distilled in March 1998 and bottled in April 2016, aged in American oak barrels, in Europe – this is, as most will recall, a personal standard of the Compagnie, which does not favour tropical ageing (or cannot spare the time and expense to source them direct from Guadeloupe, take your pick).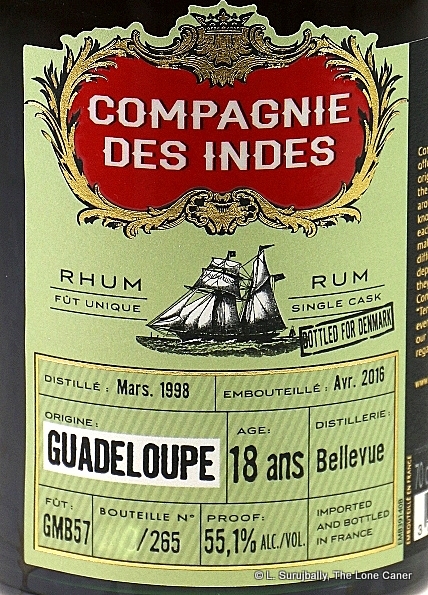 Wherever it was aged, there was no fault to find with how it smelled: the nose was creamy caramel and cream cheese with only the very faintest hint of wax and rubber, and in any event, such traces vanished fast, giving way to dark fruits, not particularly sweet, like almost-ripe plums and cashews. At this stage such tannins and wooden hints as came later were discreet, even shy, and there were some light, playful notes of flowers, peaches, apricots, grasses and cinnamon.
Tasting it delivered a crisp, firm mouthfeel that was hot and salty caramel, plus a touch of vanilla.  Here the tannins and pencil shavings became much more assertive, suggesting an oaken spine as whippy and sharp as the cane my house-master used to bend across my backside in high school with such unfortunate frequency. In spite of the attendant orange peel,vanilla, cashews, raisins and lemongrass that could be sensed, it was also somewhat sharp, even bitter, and not quite as tamed as I might personally have wished (with perhaps some more aging it would have been? Who knows).  Behind all that, the additional flavours had their work cut out for them, not entirely successfully, and so I had to concede after a while that  it was well done…but could have been better.  The finish, however, was quite exceptional, showing more clearly the difference between an AOC-determined profile versus a more laid back Guadeloupe "let's see what we can do here" kind of insouciance – it's remarkably clear, offering for our final inspection caramel, nuttiness, toffee, with avocado, cumin and a hint of ginger.
So, in fine, a Guadeloupe rhum with lovely notes dancing around a great nose and fade, and quite a decent palate within its oaky limitations (which did admittedly cause it to slide down the rankings).  Fortunately that in no way sank the rhum, which, on balance, remained a lovely drink to savour neat….it just needed a softer comma of oak, so to speak, not the exclamation point we got.  I concede, however, that this was a minor blemish overall.
Although at the top end we are seeing a move towards pot still rums done up in interesting finishes, complete with fully tropical maturation, I believe there is still a place for longer European ageing without any finish at all.  Florent Beuchet, the maitre of CDI, has always championed this quiet, more patient route for his rums, which is perhaps why much of his aged hooch works so well – there's a subtle, delicate richness to the experience that is not so much as odds with, as a counterpoint to, the badass in-yer-face brutality of those rums which slept for a shorter but more intense period in the Caribbean.  Both such types of rums have their place in our world – the issue does, after all, depend entirely on our preferences – and when a Guadeloupe rum presses so many of the right buttons as this one does, one cannot help but simply appreciate the quality of what makes it into the bottle at the other end.  This is a rum like that — it's vibrant Caribbean sunshine issued for a colder clime, and I'm damned glad I managed to pilfer some from my snickering Danish friends from up north before they finished it all themselves.
(86/100)
---
Other notes