***
For a company in existence for such a short time, it's quite impressive what a wide range of rums Compagnie des Indes (which translates as the East India Company, hereinafter referred to as CDI) has managed to put out the door.  As of the 2015 release season, fourteen separate countries are represented (2 from east of Greenwich).  Unlike the trend in the USA and Canada, where creating one's own new distillery and brand  is more common, in Europe it's always been more about being an independent bottler (or re-bottler, I suppose).  Such enterprises don't want to reinvent the wheel or invest in technology – though this does in fact happen as well, of course (e.g. Severin Simon in Germany).  Their strategy is to exhaustively seek out barrels from either source or broker, maybe age them a little more somewhere, and then issue them under their own label, usually in limited quantities of less than a thousand bottles per release.
While it could be argued that this hardly makes them cradles of innovation, it's tough to fault the results when we can so rarely find the source distillers daring to go in the full-proof direction.  Until very recently, when was the last time you saw St. Lucia Distillers, FourSquare, Appleton, Mount Gay, Angostura, Travellers, Abuelo, Bacardi, Flor de Cana or other major brands, go the cask strength route in anything but their overproof 151s?  So smaller companies, whose founders often emerge from a whisky background, tend to be more into the full proof concept which has only recently started to gain great recognition in the rum world.
Such a person is Florent Beuchet, who pursued international business studies with a specialization as an International Trade Master of wine and spirits in Dijon, France.  After working part time for his father, who himself was a winemaker and ran a small distillery making absinthe and aniseed, Florent became the brand manager for Banks in New York in 2011 (his family owned shares in the company, and Florent's father acted as a consultant for it).  This lasted for close on to two years, after which he bought a small spirits trading company he named "Diva Spirits" in 2013. This outfit dealt with the import and export of wines and spirits between Europe and the USA, and built on a network his father had created over the previous thirty five years.
While his studies had focused primarily on wines, Florent realized after working with Banks that rum interested him rather more: partly this was its versatility (read: absence of rules) but also because he saw that the concepts of terroire, distillation, ageing and blending were readily applicable to rum just as they were to wine.  More, he sensed that while the Europeans had a rather more sophisticated view of rums than Americans did, many still labored under the impression that it was a disreputable sort of drink, cheaply made, good only for a mix, and very sweet. The potential of exactingly made rums from single casks issued at full proof was still gathering steam (online reviews of rums made to precisely those specs were just beginning to appear at this time, if you discount Serge Valentin, who'd been issuing notes on them since 2010, and modesty be damned, some of them were mine).  So he saw an opening in the field that to this point had been dominated by Samaroli, Rum Nation, Velier, Moon Imports and others, few of which had the visibility and cachet they acquired in the subsequent years.
Seeking to put his ideas into practice, he formed CDI in March of 2014, in France. He sourced the rums he wanted via brokers in Holland and the UK, chose only unadulterated rums, and eschewed Rum Nation and Velier's practice of going directly to the original distilleries in person to root around the warehouses seeking the perfect barrel (as of 2016, he has only been to Cuba, oddly enough).  The label design, with its old fashioned seal and fancy stylistic touches at the top was a calculated decision on his part – he wanted to provide something of the atmosphere and heritage of old times, sailing ships and galleons and parchment (one wonders how the famous aphorism of rum, buggery and the lash figured in his thinking, but never mind). It's noteworthy that he had taken a sense of the room, and understood the need for providing clarity and information – and so each label also had a Velier-style section at the bottom on age, source, strength and barrel.
He also doesn't hide that he is a disciple of honesty in rum making. He has little patience for the solera style of rum making, which he sees as dishonest way to market what is actually a blend with a misleading age statement; and he disdains rectified column-still spirit that is added to with flavourings and sugars and fancy backstories to disguise the fact that it is a commercial low end "rum"…and is then sold to an unsuspecting public as a real rum, when its artificiality is self-evident.  In that he is a follower of Richard Seale and Luca Gargano (among others), who have long championed pure rums and label disclosure.
His initial offerings from that year into the market were modest: first a Caribbean blend, then two Belize rums (same source, different strengths), a Cuban, a Guadeloupe and an 18 year old Caroni.  From the outset he knew he was going after unadulterated, pure rums, but felt that to make any kind of initial splash he perhaps had to compromise the principle, and so has added 15g/L of organic liquid cane sugar to the Caraibes blended rum and the 2015 release of the Latino, as well as 10g/L to the "Calbar" Jamaican (but to none of the others). To his credit, this information is disclosed and he makes no secret of it. (And given the RumDiaries take on the Caraibes, Florent may have been right, though Josh of Inakena disagrees, finding the dosing too obvious; current releases of Caraibes no longer have any sugar). Age is also exactly what it purports to be — meaning the true age of the rum in barrels; and even in the blends, it is never the oldest, but always the youngest portion of the blend which is noted.
Issued to the European market, sales were positive and encouraging.  In April 2015 I tried the Cuban 15 YO in Paris, and was mightily impressed, scoring it at 88 points, and remarking that "…If this is anything to go by, CDI is going to take its place among the craft makers whose rums I want to buy. All of them." My purse and my time are limited so I have not been able to try as many as I would have liked, but certainly the customer response was gratifying enough for CDI to expand into a larger selection in 2015, when they added rums from Martinique, Barbados, Fiji, Haiti, Jamaica, Panama, St. Lucia and Indonesia to the mix.
The Haitian rhum was intriguing, what with the recent upsurge in interest in clairins issued by Velier; Fiji has some tongues wagging…but the Indonesia rum in particular excited quite a lot of interest because it was so unusual (and because the distillery was not disclosed) – Florent wanted to recreate something of the flavor of Batavia Arrack, one of the progenitors of rum, and whether or not he succeeded, I don't know – I just know I liked it quite a bit. Jamaica was also a good issue, because most lovers of the funky style are more familiar with Appleton's work, not Hampden or Worthy Park, or New Yarmouth which was issued in 2017.  So certainly CDI is putting some interesting footprints into the sand of the rum world, and showing that while the trailblazers like Renegade, Samaroli, Rum Nation and Velier provided and continue to make many amazing rums for the consuming public, there remains space for new companies with a slightly different ethos to make their mark and provide greater variety of rums for us all to try.
A peculiar divergence from the norm is the rums issued only in the Danish market.  These are some of the rums certain to pique the interest of the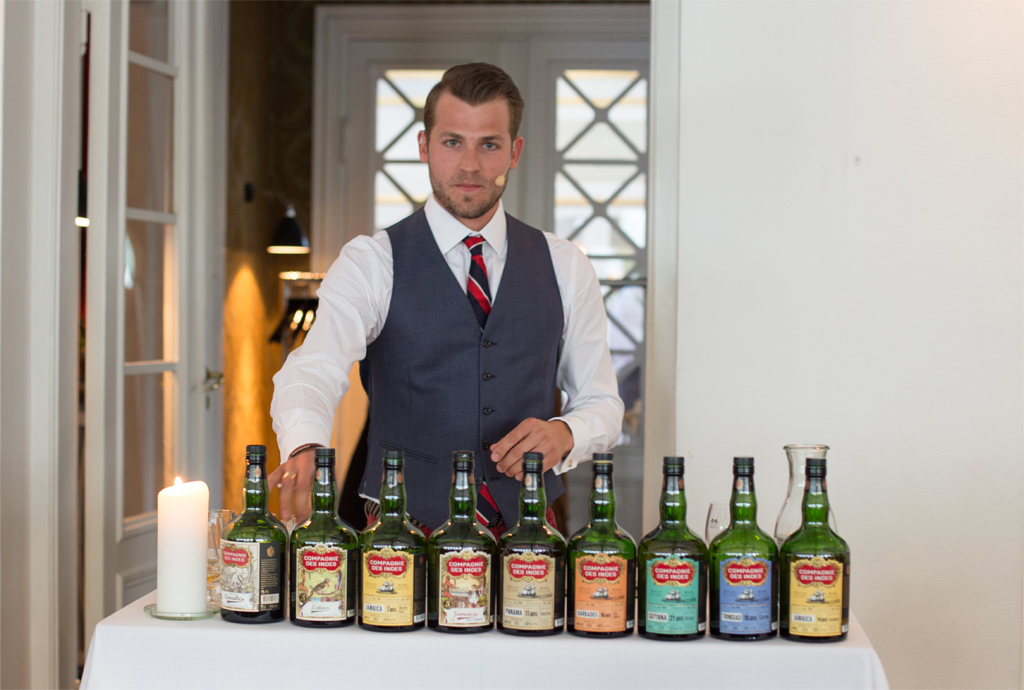 greater rum loving public – especially the aged Guyanese rums and the cask strength 60% Panamanian, which is surely quite an unusual product (I honestly can't remember when was the last time I saw a full proof Panama rum).  Henrik of RumCorner, as helpful as always, and who had spotted me the CDI Guadeloupe from there which I have to write about soon, informed me that "…those releases were done in collaboration with the Danish distributor. Denmark is one of the fastest growing markets for premium and ultra premium rums, so they asked CDI for some limited cask strength products and voila. In my opinion the Barbados FourSquare 60% rum [for example] really shows what is possible at high strength in comparison with the standard issue 40% horde."  Florent confirmed that, remarking "Once I started selling single cask to Denmark, my importer and his team told me that they'd like to know if I could bottle rums at cask strength. I told them that I could but due to duties, the prices in France would be too expensive and they wouldn't sell so that they would have to buy the whole cask. [They did.] That's why I decided to mention on the label that it was only bottled for Denmark…[Denmark] has quite an educated brown spirit clientele that are willing to pay a lot for pretty exclusive bottles. That's mostly the story." 
So where to now? Promotion and marketing will be a big focus.  Florent thinks traditional magazine space is too expensive, and prefers to engage with the public at festivals (which is where I met him and bored him to tears – twice), as well as using social media to interact with his customers.  That's usually where he can be found lurking.  He will continue to have all his packaging, corking, labelling etc, done in France.  Ageing of his selected barrels is primarily in Europe, though some tropical ageing does take place.  In that he departs from Velier, who championed in-situ tropical ageing because of the accelerated maturation and richer flavour profiles they so preferred; Florent believes that wood takes on an dominance under such conditions, which replaces subtler, fruitier notes which he likes better. (Steve James's review of the Barbados 16 YO made mention of this difference which he attributed to the ageing regime.)
The year 2016 suggested that the Danish market full proof editions were no mere flash in the pan.  Whether more were issued for them, or the clamour to have a wider distribution of rums bottled at >50% was acted on, the fact is that the 2016 releases sported no fewer than twelve rums bottled at cask strength (most at around 60%).  Maybe some kind of "twinning" is being worked on, where a standard table strength rum is issued with its mate offered to the cognoscenti at a higher proof point – this makes for higher prices since the volume issued would be less, but it seems as though Florent has sensed a market opportunity here and is working on maximizing it.  Blends which tread the path of the Caraibes will also continue, with rhums like the Tricorne and Boulet de Cannon being issued at intervals. And there's also a flavoured/spiced rhum called Darklice (licorice and other additions, and the name is evocative if nothing else) added to the stable, which is his first foray in that direction.
The current stable of countries will be expanded upon in the future (2018 and 2019 saw additional rums from Venezuela and Australia join the lineup, for example), though of course there will continue to be releases from each of the existing rum producing islands in the Caribbean.  And just to say "Martinique" is an oversimplification, since one rhum from there that CDI issued was from Dillon and another from Simon, and that is a small percentage of the distilleries over there.  So while they are more expensive than rums from the English and Spanish Caribbean, they can't be ruled out for more releases, and of course there will always be rums from Barbados, Trinidad, St. Lucia, Guyana and Jamaica to beef up the portfolio.
My own hope is that he won't be seduced by the sales of the spiced and blended variations of his line, but will sleuth out little known islands and distilleries and geographical regions and do what Luca has done – bottle and promote rums we haven't seen in a while, or ever, which we'd like to try and which exemplify the global reach of the spirit.  They may not all be the best available (Fiji did not find much favour with me, sorry), but you have to give points to the new kid on the block, who's really doing something interesting for rum.  That's worth ten truckloads of Don Papa right there.
***
References:
      

Personal conversations and emails and messages with Florent Beuchet

      

Posts on CDI Facebook page
A list of rhums issued by CDI as of May 2019 is below.  As always, if you know something has been missed, send me a correction with the specs.
Australia 11 YO 2007-2019 43% #ASS53 (Secret Distillery)
Barbados 12 YO 2003-2015 45% #BD91 (FourSquare)(323 bottles)

Barbados 12 YO 2003-2015 45% #BD92 (FourSquare)(302 bottles)

Barbados 16 YO 1998-2015 45% #BD24 (FourSquare)(354 bottles)

Barbados 16 YO 1998-2015 45% #BD36 (FourSquare)(363 bottles)

Barbados 16 YO 1998-2015 45% #BD47 (FourSquare)(351 bottles)

Barbados 16 YO 1998-2015 45% #MRS236 (FourSquare)

Barbados 16 YO 1998-2015 60% #MRS235 (FourSquare)(Denmark only)

Barbados 20 YO 1998-

2016

45% #BYR5 (Multiple distilleries)
Barbados 16 YO 1999-

2016

62% #FS8 (Foursquare)
Barbados 16 YO 1999-

2016

62% #FS20 (Foursquare)
Barbados 9 YO 2006-

2016

62.1% #MB45 (Foursquare)
Barbados 9 YO 2006-

2016

62.1% #MB46 (Foursquare)
Barbados 9 YO 2006-

2016

62.1% #MB47 (Foursquare)
Barbados 10 YO 2007-

2018

62.9% #BFD019 (Foursquare)
Barbados 10 YO 2007-

2018

43% #BFD014 (Foursquare)
Barbados 10 YO 2007-

2018

62.1% #BFD015 (Foursquare)

Belize 8 YO 2005-

2014

44% #B86 (Travellers) (400 bottles)

Belize 8 YO 2005-

2014

44% #SF17 (Travellers) (415 bottles)

Belize 8 YO 2005-

2014

64% #SF48 (Travellers) (277 bottles)

Belize 11 YO 2005-

2016

66.2% BL11 (Travellers)(Cask Strength)
Belize 10 YO 2006-

2016

 TBA% #TBA (Travellers)
Belize 10 YO 2006-

2016

 TBA% #TBA (Travellers) (Cask Strength)
Brazil 16 YO 2000-

2016

43% #BR10 (Epris)

Boulet de Canon No. 1 2015 46% (blend Guy/Bar/T&T)

Boulet de Canon No. 2

2016

50% (blend Guy/Bar/T&T)
Boulet de Canon No. 3 

2016

50% (blend Guy/Bar/T&T)
Boulet de Canon No. 4

2017

46% (blend Guy/Bar/T&T)
Boulet de Canon No. 5

2017

 46% (blend Florida rums)
Boulet de Canon No. 6

2018

46% (blend Nicaragua/Panama)
Cuba 16 YO 1998-

2014

45% #CM5 (Sancti Spiritus) (232 bottles)

Cuba 16 YO 1998-

2014

45% #CM8 (Sancti Spiritus) (280 bottles)

Cuba 16 YO 1998-

2015

 45% #CM34 (Sancti Spiritus)

Cuba 18 YO 1999-

2017

45% #CSS11 (Sancti Spiritus)
Cuba 18 YO 1999-

2017

 59% #CSS7 (Sancti Spiritus) (Denmark only)
Darklice Blend

2016

46% (Guy/Bar/T&T) + licoriced water
Dominidad No. 1 15 YO 2000-

2016

43% #SB1 (Small Batch)(33% 15YO DR / 67% 16YO T&T)
Dominidad No. 2 15 YO 2000-2016 43% #SB2 (Small Batch)(33% 15YO DR / 67% 16YO T&T)
Dominidad No. 3 16 YO 2002-2017 43% #SB3 (Small Batch)(33% 15YO DR / 67% 16YO T&T)
Dominican Republic 15 YO 2000-

2016

64.9% #RDV 3 (Various)
Dominican Republic 13 YO 2003-

2017

46% #RDM 1 (Various)
Dominican Republic 16 YO 2001-

2017

62% #RDV 2 (Various)(Denmark only)
Dominican Republic 8 YO 2010-

2019

43% #DRA3 (AFD. (Acoholes Finos Dominicanos))
Dominican Republic 8 YO 2010-

2019

62.1% #DRA6 (AFD. (Acoholes Finos Dominicanos))
El Salvador 9 YO 2007-

2018

43% #A46 (Cihuatan)
Fiji 10 YO 2004-2015 44% #SF13 (South Pacific Distillers)

Fiji 10 YO 2004-2015 44% #SF24 (South Pacific Distillers)

Fiji 10 YO 2004-2015 44% #SF32 (South Pacific Distillers)

Fiji 13 YO 2004-

2018

44% #FSP7 (South Pacific Distillery)
Fiji 8 YO 2010-

2019

44% #TBA (South Pacific Distilleries)
Florida 13 YO 2004-

2018

45% #FMSC1 (Distillery Unknown)(finish Moscatel Cask)
Florida 14 YO 2004-

2018

44% #FMM21 (Distillery Unknown)(finish French Whisky Casks)
Guadeloupe 16 YO 1998-

2014

43% #GM 21 (Damoiseau/Bellevue)(355 bottles)

Guadeloupe 16 YO 1998-

2014

43% #GM 32 (Damoiseau/Bellevue)(355 bottles)

Guadeloupe 16 YO 1998-

2014

43% #G 51 (Damoiseau/Bellevue)(300 bottles)

Guadeloupe 16 YO 1998-2015 43% #CG 91 (Damoiseau/Bellevue)

Guadeloupe 17 YO 1998-2015 43% #CG 14 (Damoiseau/Bellevue)

Guadeloupe 20 YO 1998-2018 43.1% #PLG79 (Pere Labat)
Guatemala 9 YO 2007-

2016

43% #GOS16 (DARSA)
Guatemala 8 YO 2009-

2017

58.5% #GDS12 (DARSA) (Denmark only)
Guatemala 8 YO 2009-

2017

59.1% #??? (DARSA) (Denmark only)
Guyana 10 YO 2005-2015 58% #WPM 75 (PM Still, Denmark only)

Guyana 13 YO 2002-2015 59% #WPM 36 (PM Still, Denmark only)

Guyana 13 YO 2002-2015 58% #MPM 35 (PM Still)
Guyana 13 YO 2002-2015 43% #MPM 63 (PM Still)

Guyana 21 YO 1993-2015 56% #GU 4 (Uitvlugt Still, Denmark only)

Guyana 24 YO 1990-2015 58.1% #MEY 04 (EHP Still, Denmark only)

Guyana 12 YO 2003-2016 45% #MSG6 (Diamond)
Guyana 12 YO 2003-

2016

45% #MSG15 (Diamond)
Guyana 12 YO 2003-

2016

45% #MSG16 (Diamond)
Guyana 12 YO 2003-

2016

45% #MSG17 (Diamond)
Guyana 10 YO 2005-

2016

 57.5% #MPM18 (Port Mourant, Romhatten only)
Guyana 18 YO 1997-

2016

45% #MGA4 (Uitvlugt)
Guyana 14 YO 2003-

2017

43% #GDD40 (Diamond)
Guyana 9 YO 2008-

2017

 59% #GYD71 (Diamond, Mahlers Vinhandel DK only)
Guyana 11 YO 2007-

2018

60% #Gxxxx (Armagnac finish)
Guyana 10 YO 2010-

2018

43% #GPM51 (Port Mourant)
Guyana 29 YO 1988-2018 48% #GEN2 (Enmore)
Haiti 11 YO 2004-2015 43% #BMH 18 (Barbancourt)

Haiti 11 YO 2004-2015 59.4% #BMH 32 (Barbancourt)

Indonesia 10 YO 2004-2015 43% #SB 1 (Distillery unknown)

Indonesia 10 YO 2004-2015 43% #SB 22 (Distillery unknown)
Jamaica 10 YO 2008-

2018

44% #JHx47 (LP / MM / NYar / Secret distillery blend)
Jamaica 10 YO 2008-

2018

57.9% #xM13 (LP / MM / NYar / Secret distillery blend)
Jamaica 9 YO 2009-

2018

44% #JHJ2 (Hampden)
Jamaica 9 YO 2009-

2018

60% #JHJ6 (Hampden)
Jamaica 11 YO 2007-

2018

55% #JCL82 (Clarendon)
Jamaica 11 YO 2007-

2018

43% #JCL79 (Clarendon)
Jamaica 13 YO 2005-

2018

 64.1% #JMY18 (New Yarmouth)
Jamaica 13 YO 2005-

2018

55% #JMY15 (New Yarmouth)
Jamaica 12 YO 2005-

2017

55% #JNY17 (New Yarmouth)
Jamaica 8 YO 2007-

2016

 55% #WP29 (Worthy Park)
Jamaica 8 YO 2007-

2016

45% #SWP4 (Worthy Park)
Jamaica 12 YO 2003-

2016

44% #JLP2 (Longpond)
Jamaica 15YO 2001-

2016

43% #JH10 (Hampden)
Jamaica 16YO 2000-

2016

44% #JHPF01 (Hampden)
Jamaica 24YO 1992-

2016

 59.8% #JHPE4(Hampden)

Jamaica 7 YO 2007-2015 43% #WP 8 (Worthy Park)

Jamaica 7 YO 2007-2015 53% #WP 42 Cask Strength (Worthy Park)

Jamaica 7 YO 2007-2015 43% #WP 31 (Worthy Park)

Jamaica 7 YO 2007-2015 53% #WP 27 Cask Strength (Worthy Park)

Jamaica 5 YO 2010-2015 43% "Calbar" (blend of 3 Jamaican rum)(10g/L sugar)
Latino 5 YO 2010-2015 40% (15 g/L sugar)

Latino 6 YO 2010-2017 46% (finish Vosne-Romanee red wine cask)
Martinique 13 YO 2002-2015 44% #MA 56 (Dillon) 298 bottles

Martinique 11 YO 2008-2019 42% #MAR10 (Simon)
Nicaragua 11 YO 2004-

2016

69.1% #SN18 (Distillery unknown)
Nicaragua 17 YO 1997-2015 64.9% #NCR30 (Distillery unknown)
Nicaragua 12 YO 2005-2017 66% #NS10 (Distillery unknown)(Denmark only)
Panama 11 YO 2004-2015 60% #MRS 255 (Distillery unknown)(Denmark only)

Panama 11 YO 2004-2015 44% #MRS 263 (Distillery unknown)

Panama 11 YO 2004-2015 44% #MRS 322 (Distillery unknown)

Panama 11 YO 2004-

2016

 61.5% #PMD 43 (Distillery unknown)
Panama 9 YO 2008-

2017

43% #PSC 8 (Distillery Unknown)
Panama 9 YO 2008-

2017

43% #PSC 77 (Distillery Unknown
Panama 13 YO 2004-

2017

 56.9% #PS 99 (Distillery Unknown)
St. Lucia 13 YO 2002-2015 43% #SLD 84 (St. Lucia Distillers)

St. Lucia 13 YO 2002-2015 56.3% #SLD 46 (St. Lucia Distillers)(Denmark only)
Trinidad 16 YO 2003-2019 63.5% #TLBF15 (TDL)
Trinidad 13 YO 2005-

2018

45% #TT035 (TDL)
Trinidad 15 YO 2003-

2018

44% #TTW9 (TDL)
Trinidad 20 YO 1998-

2018

59.8% #TTCR14 (Caroni)
Trinidad 23 YO 1993-

2017

53.1% #TCC3 (Caroni)
Trinidad 25* YO 1991-

2016

56.2% #TP8 (Caroni)
Trinidad 22 YO 1993-

2016

48% #TC4 (Caroni)
Trinidad 16 YO 2000-

2016

63.6% #TT 96 (TDL)

Trinidad 24 YO 1991-2015 56.3% #SC 2 (Caroni)

Trinidad 21 YO 1994-2015 57.8% #SC 707 (Caroni)

Trinidad 19 YO 1996-2015 53.2% #SC 1 (Caroni)

Trinidad 18 YO 1996-2015 61% #SCT 9 (Caroni)

Trinidad 18 YO 1996-

2014

43% #SC 3 (Caroni) (456 bottles)

Trinidad 18 YO 1996-

2014

43% #SC 2 (Caroni) (456 bottles)
Tricorne Unaged White Rum

2016

43% (Blend cane juice/molasses/arrack)
Venezuela 12 YO 2006-

2018

43% VCA 1 (Corporation Alcoolés del Caribe (CADC))
Venezuela 12 YO 2006-

2018

58% VCA 5 (Corporation Alcoolés del Caribe (CADC))
Venezuela 16 YO 2003-

2019

63.5% VNT 61(Corporation Alcoolés del Caribe (CADC))
Veneragua 13 YO 2005-

2018

45% (blend, 3 barrels Venezuela + 2 NIcaragua)
West Indies Blended 8 YO 2010-2018 40% (blend of Bdos, DR, Pan, Guy)
*Miscalculated as 26 YO on label