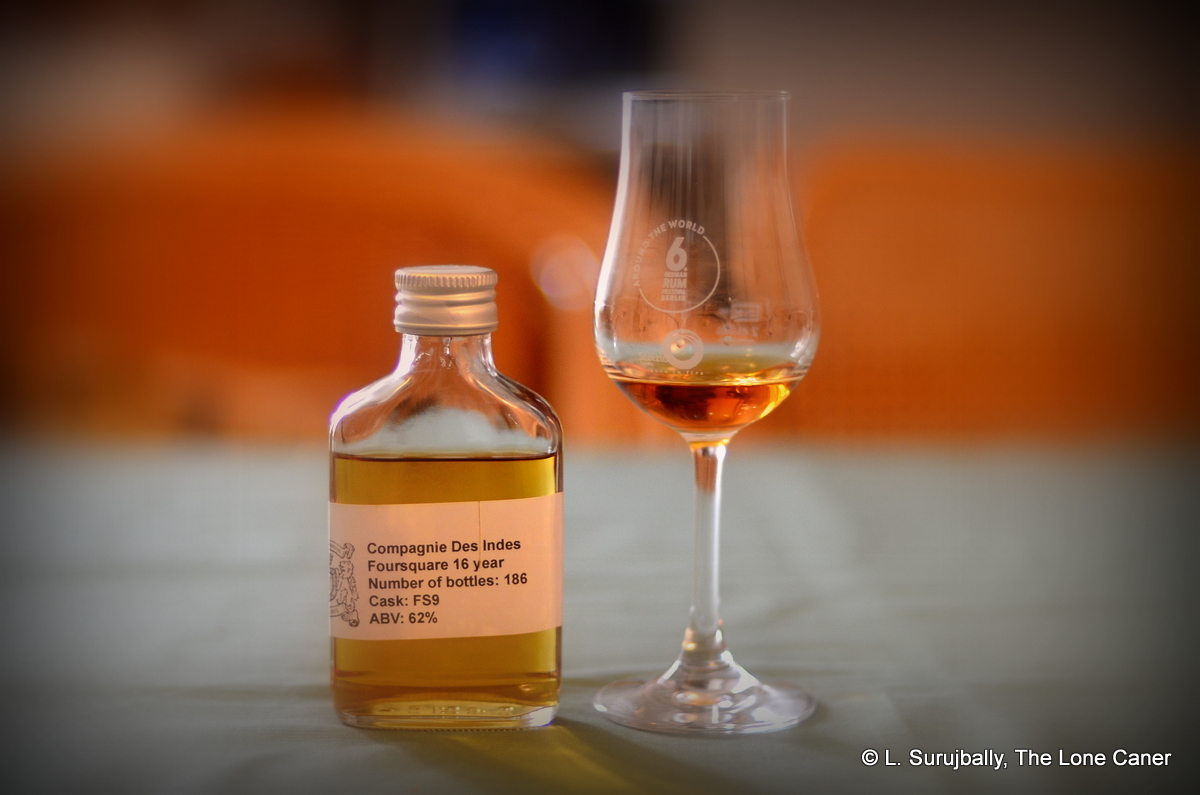 If the proposed new GI for Barbados goes into force, it's likely that rums such as this one will have to be relabelled, because the ageing will have to be done in Barbados, and it's debatable whether a third party could be permitted to say it was a Foursquare rum(see other notes, below).  Still, even if that happens, that's not a particularly serious problem on either count given the appreciation most have for tropical ageing these days; and one only has to see any independent bottler saying "Secret Distillery" on a label, for the rum pundits to work themselves up into a lather racing to see who can identify the distillery first, by taste alone.  It's kind of fun, to be honest.
Be that as it may, we do in fact have this rum here now, from Barbados and from Foursquare, so it comes from Europe where it was at least partially aged (which strongly implies Main Rum, since [a] Scheer itself doesn't do ageing and [b] Foursquare has had a long relationship with them), a near-brutal 62% ABV, and a 225-bottle outturn from a single barrel #FS9 (my sample was mislabelled, noting 186 bottles).  Unlike the TCRL line of rums from la Maison du Whisky, Compagnie des Indes do not show proportion of ageing done in different climes, which is the case here: 8 years tropical in Barbados, and 8 years continental in Liverpool; distilled April 1999 and bottled June 2016…a whisker under seventeen years of age, and a nice amber hue. About the only thing we don't know whether it is pot or column still, although based on taste, I would suggest column as a purely personal opinion (and Richard Seale later confirmed that).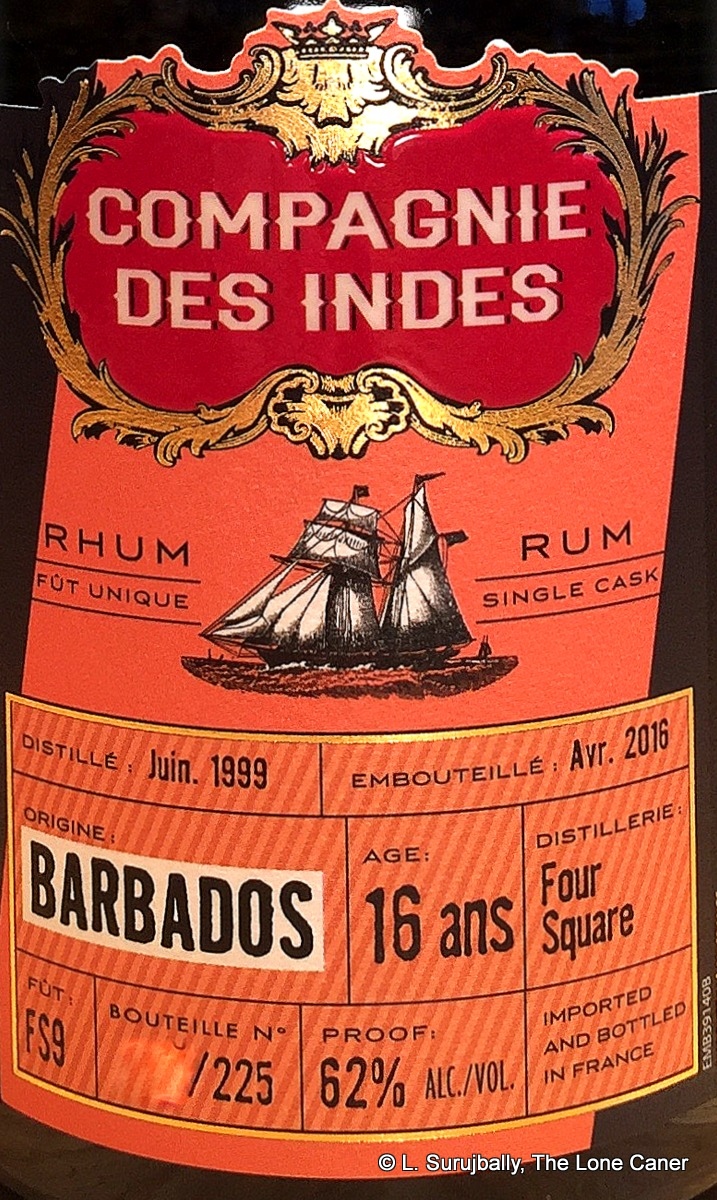 I don't have any other observations to make, so let's jump right in without further ado.  Nose first – in a word, luscious. Although there are some salty hints to begin with, the overwhelming initial smells are of ripe black grapes, prunes, honey, and plums, with some flambeed bananas and brown sugar coming up right behind. The heat and bite of a 62% strength is very well controlled, and it presents as firm and strong without any bitchiness. After leaving it to open a few minutes, there are some fainter aromas of red/black olives, not too salty, as well as the bitter astringency of very strong black tea, and oak, mellowed by the softness of a musky caramel and vanilla, plus a sprinkling of herbs and maybe cinnamon. So quite a bit going on in there, and well worth taking one's time with and not rushing to taste.
Once one does sample, it immediately shows itself as dry, intense and rich.  The flavours just seem to trip over themselves trying to get noticed: honey, fruits, black tea, plus dark rye bread and cream cheese, but also the delightful sweetness of strawberries, peaches and whipped cream, a nice combination.  It's sharper and rougher than the nose, not all the jagged edges of youth have been entirely sanded off, but a few drops of water sort that right out. Then it mellows out, allowing other flavours emerge – vanilla, cinnamon, prunes, providing an additional level of fruit that is quite pleasing. It ends with a dry, hot finish redolent of fruits and vanilla and honey (rather less cream here) that may be the weak point of the entire experience, because the integration of the complex profile falters somewhat and doesn't quite ignite the jock as joyously as the nose and initial taste had done (for me, anyway – your mileage my vary).
Never mind, though. To be honest, even if bottled from a broker's stocks by a third party independent, even if the Compagnie des Indes has a great rep for selecting good barrels, the truth is that I don't see how this could not be seen as another feather in Foursquare's cap…though perhaps not as long or brightly coloured as some of the others  The rum is well made, well distilled, well aged, well balanced, quite complex and a rough'n'tough-but-decent sip that may take some dialling down, yet overall a great advertisement from the distillery and island of origin. This is not to take any kudos away from Florent Beuchet, of course – I think his nose for a good rum doesn't sneeze, and always sniffs out something interesting, even special – and here, both Foursquare and the Compagnie can walk away, leaving this bottle on the table, (me probably snoring underneath it, ha ha) tolerably satisfied that they made something pretty damned fine.  And if you can get one, I honestly think you'd agree too.
(#646)(85/100)
---
Other Notes
I requested further information from Foursquare, and Mr. Seale's response was detailed enough for me to quote it in full here:
"This rum is 8 yrs at Foursquare and 8 years in Liverpool. It is all column.  We did unaged in the past and there are exceptions today where we ship unaged – but not for further aging.
The issue with the GI is complex and its a separate issue to the distillery name issue. I have taken the position that Foursquare should be named on the label. This has resulted in misuse of my trademark (not with malice) and I am trying to work with everyone to have our name present without misusing our trademark. Other distilleries have taken the easier (and perhaps wiser route) of simply prohibiting their name in any form – hence "secret distillery".
As far as the GI goes, Barbados is a work in progress but Jamaica will only allow certification of age in Jamaica. The practical outcome of this would be a product like this could not say "16 years" and bear the Geographical certification. That is surely correct. How can something not aged in Jamaica be given a geographical certification.
That is not to say a product like this could not exist – as Lance says, it will be about labeling. The EU expressly provides for GIs and it expressly provides a work around. By Article 14, there is whisky aged in France, declared as a product of France that was distilled in Scotland.
The biggest threat to IBs like the excellent Compagnie des Indes is not GIs but availability of rum. If all small independent distillers fell into the hands of global corporations, bulk would dry up. Moving (age driven) value from Europe to the Caribbean is not a threat to rum from IBs, it is the only way to sustain it."