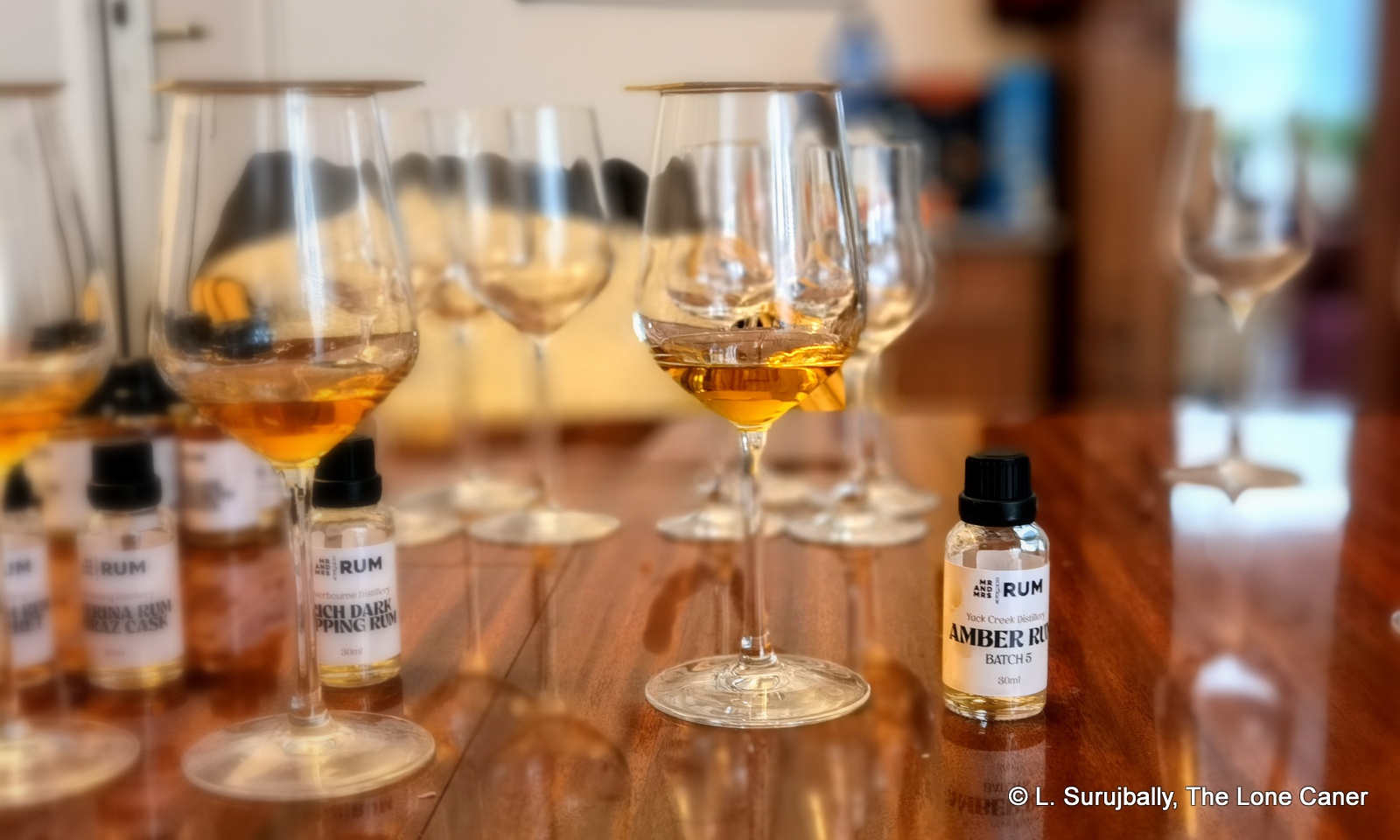 When it comes to Australia, the wider world knows of Bundy and Beenleigh almost by default, because they are the big guns that export globally and allow us to try their stuff as found in a duty-free or released by the independent bottlers. But perhaps a better sense of the country could be provided if we run through the rums of those multitudinous small micro-distilleries that dot the landscape, because seriously, that's where all the cool stuff and innovation seems to be happening as these New Australians seek for the elusive magic of a truly indigenous rum that could not be mistaken for anything else. Not all seriously try for that brass ring, and of those that do, not all succeed – what they all accomplish, however, is to enrich the rum landscape of the entire country, even if they simply make a "regular" rum.
One of the rums that doesn't make a big thing about channelling some new style or method of production but is content to simply be good, is the rum called Amber "Tavern Style"  Batch No. 5, made by the bluntly-named Yack Creek Distillery (love that name: just saying that – "I had a Yack the other day" – reeks of badass rumgeek machismo, doesn't it?).  
The distillery is located in the Australian state of Victoria, and was founded in 2016 by two friends, Mick and Jamie, conforming to the pattern of many others: the guys were checking out whale sharks in Ningaloo (Western Australia) six years earlier, the conversation turned to spirits and opening a business, and in short order they had made plans. Then years were spent securing the  financing, buying and installing the necessary equipment, doing some training in the field, and the business was set to go. It was called "Yack" after the river and town near which they set up shop, and quite sensibly shortened its name, because calling it Yackandandah might have been a labelling problem and a tongue twister for lexically challenged. Unsurprisingly they have made gin (six varieties) and vodka (just one) to pay the immediate bills, before heading into whisky territory (where they are already up to the 16th edition) and the fifth iteration of their rum line.  The philosophy is to do multiple small batches a year rather than just a few large bones, so runs and outturns have thus far remained relatively modest.
Depending on how they feel, either blackstrap molasses, molasses or sugar cane honey — all locally sourced — is used, fermented with a commercial yeast and then run through a 1000-litre copper still with stainless steel columns (a 130-litre stainless steel and copper modular high column still is utilised for smaller batches and experimentation). For the Amber "Tavern Style" rum we're discussing today, the distillate is put into an ex-bourbon cask for about four years, and then finished in a Meyrieux Bourgogne cask for a short period before being bottled at 48%.
What that does is produce a golden rum with an uncommonly pleasant nose that is assertive enough not to fade away into thin nothingness. It is, paradoxically both light and rich, redolent of blackberries in cream, cherries, raspberries and a bag of overripe plums.  At no point is it sharp or harsh, just firm and warm,  It changes a fair bit over time too: after a while one can sense oranges starting to go, some kimchi (!!), paint and freshly oiled leather harnesses, and a comfortably upholstered clean leather sofa.  You don't get that every day in a rum, that's for sure.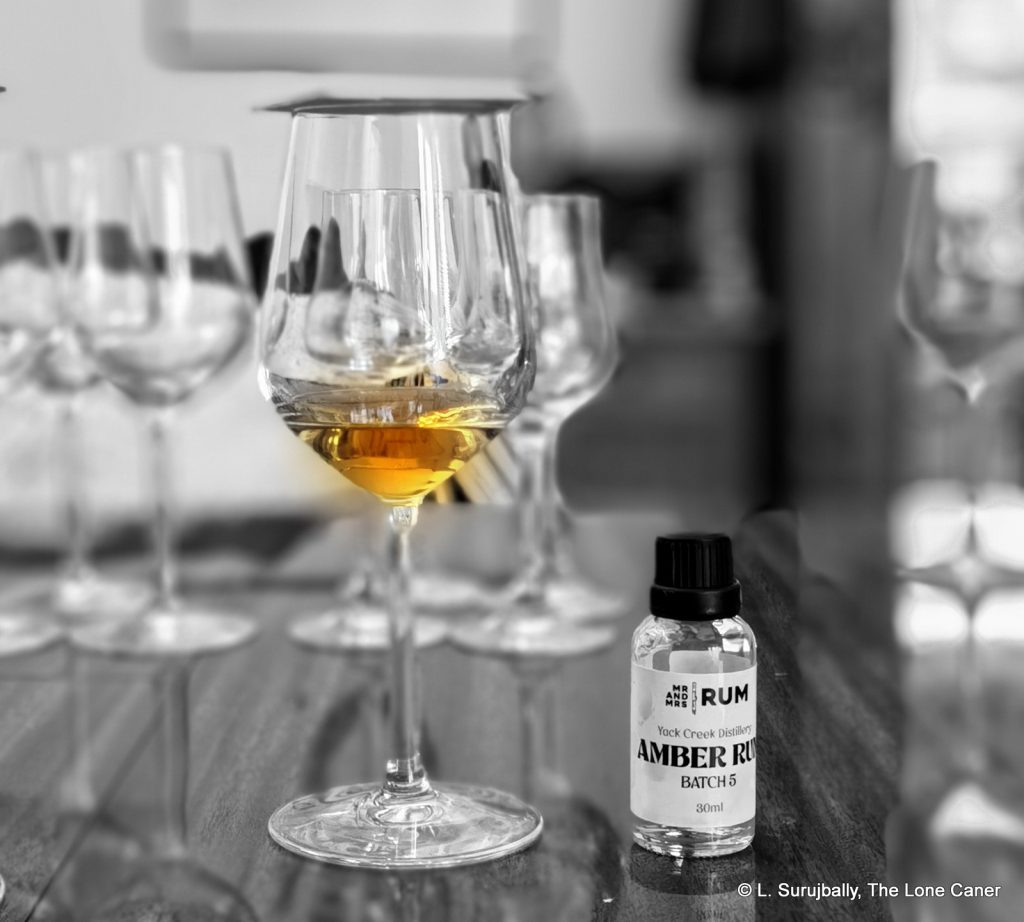 On the palate it continues to be a solid tasting rum with overripe fleshy fruit as before, and tastes a bit of dry sweet cereals, molasses, caramel, a touch of vanilla, brine, and that new-polished leather vibe. It's not as vibrant as before, though, and the components one would expect to surge to the forefront – aromatic herbs, anise, spices and tart fruits – take a back seat. This leaves salty and musky flavours to take over, at the expense of a more complex multidimensional profile which the nose had hinted was possible. The finish operated at this level also: dry, wine-y, with notes of fat red grapes, licorice, olives, Danish butter cookies and some stale orange rind. It had a certain whiskey-like nature to it, suggesting a malt in rum's clothing.
Like most new and small distilleries such as we have been reviewing of late, rums like this are youngish, decently made and solidly constructed, but not complex, uber-aged top-enders. They can't be, because they are the distilleries' bread and butter, sharing the stage with equally young whiskies and gins through economic necessity (for now). That limits them somewhat, and it's a quiet achievement that this one succeeds as well as it does.
The Amber No. 5 is an unquestioned achievement of the mid range: it noses solid, tastes firm and finishes with some style, even if it does leave you wishing for more: at the end its informal title of "Tavern Style" pretty much says what the makers probably had in mind when they created it.  And yet, in spite of all that mid-brow aesthetic (or because of it) I really quite enjoyed it, especially in a simple Cuba Libre or with ginger beer, because the rum had enough notes to hold my interest and woke up the mix very nicely; it can even be had neat without undue discomfort. What it also does is remind me — a lot — of a Bacardi 8, a Young's Old Sam, a young El Dorado or a Doorly's: a seemingly regular, even overlooked, rum that is quite a bit better when you try it than the bare stats say it is.
(#921)(82/100) ⭐⭐⭐½
---
Other notes
I was told the outturn was about a hundred bottles. All are sold in the local area, most at the distillery itself in the small bar they have onsite. Obviously one made it to the 2021 advent calendar from which this sample was obtained, and for which I remain grateful to Mr. & Mrs. Rum for providing.

The logo on the company masthead is that of a Blue Murray Spiny Crayfish, commonly found in the creek and was designed by Jamie Heritage and his sister.

Yack Creek Distillery is one of a cluster of small family-run distilleries established over the last decade in and around Yackandandah and its surrounds. Backwoods Distilling is close by, and in the area are Barking Owl, Bilson's, Glenbosch, joining the 10 or so distilleries in Victoria's High Country.