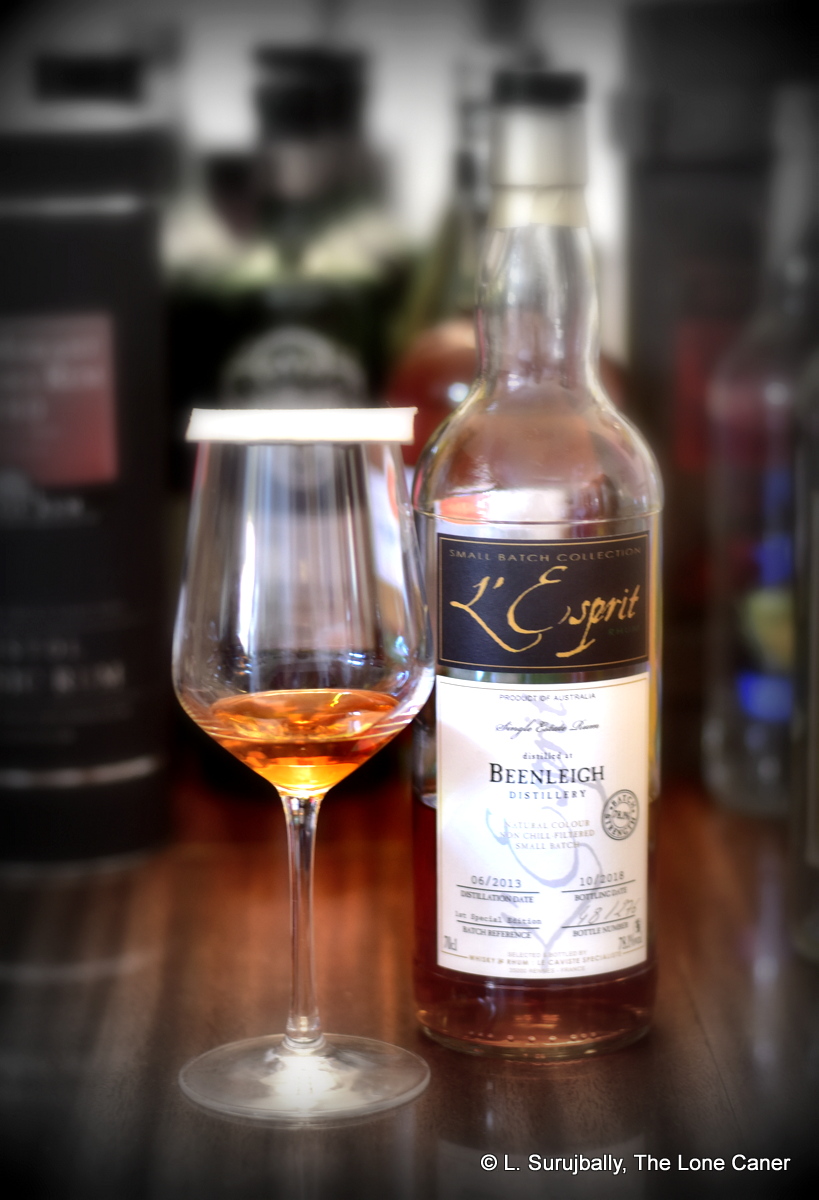 The French-bottled, Australian-distilled Beenleigh 5 Year Old Rum is a screamer of a rum, a rum that wasn't just released in 2018, but unleashed. Like a mad roller coaster, it careneed madly up and down and from side to side, breaking every rule and always seeming just about to go off the rails of taste before managing to stay on course, providing, at end, an experience that was shattering — if not precisely outstanding.
It is bottled by L'Esprit, the Brittany-based company that provided two of the most powerful whites I've ever tried (from Fiji and Guyana); and distilled by the Australian distillery Beenleigh, which is practically unknown outside of Oz, but which has been in operation since before 1884 (see other notes, below) and which I've mentioned briefly in two heritage Rumaniacs reviews, the Stubbs Queensland White, and the Inner Circle "Green Dot" rum. And it's stuffed into specially hardened glass at a palate-dissolving, tears-inducing 78.1%, which is sure to make any lover of machismo grin, flex the glutes and the pecs, and dive right in.
To say it's hot may be understating the matter. This thing noses like an unexpected slap from your loved one, the sweet force of which has to be watched out for and mitigated as best one can. It's sizzling, it's sharp and quite sweet – caramel, butterscotch, apricots, peaches and cherries in syrup…on the icing of a vanilla cake. And even with the strength I could, after a while, smell very ripe, almost spoiling mangoes and kiwi fruit, with cereals, cinnamon, and milk…plus more chopped fruit.
The palate, well, this was very nice. Initially it's all passion fruit, five-finger, sorrel, tart soursop, salt caramel ice cream (Hagen-Dasz, of course). It remains hot and sharp to a fault, which you can navigate with your sanity and glottis intact only only via paranoid caution and really small sips. It presented as nutty, creamy, fruity (of red, yellow, ripe variety, so choose for yourself), not crisp per se, just damn solid, as firm as a posturepedic mattress on sale at your local furniture store. Plus the headboard, which hits you several times, hard. Unsurprisingly, the finish is a DeMille-style biblical epic, long, hot, breathy, practically ever-lasting, leaving behind good memories of cereals, cream, salt butter, and thick ripe fruit. These were admittedly somewhat standard, and perhaps unexceptional…but it certainly didn't sink the experience.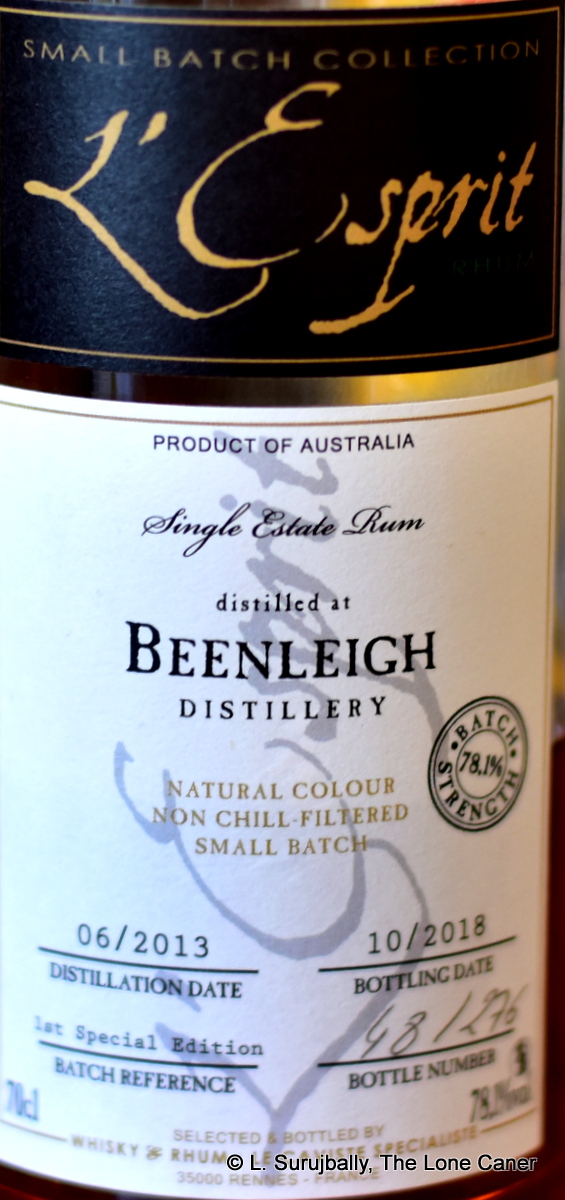 I still remember how unusual the Aussie Bundaberg had been back in the day (as I recall all traumatic rum encounters in my genuflectory come-to-Jesus moments) but no matter how polarizing it was, you couldn't deny it had real balls, real character. L'Esprit's Beenleigh was nowhere near that kind of opinion-inducing love-it-or-hate-it style, but that aside, I must say that it channels Conrad well, it's major sound and fury, a mad, testosterone-addled wild-eyed piece of the rum zeitgeist, with wild pendulum swings from the sedate to the insane, the smooth to the storming, and a hell of a lot of fun to try. I don't know how I missed including it in my list of the most powerful rums of the world, but for sure I've updated the list to make sure it's in there.
L'Esprit remains one of my favourite independents. They lack the visibility and international reputation of better-known (and bigger) companies which have snazzy marketing (Boutique-y), a long trail of reviews (Rum Nation), ages of whisky and other experience (Samaroli) or visionary leaders of immense and towering reputations (Velier) – but somehow they keep putting out a rum here and a rum there and just don't stop…and if they don't always succeed, at least they're not afraid of running full tilt into and through the wall and leaving an outline of Tristan Prodhomme behind. The Beenleigh is one of the rums they've put out which demonstrates this odd fearlessness, and ensures I'll continue seeking out their rums for the foreseeable future. Both L'Esprit's, and those of Beenleigh themselves.
(#695)(81/100)
---
Other Notes
Sugar cane growth had been encouraged in Queensland by the Sugar and Coffee regulations in

1864,

the same year as the Beenleigh plantation was established

(

it was named after its founders' home in England

).

Initially sugar was all it produced

,

though a floating boat-based distillery called the "Walrus" did serve several plantations in the area from

1869

and made rum from molasses

–

illegally

,

after its license was withdrawn in

1872,

continuing until

1883

when it was beached

.

Francis Gooding

,

one of the founders

,

purchased the onboard still and gained a distilling license in

1884

from which time such operations formally began in Beenleigh

.

Through various changes in ownership

,

Beenleigh as a distillery continued until

1969

when it shut down because of falling demand

,

then relaunched in

1972

under the ownership of Mervyn Davy and his sons

;

they didn't hold on to it long and sold it to the Moran family in

1980,

who in turn disposed of a controlling share to Tarac Industries in

1984.

All the post-1969 owners added to the facilities and expanded the distillery's production to other spirits

,

and it was finally acquired in

2003

by VOK Beverages a diversified drinks company from South Australia

,

in whose hands it remains

.

Tristan confirmed that this rum was completely pot-still

.

Although the majority of Beenleigh's rums come from a column still

,

the old copper pot still they started with all those years ago apparently is still in operation

–

I would not have thought a pot still could get a proof that high

,

but apparently I'm out to lunch on that one

.

Other than that

,

it is not a single cask but a small batch

,

and technically it is a

3

YO

,

since it spent three years in wooden casks

,

and two extra years in a vat

.