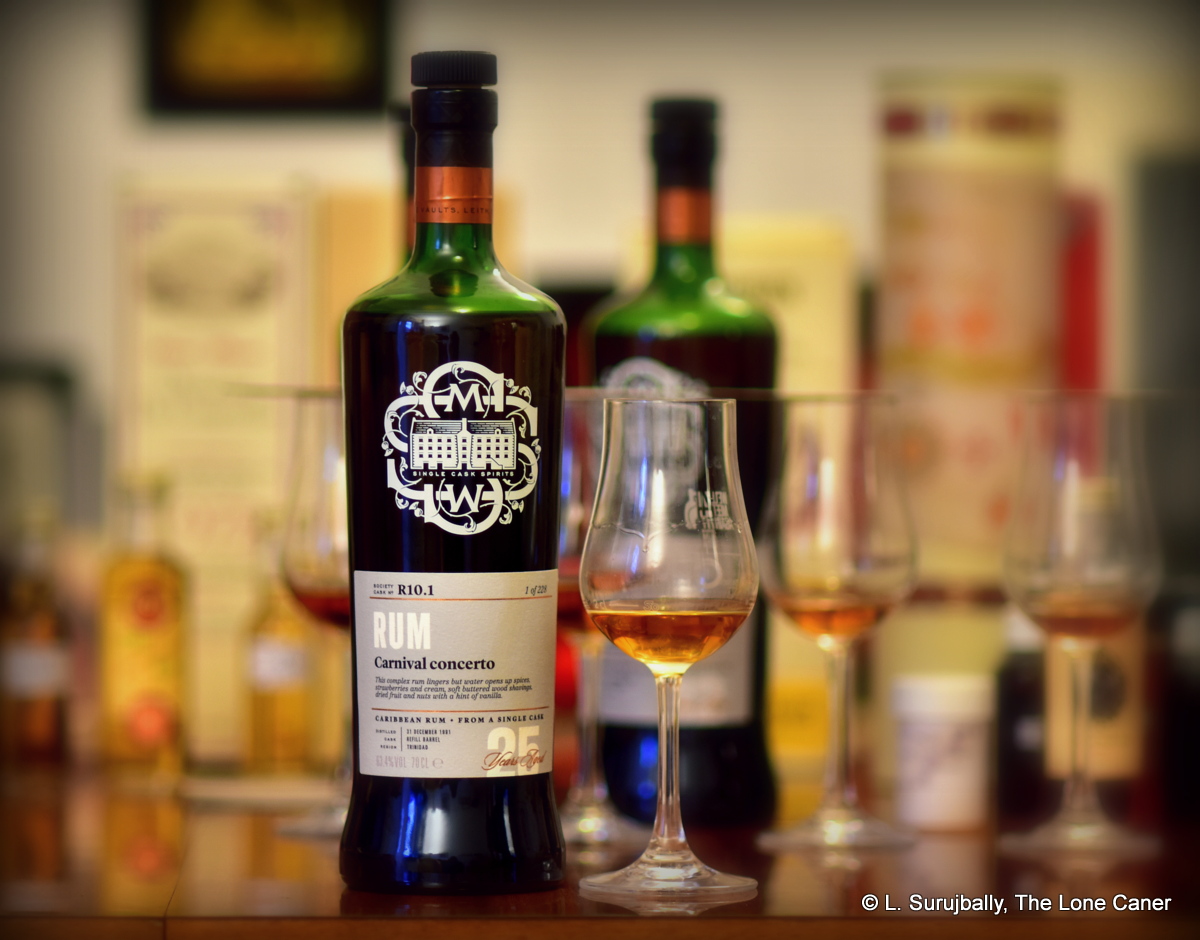 Just in case rums that have mated with a two-by-four are not your thing, kiss your significant other tenderly and take a deep heaving breath before sipping SMWS's first Trini offering, because at 63.4% and with this profile, you'll need a fall-back plan. I mean, there's an enormous expanding blast radius of sharp aromas and tastes billowing around this thing that makes such prudence not just an option, but a requirement. Reading the stats on the bottle gives rise to some serious anticipation, which makes it all the more peculiar that it ends up being so…ordinary.
Take a careful sniff. You'll probably find, like me, a fair bit of "traditional" rummy aromas here: vanilla and caramel, blancmange, coffee, creme brulee. The slight bitterness of oak and wood varnish. Raisins, kiwi fruits and orange rind, a touch of mild salt. And….and… well actually, that's pretty much it. What the…? For sure the nasal assault is strong and sharp and hot, yet that proof point, that quarter century age, does suggest that it should do more than simply giving the impression of still being in short trousers. It feels washed out.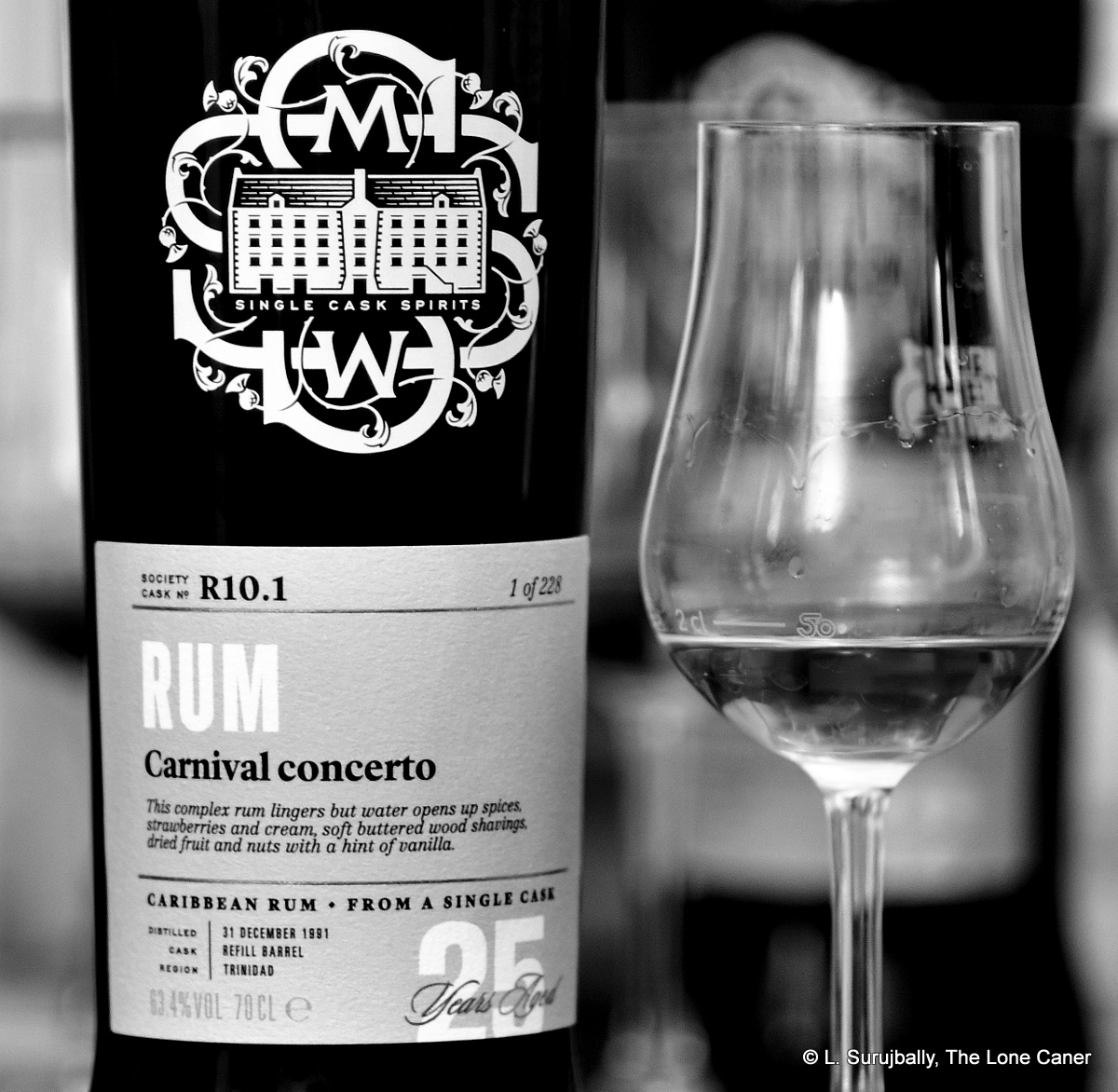 How's the profile when tasted, then? Better, yes…up to a point. The hot bite of oak tannins leads in and never quite lets go. Some shoe polish, iodine, glue. Coiling behind that are salted caramel ice cream, vanilla (again, annoyingly obstreperous) and white chocolate, almonds, and where the hell are the fruits gone? At best, if you strain you might pick up some black tea and with water and I dunno, peppermint gum, a green apple, maybe half a pear. Water helps tone down that acrid tone, but this just – paradoxically enough – calls attention to the fact that it's there to begin with. Finish is assertive and spicy, then fades fast, leaving behind memories of spices – marsala, cumin, more vanilla, brown sugar and again, oak and black tea.
By now you've probably come to the dismayed realization that this is not a rum eliciting paeans of praise from choirs of angels who've gotten high on their share, and you'd be right, because it fails on a number of levels. The strength obliterates subtlety: not always a bad thing when done right, but on this occasion all it does is dampen down what should be a more complex, dense series of tastes. Even with 25 years of continental ageing there should be more going on — instead, we get a fiery shot that could as easily be five years old. The vanilla is like a guest that won't leave and between that and the oak, the result is a rum overwhelmed by hot simplicity.
The SMWS, which was formed in 1983, is primarily a whisky society, though in recent years they have branched out into armagnacs, cognacs, bourbons, rums, and even gins. So far they have rums from Guyana, Barbados, Jamaica, Panama, Nicaragua, Belize and Trinidad and it's all a bit hit or miss, with mostly Barbados, Jamaica and Guyana rums holding up their end when rated against other indies doing the same thing. From T&T they have several Caronis (the R13.x series) and only two from Trinidad Distillers, the R10.1 and R10.2, issued in 2016 and 2017 respectively. That distillery is of course the home of Angostura, and always struck me, what with their industrial stills and barrel focus, as closer to the Spanish heritage production ethos than that of the English.
Personally, I'm not always won over by Trinidad rums aside from the Caronis (this is a purely personal thing). Angostura, though more informative than the Panamanians, too often shares something of their overall ho-hum, good-'nuff anonymity and deserves an occasional suspicious look. Sort of like "Okay, it's a rum, so what?" That can work with blended releases issued to the broader market where "cheap and decent" gets the sales, but for a more exacting audience exemplified by those people whom the indies serve, that can be fatal, as it is here. The R10.1 is a strong blast of nothing in particular, a big show with no go, showcasing far too much of the barrel and not enough of the booze.
(#853)(79/100)
---
Other notes
Initially the rum sold for £195 but subsequent auctions on WhiskyAuctioneer and Catawiki came in lower than that

.

Aged in refill ex-bourbon barrels between December

1991

and

2016,

with a final outturn of

228

bottles

.

A comprehensive list of all the SMWS's rum bottlings can be found at the bottom of

the biography

.