#510
The Ping No. 9 is a private / independent bottling done by the Danish liquor store Juuls and I first came across it in 2016 when one of those anonymous mad vikings (thanks Gregers!) brought it to a truly epic Caner Afterparty session, where it was promptly run past (what else?) the G&M Longpond 1941 and the BBR 1977 itself, to which we then added an Albrecht Trewlawny 1993 17 YO (Longpond, 2nd Release) and the EKTE No 2 (Monymusk) to cross reference .  We had nothing else on hand that was the right age or from the right island, so this had to do, but even that comparison allowed us to come to grips with its structure and assembly in a way that made its strengths (and weaknesses, such as they were) somewhat clearer.
Let that pass for the moment and simply sigh with envy at whoever sprang over a thousand euros in early 2018 (on one of the FB sales pages) for a bottle of this juice – not because it's superlative (I didn't think it was, not entirely), but simply because we don't see rums from the 1970s coming on the market any longer and even the 1980s are fast becoming a vanishing breed, and so to try one that geriatric, and issued at a snorting 61%? Rum heaven.
All right, so a bourbon-cask aged expression, costing four figures, continental ageing, Danish bottler buying from a Speyside outfit, 221-bottle outturn. What did it taste like? In a word, lovely. It was smooth to smell and a pleasure to inhale, largely because the huge strength was under control the whole time, presenting heat instead of crude sharpness.  It began quietly with bananas, vanilla, mead, honey, cream cheese and a little caramel, almost no citrus (and if there was any, it kept way the hell back). As we came back to it over a period of some hours, crisper notes of green apples, candied oranges, cinnamon and ginger cookies came forward as the softer ones receded.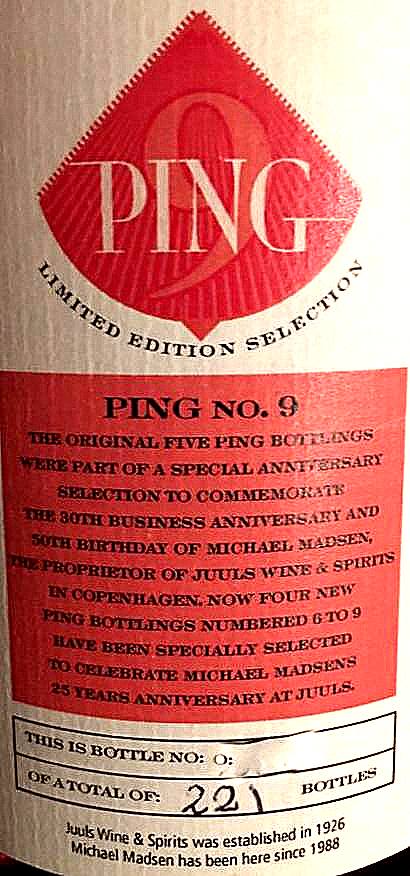 Say what you will about tropical ageing, there's nothing wrong with a good long continental slumber when we get stuff like this out the other end. Again it presented as remarkably soft for the strength, allowing tastes of fruits, light licorice, vanilla, cherries, plums, and peaches to segue firmly across the tongue.  Some sea salt, caramel, dates, plums, smoke and leather and a light dusting of cinnamon and florals provided additional complexity, and over all, it was really quite a good rum, closing the circle with a lovely long finish redolent of a fruit basket, port-infused cigarillos, flowers and a few extra spices.
What is both good and to some extent a let-down about the rum is its control. At no point did any of us ever feel that we were getting a 61% beefcake in our glasses.  It was not a cream puff milquetoast, no, but in comparison to the gleefully manic proctological probing that clairins subject us to, this thing is like a lover's gentle yet firm caress – and on the level described, it's all good, and I enjoyed it thoroughly. But it also, I have to concede, lacked a real edge and bite of the sort a more funky profile would have provided, which leads me to my main point of contention.
There was little that was distinctly Jamaican in the rum – no, really – and it actually reminded me more of a combo of a Bajan and a Guyanese, taken to cask strength. If the measure of a rum is the extent to which its maker conforms to the standards of the place of origin or alignment with the expected style, then you'd be hard put to really place it as being from the island. The Ping No. 9 presents a profile somewhat at odds with those characteristic tastes we associate with the newer Jamaican bottlings of late – dunder, funk, hogo, esters, pick your term – little of this was in evidence.  Whether this is a matter of how and where it was aged, or the simple fact that it was made in a different era, is debatable. But it did make me feel somewhat disappointed.
I know there's one person who's reading this who's muttering "Bullsquirt!" to himself and running to get his two bottles out of the triple-locked safe where he has them stashed behind a couple of flash-bangs and a collection of nasty toys meant to cause any would-be pilferer immense discomfort (he takes his juice seriously, and they'll get his rums when they pry them out of his quivering hands, I suspect). He's going to re-test it, no question, then post a rebuttal for me to ponder. The thing is, I know he liked the Ping 9 more so than I did, just as he disdained the Velier 1972 Courcelles and I didn't.  And because our tastes and palates run apart from each other, it's very likely that others will too. Therefore, interesting as I believe the Ping 9 to be, lovers and potential purchasers might want to sample before they buy. It's very good but it's also different…and that makes it something of a tricky purchase, no matter what the score, the age or the price.
(86/100)
---
Other notes
The rum is actually five days under 36 years old: for once I think I'll just note it and move on and keep calling it a 36 YO. Such a tiny variation doesn't trouble me much at such an age.

For what it's worth, it makes me suspect that the BBR 1977 also came from Longpond.  My own opinion was that the BBR was better, and the Albrecht Trelawny

and

the EKTE also exceeded it.

Both Roger Caroni (who writes in French), and Wes Burgin over at the FatRumPirate tried a brother of this rum, the Old Jamaique Long Pond 1977 35YO (at 50%), which was a collaboration between the Belgian bottler Corman-Collins and the Scots bottler Ian MacLeod, the latter of whom was also the source of this barrel for Juuls. Roger liked it a lot (without a score), and Wes also commented on the lack of funkiness; still, from his 4.5-star score, I think it's safe to say he liked the rum from his barrel a bit more than I did the rum from mine.
So what's with the name "Ping"? I asked around and was told that "Ping" was the humourous nickname given to Michael Madsen (the owner of Juuls, the 30th anniversary of which this edition commemorates) in his youth….because he looked something like a penguin, or "pingvin" in Danish.  That's so funny it almost has to be true, though I must emphasize it's just something of a Danish urban rum-legend.