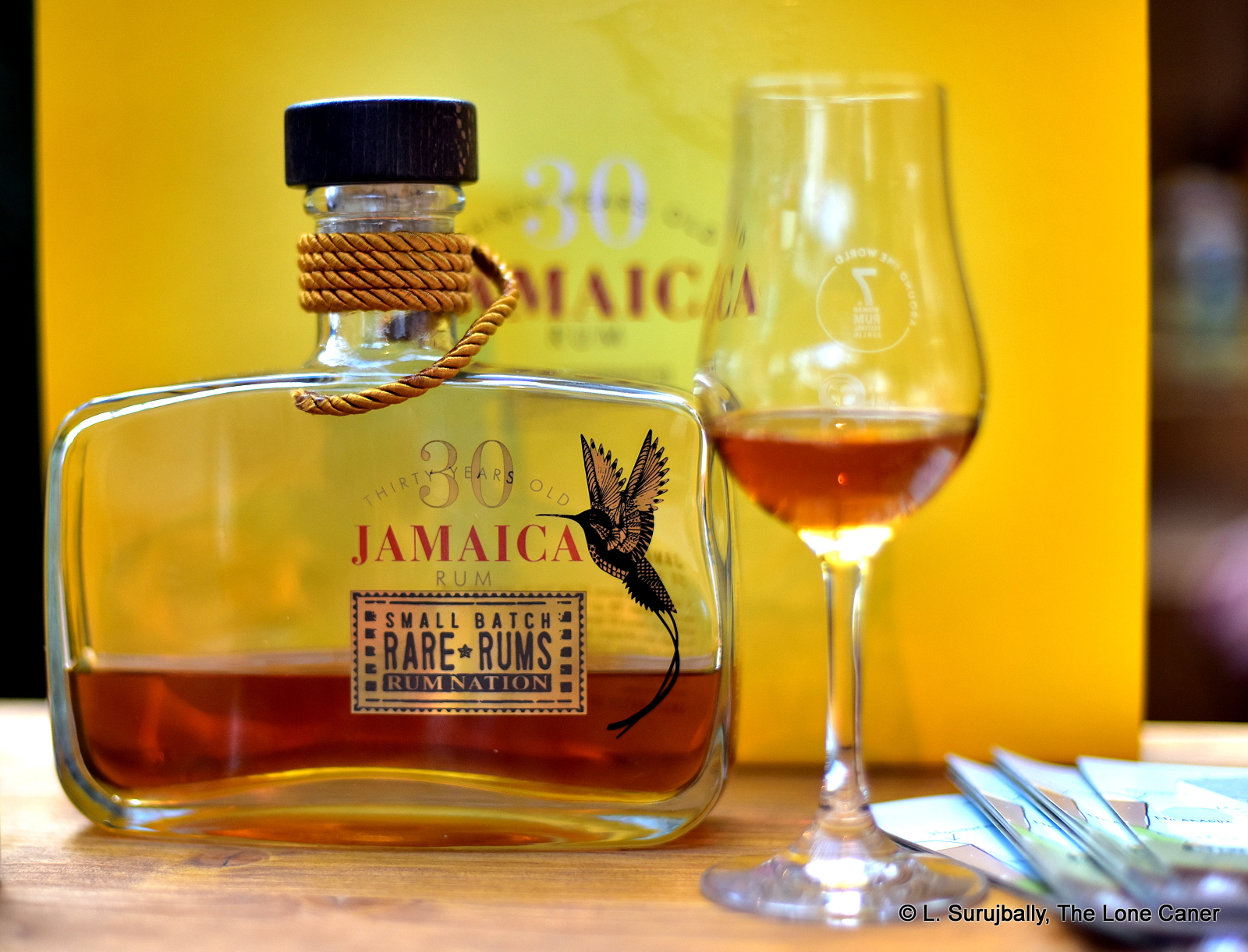 #462
For almost two decades, Rum Nation issued very special 20+ year old Jamaican Rums in the Supreme Lord series, always at a relatively quaffable 40-45% and with that oh-so-cool retro wooden box and jute packing that has now been discontinued; then a year or two back they decided to go with a new line, the "Small Batch Rare Rums" – this was to differentiate the cask strength line of more limited bottlings from the blended products with larger outturns, which Fabio sometimes refers to as "entry level" and which I always thought were quite good (ever since I bought the entire 2010 line at once).
One of the best of these is this appealing, approachable and near-sublime Jamaican rum, blended from three special years of Long Pond's stocks: 1985, 1986 and 1977. This is a rum issued in a limited outturn of 800 bottles, and has a presentation that places it at the top of the already fairly exclusive Rares: because while many of those are in the 10-20 year age range (there is a massive bronto of the 1992-2016 Hampden 61.6% that clocks in at 24, which I need to get real bad), this one beats them all and is at least 30 years old…and given a special presentation to match with a stylish flagon and clear printing direct on the bottle, and a neat box in which to show it off to less fortunate rum chums.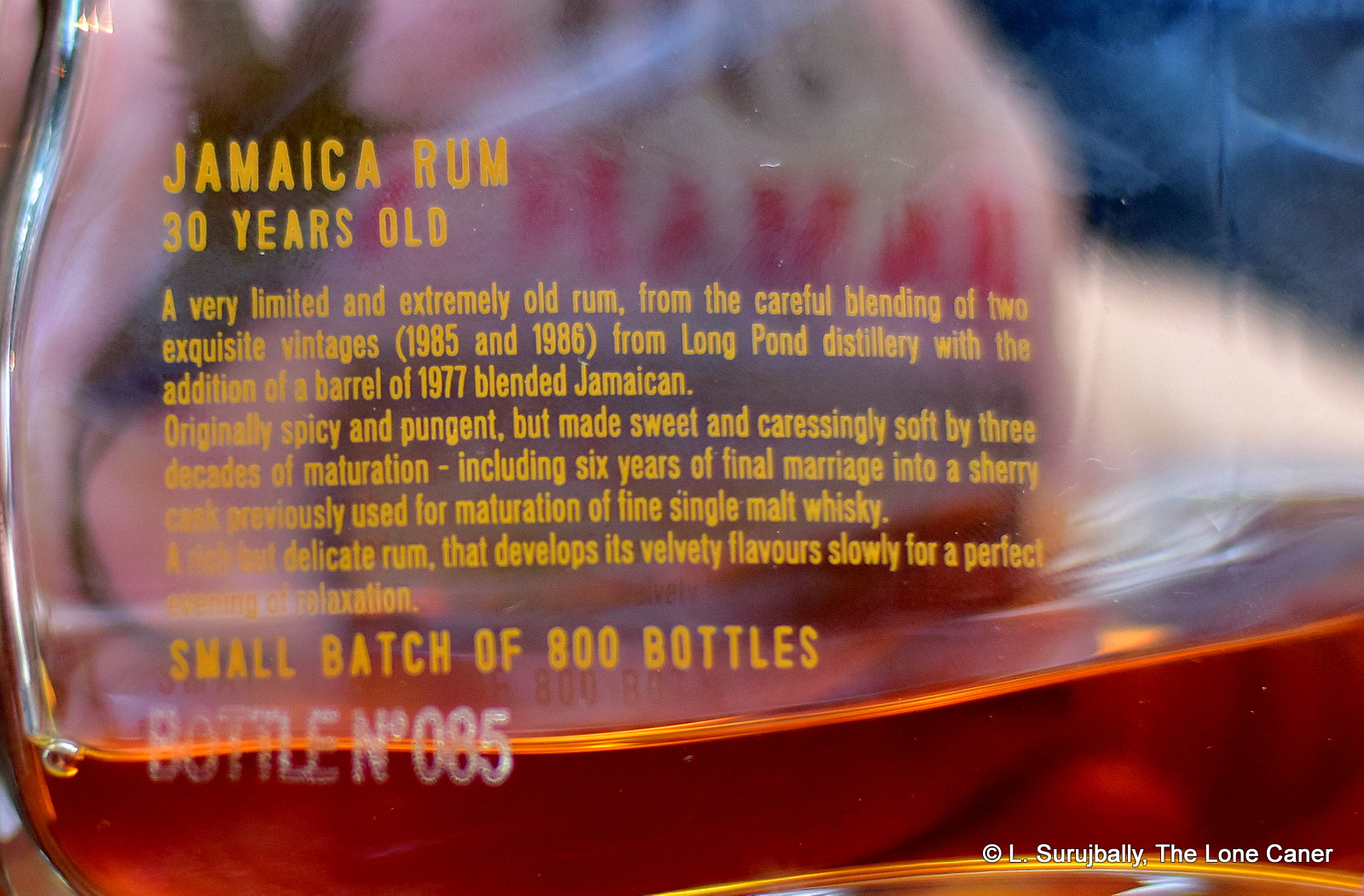 The constituent rums were aged in second fill bourbon barrels before being blended and then aged for a further six years in Oloroso casks pre-used for (an unnamed) whisky, and everything about the profile shows the best parts of all that ageing.  The nose was quite simply delicious – it dialled back the rubber and wax and furniture polish (though there was some of that) and amped up the characteristic Jamaican funk, mixing it up with bags of dark fruit – raisins, prunes, black olives for the most part.  Letting it stand gave more, much more: leather, tobacco, a smidgen of vanilla, honey, licorice, sherry, brown sugar and more raisins in a smooth smorgasbord of great olfactory construction. I walked around with that glass for over an hour and it was as rich at the end as it was in the beginning, and yes, that's an unqualified recommendation.
Although I might have preferred a stronger, more forceful attack which 48.7% ABV did not entirely provide, there's little I could find fault with once I actually tasted the thing.  Actually, it was as good as the nose promised and didn't disappoint in the slightest: it began with a little unsweetened chocolate, caramel, molasses and funk, then added olives and brine to the pot, before flooring the accelerator and revving it up to the redline.  Tumeric and paprika, light grasses and herbs, flambeed bananas, lemon peel, more raisins and prunes, both smooth and a little savage at the same time – surely something to savour over a good cigar. And the finish was excellent, just long enough, a shade dry, presenting closing notes of oak, vanilla, leather, smoke, molasses and caramel, chocolate and the vaguest hint of fruitiness and citrus to end things off with aplomb and a flourish.
The Jamaica 30 is priced to match at around four hundred dollars and therefore I can't in fairness suggest you put yourself in hock to go get it unless you have such coin burning a hole in your portfolio.  It lands emphatically in the Fifth Avenue segment of the market, which makes it, unfortunately, mostly affordable by those who are more into showing off, rather than rum-geeks who would put it to bed next to the wife and make sure it (and not the wife) is tucked in properly.
But if you can get it, it may even be worth the outlay: this was a really nice rum. In my more imaginative moments I like to think that some years ago Rum Nation took a look at their wares and concluded that perhaps they were, with long association and decades long sales, getting, well…maybe…a shade boring?  I can just see Fabio Rossi in his warehouse morosely sucking rum out of a barrel, wondering where to go next, then raising his fist to high heaven and swearing like Scarlett, that "Mah rums will nevah be boring again!"  It's taken years for that metaphorical flight of fancy of mine to be fulfilled, and has he ever succeeded with the Small Batch series in general, and this one in particular.  This rum is as exciting as any new rum now being made; and if that doesn't get your juices flowing, I honestly don't know what will. Except maybe a second bottle.
(90/100)
---
Other notes
I am unaware of any added sugar or dosing on the rum. Fabio Rossi has told me in the past that the Rares are unmessed-with, but I have not managed to ask about this one in particular yet.  A query to him is pending. Marcus Stock, a friend of mine from Germany, took a small sample of his own and it measured at equivalent ABV of 45.18% which he calculated back to 12 g/L additives.  He promised to do the test on a larger sample as a double check.