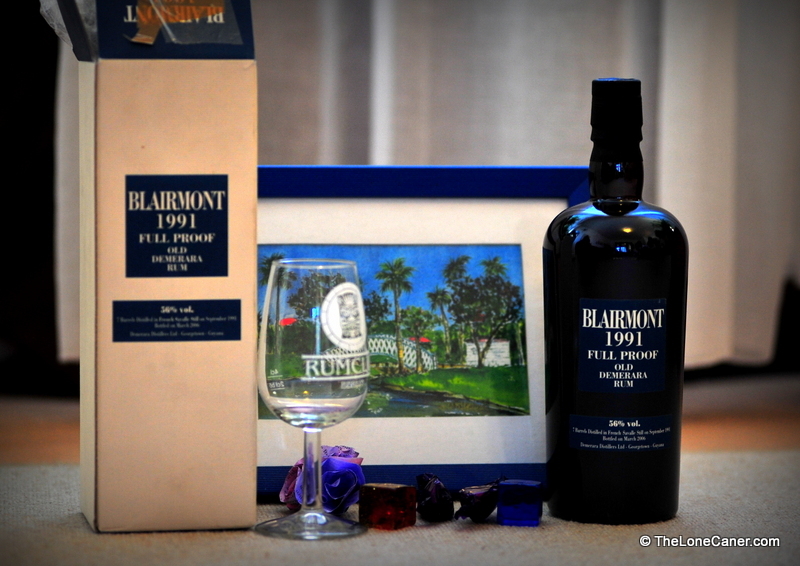 A paradox of rum, marrying a lighter than expected profile with a stunningly intense full proof taste, compliments of the House of Luca
When I first poured a shot of the Velier Blairmont 1991 15 year old rum into my glass (after having waited over a year and a half for the privilege), I immediately remarked its colour: a straw coloured light amber rum. After sampling five other Veliers in the past year, all of which were dark, brawny, bearded beefcakes, this came as something of a surprise.
According to the literature on the bottle, seven barrels of the rum were distilled in Blairmont on a French Savalle still in 1991, and 1,913 bottles resulted in March 2006. Luca Gargano, the maitre of Velier, seems to have unprecedented access to old and mouldering barrels of rums from DDL's warehouses, judging from the variations he keeps putting out, and one thing is clear – the man knows how to put a rum together. This is no slight against that other Italian whose products I enjoy enormously (Fabio Rossi of Rum Nation), but the two men are not really comparable except in so far as they both issue superlative rums, since they follow differing philosophies in how they make them.
This difference is most clearly discerned in the strengths of Velier's rums – all of them are bottled at a proof greater than 50% (the Blairmont was 56%). And this was immediately evident as I nosed it: yes it had strength, but in no way was it either sharp or nasty or an assault on the senses. The initial scent was one of freshness and zest, of honey, deep, softer to nose than the strength would suggest. This was followed by orange peel and some sharper fruits…half ripe mangoes, green grapes, apples, with a flirt of softer peach in there somewhere, mixed up with a faint nuttiness. Nice. It was more herbal than one would imagine a rum from Demerara to be (although Blairmont Estate is actually on the immediate west bank of the Berbice River).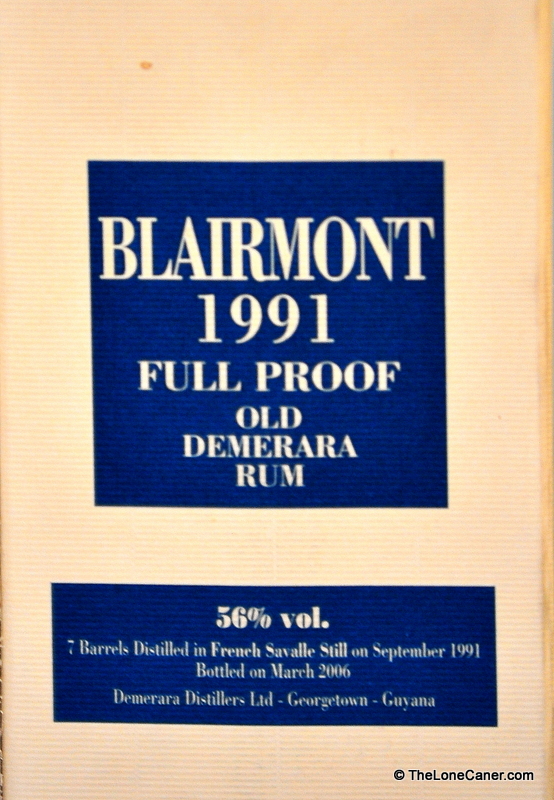 The palate was similarly excellent, being medium bodied, golden and having a clarity of taste that reminded me of a good green tea. Crisp and snappy, a bit sweet, something like a Riesling on steroids; orange and cinnamon notes crept out to have their moment in the sun, followed by more green tea and some lighter honey notes. The depth and intensity of flavours was well handled, and even at 56%, I felt that here was rum I would sip neat with no issues at all. And as could be expected, the finish took its time, was clear and well balanced, leaving me with the memories of flowers, caramel (just a bit), fresh grass and newly sawn wood.
Velier is a company formed by the Italian Luca Gargano, and he's made nothing I haven't liked so far. He began life as a brand rep for St James in Martinique, but eventually formed his own company to market odd variations of the agricoles he found in Martinique and Guadeloupe. Once he discovered Guyanese rums he bottled as many as he could find (it's possible that his greatest find has been the Skeldon 1973 32 year old), and while this may be anecdotal, I think they have all attained cult status among die-hard aficionados. He's been fortunate to have an excellent relationship with Yesu Persaud, the (now retired) chairman of DDL, who provided him with unprecedented access to their warehouses.
It's become sort of a personal crusade for me to find these odd and rare rums that are issued (or not) on a regular basis, not least because finding something like the Blairmont, buying it and tasting it and writing about it, adds to the store of reviews available in the world. I think it's a spectacular rum, noses well, tastes phenomenal and is, at end, both terrific and leaves me wanting more. I don't often issue hagiographies, but in this case, my advice is to try anything you can find by this company, because Luca sure knows what he's doing, and he isn't bottling a whole lot.
(#179. 90.5/100)
---
Other Notes
Mon ami Cyril of DuRhum.com, has done a two part interview with Luca which I promised to help translate, and have not yet done. However, both French parts and a decent English version exist in the links below
In 2014, I wrote a biography of Velier to add to the details of the company for the curious.