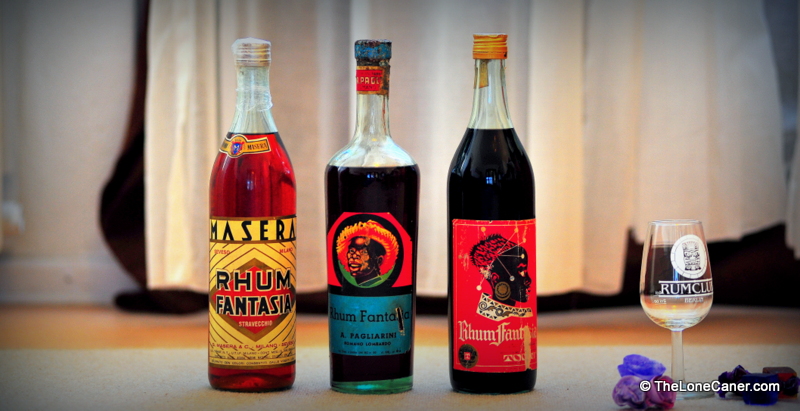 These three rums are aged curiosities. There's one from the 60s, and two from the 70s. Information on their origins is maddeningly obscure. The labels are crap, and the corks aged and faded and cracked by decades of rough handling. There's never been a review of any that I was able to find, and their makers are likely long gone. Yet these three bottles exist, and if for no reason than their history, I review them here, make what remarks I can, score them as best I'm able.
Italy in these days is no stranger to rums, of course. Fabio Rossi of Rum Nation is the name that springs immediately to mind, and Campari recently bought the brands of Appleton and Coruba. Yet in rum's heydey of the forties and fifties, there were many small outfits that matured their own stocks and brought out limited craft spirits to tempt the palates of those living La Dolce Vita. Some of these were real spirits of the kind we know and enjoy today, but many were what were called "Fantasy rums" – products made from caramel syrup with industrial alcohol, to which various herbs and spices (and in other cases young Jamaican rums), were then added. They were used for baking additives, pastries, or even as digestifs, not so much as sipping rums. They certainly don't taste like molasses based products.
This to many purists, and according to modern EU rules, disqualifies them from being called rums, and they share similar DNA, then, with Tanduay, Stroh and Mekhong – they edge close to the line without ever quite stepping over it. As before with those examples, I'll call them rums just because they're labelled that way and to give them a home.
Anyway, knowing all this, what are they like?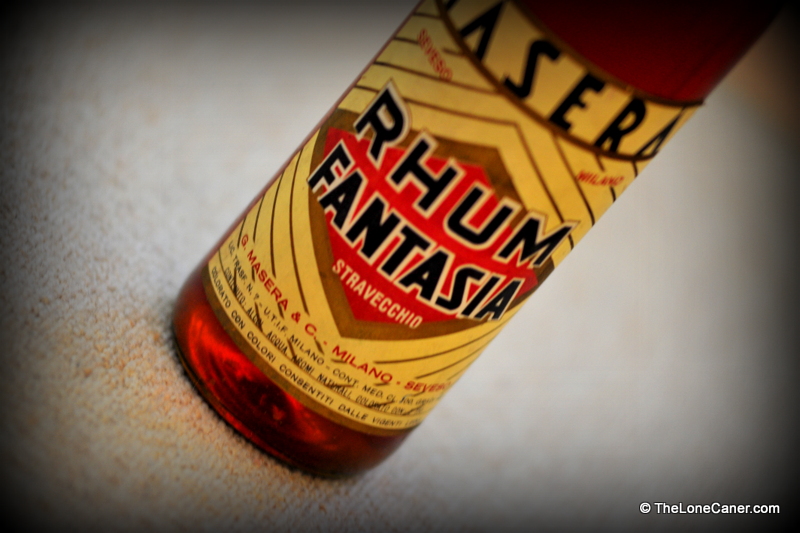 #489a
Rhum Fantasia "Stravecchio" Masera 1974
Bottled by Seveso Milan
Amber coloured, 40%
Nose: Much more of a rum profile than the other two. caramel, brown sugar, peaches and apricots – nice. Soft on the nose, very easy going, with hints of vanilla
Palate: Pleasant and gentle on the tongue, no real spice going on here: medium bodied, a little dry. Vanilla comes out punching, without being overwhelming. Caramel and burnt sugar dominate the taste at the beginning, and then give way to peanut brittle. A shade salty, even buttery, with a pleasant background of walnuts and crushed almonds
Finish: Short. Doesn't want to piss you off. Toffee and nuts on the close, without lasting long enough to make an impression.
Final score: 80/100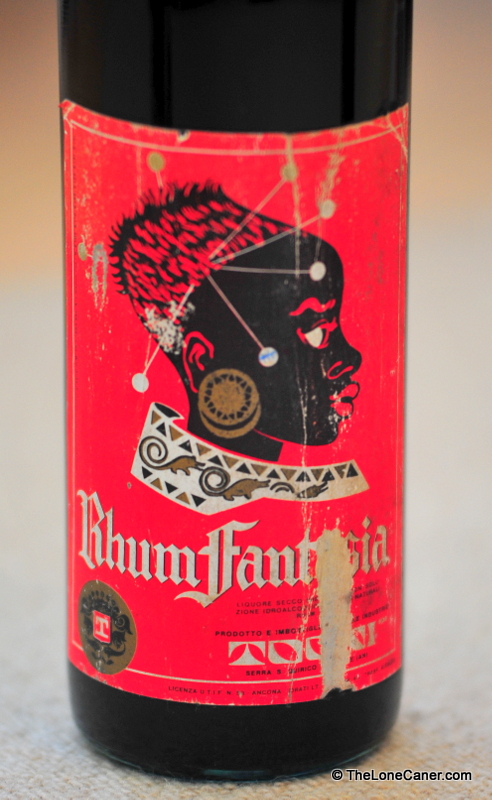 #489b
Tocini Fantasia Rhum 1976
Bottled by Tocini Company
Brown black with ruby tints, 40%
Nose: Slightly sharp, heavy on red/black grape wine; tons of fruit aromas – prunes, blackberries. Reminds me a lot of grappa. Some chocolate, apples, apricots. Licorice comes through after it opens up. Pretty good sniffer, nice and rich.
Palate: Reasonably smooth to taste, a little spicy, not much – medium bodied rum (really love the colour). Loads of licorice – may be too much for some. Back end notes of vanilla and some blackberries, but they're subtle against the black stuff, which doggedly holds on as if scared to let go.
Finish: Pleasant enough, once the licorice fades out. A bit rough and then stays for a long goodbye, with vanilla and brown sugar notes making a belated appearance.
Final Score: 82/100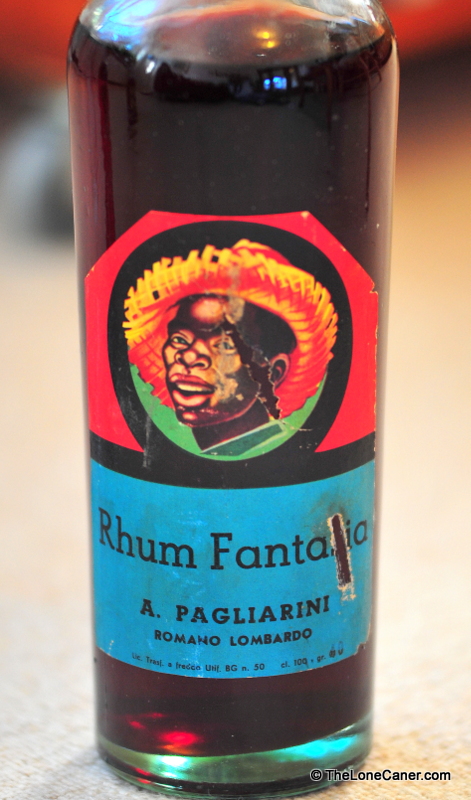 #489c
Pagliarini Rhum Fantasia from the 1960s
Bottled by Pagliarini Distillery, Municipality of Romani di Lombardo
Dark ruby red, 40%
Nose: Thin, striking nose of red cherries, red grapes, and somewhat herbal, like freshly mown wet grass. No real rum profile here: would rate it higher if it had more oomph. Really taste the additional flavourings…pomegranates, some ripe oranges, more cherries, sorrel.
Palate: Soft and round on the tongue, provides comfort without anger. That redness reminds me of sorrel, and so does the taste: plus added notes of fennel, rosemary, cherry syrup. Damn but this is sweet, and not with brown sugar notes either – in fact, this has the least "rum-like" profile of the three. It's a bit too much sugar: no driness or ageing evident here, and that sinks it for me.
Finish: will o' the wisp, disappears the moment you look for it, much like the Cheshire Cat; though, like that feline's grin, it retains a smile of sweet cherry syrup and rosemary to see you on your way home. Blink and you'll miss it.
Final Score: 79/100
***
At end, it's unlikely these rums will be easily acquired or even sought after – I may actually have bought among the last bottles extant (and given their shabby state when they arrived, that wouldn't surprise me). They have been overtaken by other spirits that taste similar and don't call themselves rum. It's likely that I paid the price I did because of their age and rarity, which is fine 'cause I'm interested in the subject and was curious — but if you're a fanatic about these matters and prefer a more traditional rum profile, I'd suggest you only try any Fantasias that cross your path if you can get them for free. It's an expensive indulgence any other way, especially if they're as old as these, and you may not like them much.
Unless of course you're baking with them, in which case, avanti!
***
Closing note: Thanks to Luca Gargano of Velier, Cyril of DuRhum and Fabio Rossi of Rum Nation, who very kindly provided background information I used to write this article.