Clement has a stable line of releases that have remained consistent for a long time – the "Bar and Cocktail" range of mixers and the "Classic" mid-level bottlings of the Ambre, Vieux, Canne Bleu and three blancs (40º, 50º, 55º)'. There is also the "Prestige" range consisting of the VSOP, 6YO, 10YO, single cask, Cuvée Homère, the XO, and that famed set of really aged millésimes which comprised the original XO — the 1952, 1970 and 1976. And for those with more money than they know what to do with, the Carafe Cristal, ultimate top of the line for the company but out of the reach of most of us proles.
Yet oddly, the trio of The Distiller Edition of their rhums, of which I only ever saw a single example (this one) receives little or no attention at all these days, and has dropped from popular consciousness. It seems to be a small series released around 2007 and sold primarily in Italy, perhaps an unrepeated experiment and included a "Cask Strength" 57.8% edition, and a "Non filtre" 43.5% variation. It suggests a tentative strategy to branch out into craft bottlings that never quite worked out and was then quietly shelved, which may be why it's not shown on Clement's website.
That said, what are the stats? Of course, this being Clement, it's from Martinique, AOC-certified, column still, aged in American oak, with 1,650 bottles released at a near standard 43.5% (aside from its blancs, most of the the company 's rums are in the mid-forties). The tres vieux appellation tells us it is a minimum of four years old, but my own feeling its that it's probably grater than five, as I've read it was bottled around 2005 or so, which fits in with the somewhat elevated nature of its title and presentation (there's one reference which says it's 7-9 years old).
I wouldn't go so far as to say it's an awesome undiscovered masterpiece, but it is a cut above the ordinary vieux rhums from Clement which most people have had. It has a dark and sweet nose, redolent of plums and dark red cherries, caramel, vanilla ice cream and a touch of cinnamon dusted mocha. Where's the herbals? I scribbled in my notes, because those light, white-fruit, grassy notes weren't really that much in evidence. Mind you, I did also smell olives, brine, flowers and a touch of nutmeg, so it wasn't as if good stuff wasn't there.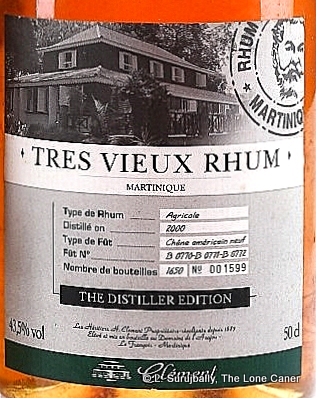 The palate was about par for the course for a rum bottled at this strength. Initially it felt like it was weak and not enough was going on (as if the profile should have emerged on some kind of schedule), but it was just a slow starter: it gets going with citrus, vanilla, flowers, a lemon meringue pie, plums and blackberry jam. This faded out and is replaced by sugar cane sap, swank and the grassy vegetal notes mixed up with ashes (!!) and burnt sugar. Out of curiosity I added some water , and was rewarded with citrus, lemon-ginger tea, the tartness of ripe gooseberries, pimentos and spanish olives. It took concentration and time to tease them out, but they were, once discerned, quite precise and clear. Still, strong they weren't ("forceful" would not be an adjective used to describe it) and as expected the finish was easygoing, a bit crisp, with light fruit, fleshy and sweet and juicy, quite ripe, not so much citrus this time. The grassy and herbal notes are very much absent by this stage, replaced by a woody and spicy backnote, medium long and warm
Clement has always been a hard act for me to pin down precisely. Their rhums don't adhere to any one clear-cut company standard — like, say, Neisson, or Saint James or Damoiseau — and it's like they always try to sneak something in under the radar to test you, to rock the barrel a bit. That means that peculiar attention has to be paid to appreciate them – they do not reward those in a hurry. I make this point because although I usually feel a sense of frustrated impatience with the weak wispiness of standard proofed rums, some surpass this limitation and bat beyond their strength class, and I think this is one of these…up to a point. The Distiller's Edition 2000 is not at the level of intensity or quality that so marked the haunting memories evoked by the XO, yet I enjoyed it, and could see the outlines of their better and older rhums take shape in its unformed yet tasty profile, and by no means could I write it off as a loss.
(#738)(84/100)
---
Other notes
Over the years

,

knowing my fondness for stronger rums and the deadening effect these can have on the palate

,

I have made it a practice to do flights of standard strength first thing in the morning when the palate is fresh and still sensitive to such weaker rums' profiles

.

When released

,

the rhum retailed for about €60

,

but now in

2020,

it goes for more than €300

…

if it can even be found

.

Post will be updated of Clement gets back to me on the background to these limited edition rhums

,

and what they were created to achieve

.