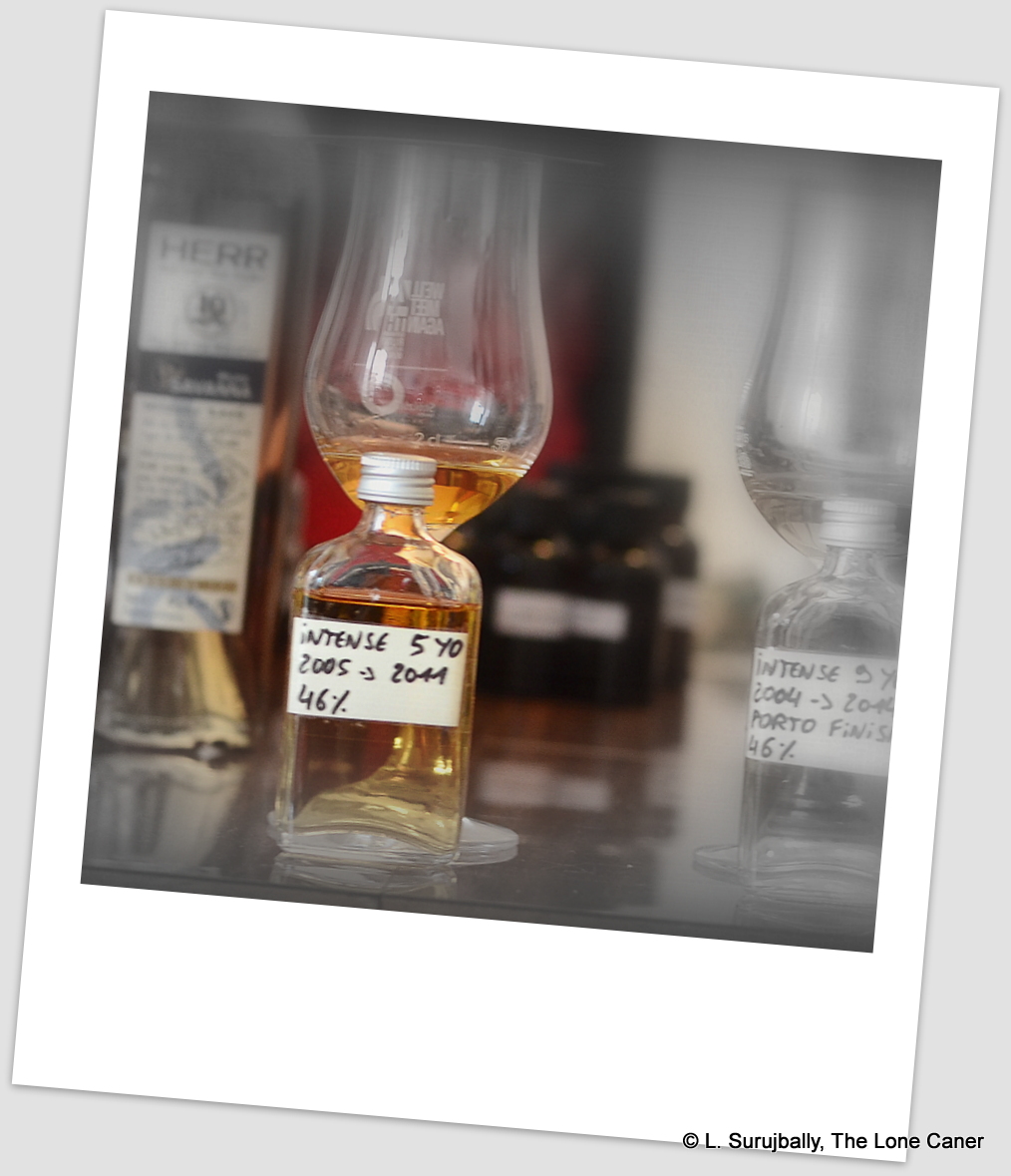 Savanna is probably one of the most exciting distilleries out there for high-ester loving rum chums, with a reputation growing by leaps and bounds, and not solely because of their own superb HERR 10 YO, or the Johnny-come-lately Habitation Velier HERR white (which was such an amazing piece of work that whole virtual forests have been clear cut to provide the electronic paper for the many online reviews about it, and I've heard of grown men bursting into tears at the mere sight of one in the wild).
But leaving aside such Himalayan peaks, it's good to remember that Savanna's rums span an enormous stylistic range that can appeal to all classes of us rum proles, from feral unaged blancs and lovingly aged 15 year old blends, to finished single cask offerings and high ester monsters that can make a Hampden-lover weep for joy (and envy).  And best of all, they don't restrict themselves – they release both cane juice rhums and molasses based ones, single barrel and blends, standard strength and full proof — so, like with Guadeloupe, or an indie, we often can get the best of all worlds. 
The 5 YO is part of what might be termed their starter kit, the basic traditional range of the unaged, 3YO, 5YO and 7YO rums (they are released every few years), and serves to demonstrate, as if it were needed, that here's a distillery with a little something for everyone. It's one of those rums that ostensibly is for the mixing circuit, but can be sneaked into a neat pour without too many broken spittoons in its wake. So, column still, molasses based and 46% ABV, then, aged five years in a French oak cognac cask, and we can move on with that.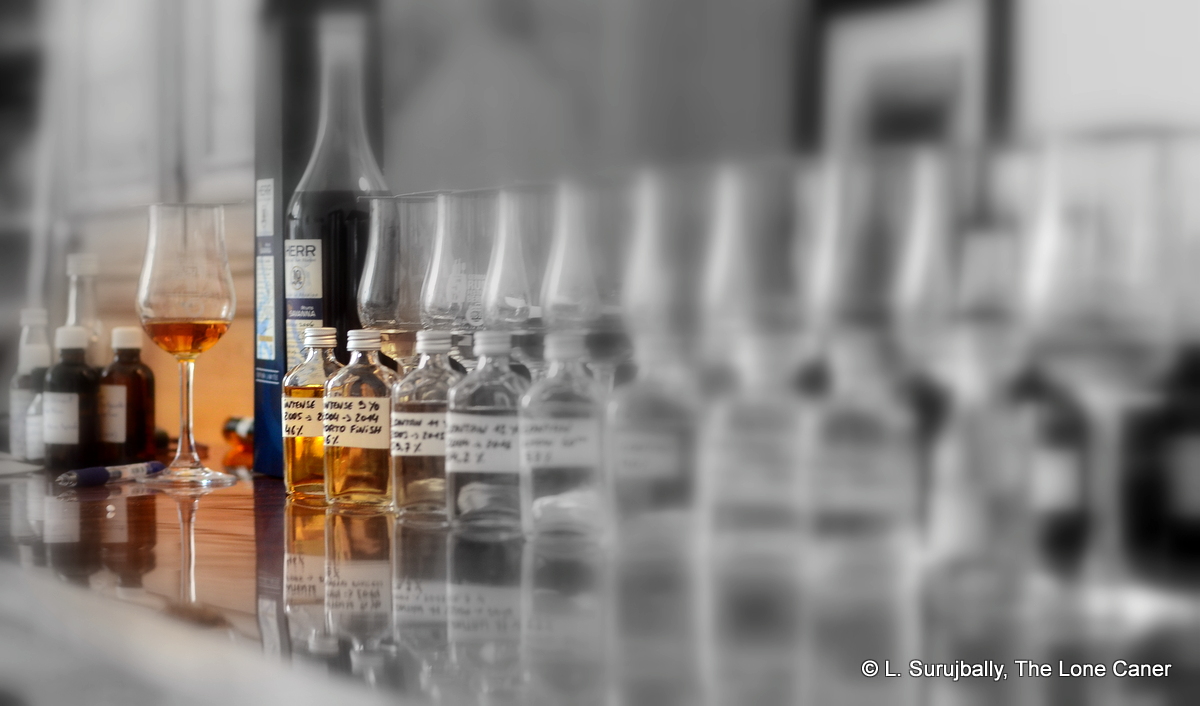 I had started the session with the 10YO HERR, and in comparison, the 5YO is less intense than this superlative control, which is no surprise. Dialled down in intensity, more languorous, slow, almost sleepy.  Oh but the flavours, nothing to sneeze at — honey, sawdust, citrus, peaches and sawdust and cereals.  Here's a rum that even with its modest stats, can be left to open up and will do so – and when it does, it provides additional notes of brine without olives, a touch of rubber, vanilla, sour cream and light fruitiness, all quite well balanced. But whatever the influence the cognac in the cask might have had seemed at fist blush to be marginal.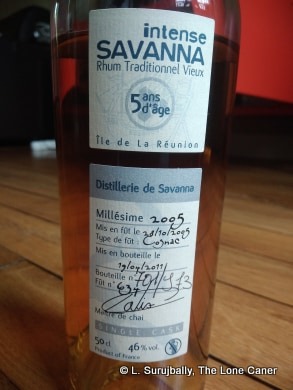 The youth is sensed upon sipping, and it's an interesting if delicate amalgam. It presents as sharp to begin with, yet the bite climbs back down to gentle very quickly. Some bitter tannins, dampened down before they get a chance to descend into obnoxiousness.  Citrus, oranges, nuts, plums, very tart, a bit thin overall to taste…not spotting too much cognac here. Strawberries and pineapples, weak. Nose was better, if not strictly comparable but then, I wasn't drinking it through my schnozz either. Anyway, good tastes, a little thin, leading to a brisk finish, on the weak side of firm, gone quickly.  Tart gooseberries, turmeric, strawberries, some citrus, and a last touch of that honey I enjoyed…it was a nice closing touch.
Although this 5YO Single Cask is a relatively low level offering from Savanna, it's still one that can beat out similarly aged juice from other outfits that bugle their pedigree with lots more fanfare, yet deserve their plaudits less. I like it moderately well, and it encourages me to try more rums Savanna makes just to see the development of others in the range. This is an essay in the craft, before the mastery of the company (shown by the of the HERR, the 57, Chai Humide, Thunderstruck et al) snaps more clearly into focus; and, as with many such young rums, it perhaps needs some taming and is best for a mix, though I'd suggest that for the rum aficionado, if you ever get the chance to try it by itself, you might want to sample it that way, just the once. It's an original work in progress and as long as we keep that in mind, it doesn't need any further bugling at all — it's the sort of rum that makes one eager to see what's else the company is hiding in its casks.
(#737)(81/100)
---
Other notes
This is part of a collection of Savanna rhums Nico Rumlover sent me some time ago when he heard I was interested, long enough back for him to conceivably have forgotten he did so. Well, whether he remembers or not, I'm immensely grateful for the time he took to crate me a great selection of what the distillery can do. 

As a brief reference tool, the rums named "Intense" are molasses-based and relatively low on esters, hence their being named "starter rums;" the next step up is the Lontans (also called grand arôme rums) which are also from molasses but with longer fermentations and with  a high resultant ester count; and then there are the Créol rhums which are straightforward rhum agricoles, made from fresh sugar cane juice. Millesimes, fancy finishes and special editions at all strengths pepper their output as well.