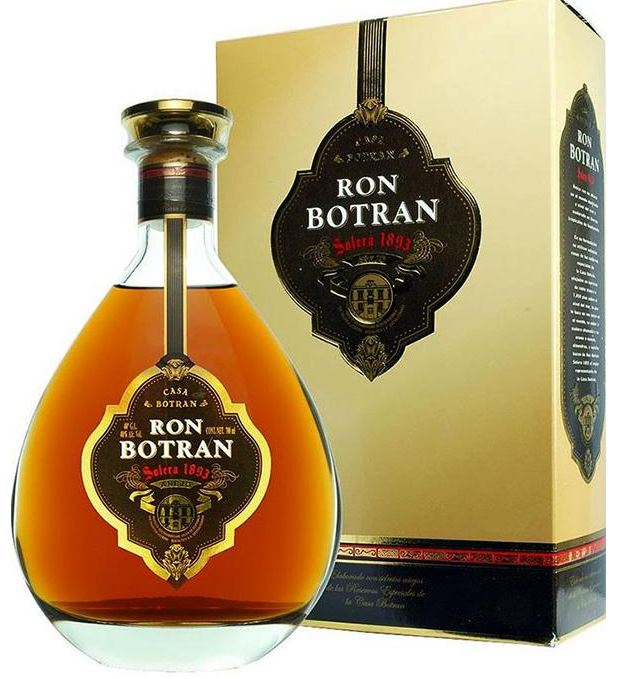 Rumaniacs Review #121 | 768
1893 was a year of some importance for the Botran rum-making concern of Guatemala – it was the date of birth of one of the founders of the company, Venancio Botran. He and four other brothers (Andres, Felipe, Jesus and Alejandro – their parents immigrated from Spain to Central America in the early 1900s) moving away from a purely sugar-based company, established the Industria Licorera Quetzalteca in the western Guatemalan town of Quetzaltenango back in 1939. It was geared towards making rones, and the company remains a family owned business to this day.
This rum is presented in a decanter, not the current 2015-released bar-room bottle and I think it was likely the top of their line for many years – hence the flagon – before the 75th Anniversary Solera 25 came out and became the crown jewel. Interestingly, the label does not mention the number 18 anywhere, just "1893" and "solera", and so it's reasonable to assume the blend was tweaked a little (but not much) and locked into the current version, with some 18 YO as the oldest component. I've sent them a note to check.
Colour – Gold brown
Strength – 40%
Nose – Silent and withdrawn sort of nose, not too much going on at the inception. Very gentle. Light fruits like pears and watermelon, plus green peas (!!), peaches and dried apricots. Some cocoa, vanilla, with hints of lemon peel and cinnamon.
Palate – Cocoa and spices, vanilla, toffee, honey, tobacco. Nutmeg dusting over a blancmange, sweet and firm, with additional notes of brown sugar, smoke and a strong mocha. Fruits take something of a backseat with this aspect, though a bit of orange or lemon zest can still be discerned if you try (or care enough to bother).
Finish – Here today and gone today, vanishes faster than a 4S acolyte seeing Alexandre Gabriele at a rumfest. Some nuttiness and more blancmange, coffee powder, vanilla ice cream, but the real question is, where's the "rumminess" to this thing? Completely absent, really.
Thoughts – It's got the flavours, just not the punch to make then pop and 40% simply does not provide the firmness such a profile needs. I tried the new 1893 version with the entire lineup in 2015 and liked it enough to give it a good score and recommendation. Somehow this one doesn't quite come up to the same level for me (this may be four additional years' experience manifesting itself), though for anyone looking for a relaxing drink from yesteryear that challenges less than it soothes, it admittedly remains a good buy.
(76/100)
---
Other Notes
The various components of the blend are aged in Spanish ex-Jerez casks

,

American white oak casks

,

and ex-Port barrels

Since "Guatemala" and "solera" are probably ringing some big alarms in your mind

(

or church bells

,

depending on how you view the matter

),

let it be confirmed that yes

,

they also produce the Zacapa line of rums

,

the most famous of which is of course the "23"

—

these rums have come in for equal praise and opprobrium in the last few years

,

because of the solera method of production

,

the sweetness and the light nature of the rums

,

and the problematic age statement

.

You can read more about the issue here

.

As always

,

thanks to the source

,

my old schoolfriend Cecil of the USA

.