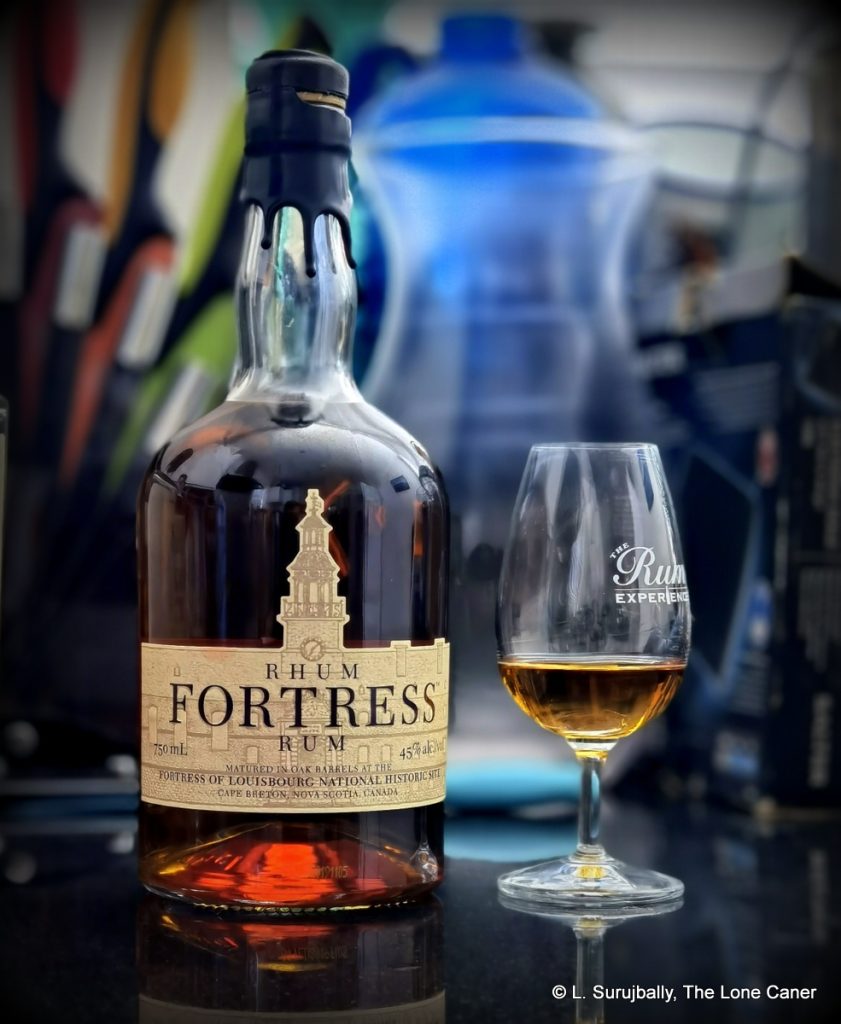 The rum we are looking at today is named simply "Fortress rum", after the Fortress of Louisburg on Île Royale, now Cape Breton Island, in Nova Scotia, where the barrels of rum were aged. 1. The back label says the rum is made in Canada from domestic and imported ingredients (no further qualification), the website talks about "select Caribbean rums" (no further elaboration) aged in "oak barrels" (no further info on what kind) and the company of origin is Authentic Seacoast Distilling Co. Ltd which has its fingers in all sorts of pies: beer, vodka, coffee, rumcake, hand sanitizers and soaps and for good measure has associations with small inns and hotels in the area in a kind of one-stop hospitality enterprise.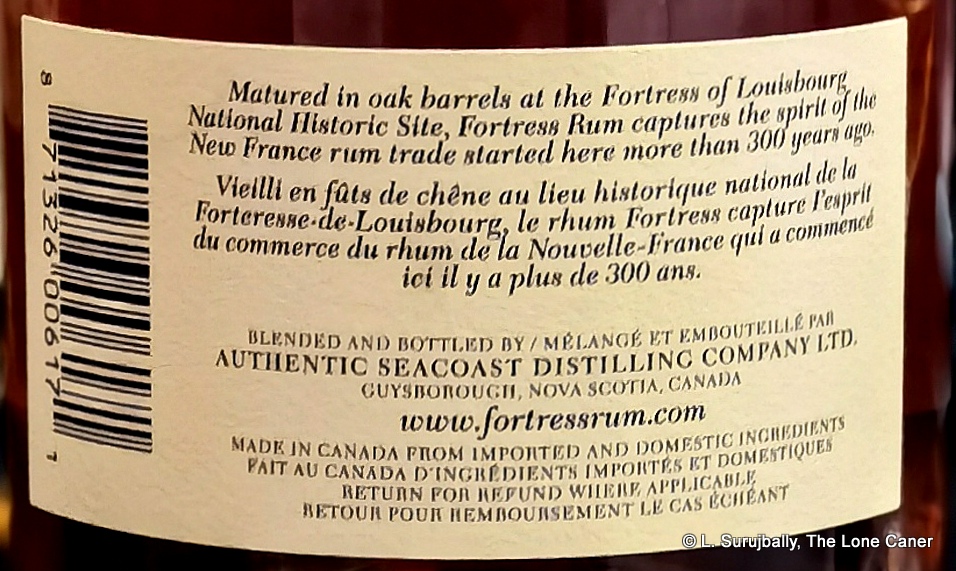 What little the website and photos and my own background reading provide is as follows: the rum is a blend of Caribbean imports of unknown provenance, probably mixed in with a small quantity of locally distilled rum made on the single column still seen in the site photo archive (which may be why the label mentions domestic ingredients, although….). The ageing takes place on the island, but no information is provided in what kind of oak barrels or for how long. Previous comments on social media (especially reddit) are unanimous that it's a decent Canadian rum, a kind of ok sipper, compares well against Ironworks' rums, available mostly in the Maritimes and Ontario, and the web page is at pains to mention many medals it won every year between 2015 and 2018 at the San Francisco World Spirits Competition.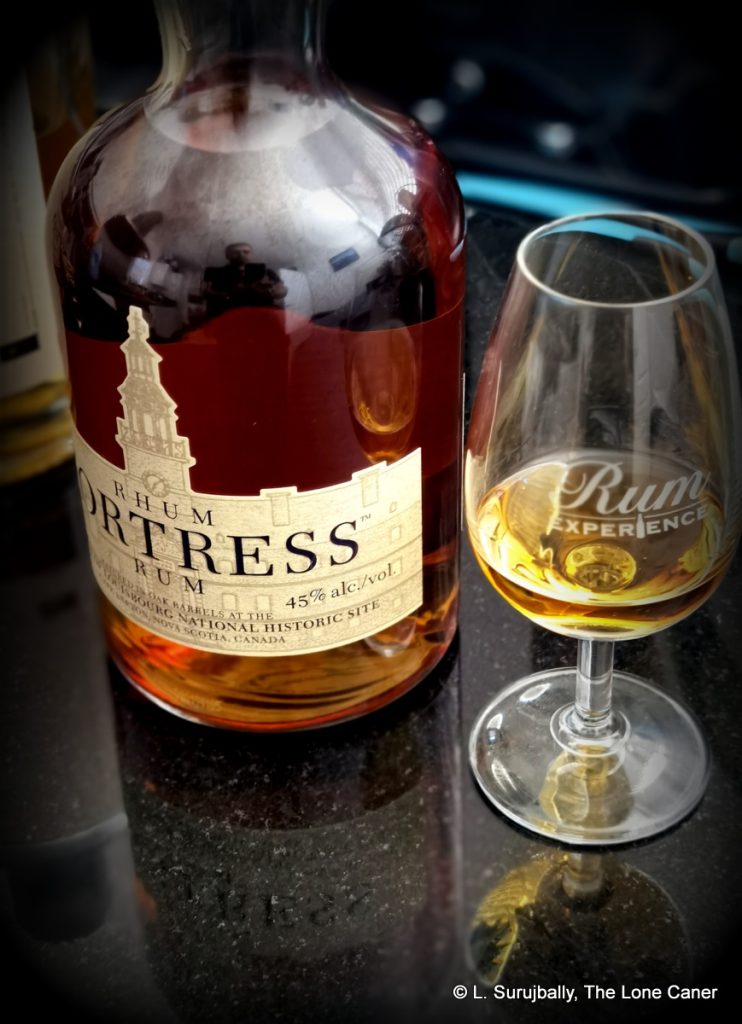 I have my own opinion on any spirits competitions' usefulness, and as far as I'm concerned this is another case where the abominably restricted rum selection available to Canadians — caused by provincial monopolies dating back to Prohibition times — has so limited their ability to taste world class rum, that even a subpar product like this one can tout medals which mean very little as some kind of evidence of success, and never be corrected by locals. Because frankly, it's not that great a rum at all.
Let's take it apart so I can explain my chain of reasoning. Since I knew nothing about the rum aside from the strength (45%), I went in completely blind. The nose was decent enough – fruity, tart, with some yoghurt, vanilla, strawberries and light citrus notes. Some bubble gum and cherries, more vanilla and a touch of leather and bitterness of tannins that had not been sanded down very much. Oh, and more vanilla. There was really too much vanilla – initially it was rather laid back and inobtrusive, but gradually it really took over and dominated the entire nose.
45% is a good strength for an unpretentious rum, which this turned out to be when tasted. Some mellow fruitiness started the party going, mostly ripe apples, red cherries, and cranberries. This was backed up by vanilla, acetones, furniture polish and varnish, to which was added a little salt, caramel, the minerality of charcoal and — bloody hell! — more vanilla. What little tannins and leather were in the aroma vanished here, and the finish gave little hint of more: some light and easy fruit, cinnamon, vanilla (again!) and green tea, before vanishing with a whisper.
The Fortress rum to some extent suffers from that issue that I've remarked on before, that of sharing its production with too many other spirits so nobody has time to do one thing right. As a rum, it also fails on all sorts of levels – the lack of information provision not the least among them. It's indeterminate in taste, and its solid proof is undone by an excess of vanilla past the point of being reasonably provided by barrel ageing. This is why my notes have a big question mark on the page asking "V. Added?" And the more I think about it, that's what they did. The vanilla is nice…but only up to a point. Less is really more in a case like this, and like excess sugar in other rums, it masks and hides taste elements that could be more assertive – even interesting – if allowed to get out there and shine.
But we're not allowed to judge that. Somebody went out there and decided for us that the natural profile — of this unknown distillate off an unknown still and unknown source location, as changed by unknown barrels for an unknown period of time — needed boosting. They chose to call what they did "authentic", rather than provide data on what the rum is actually made of, where it's from and how it's made up (in other words, really authentic information). The upshot is that they ended up with a distilled sow's ear while pretending they had somehow succeeded in making a silk purse.
(#964)(73/100) ⭐⭐½
---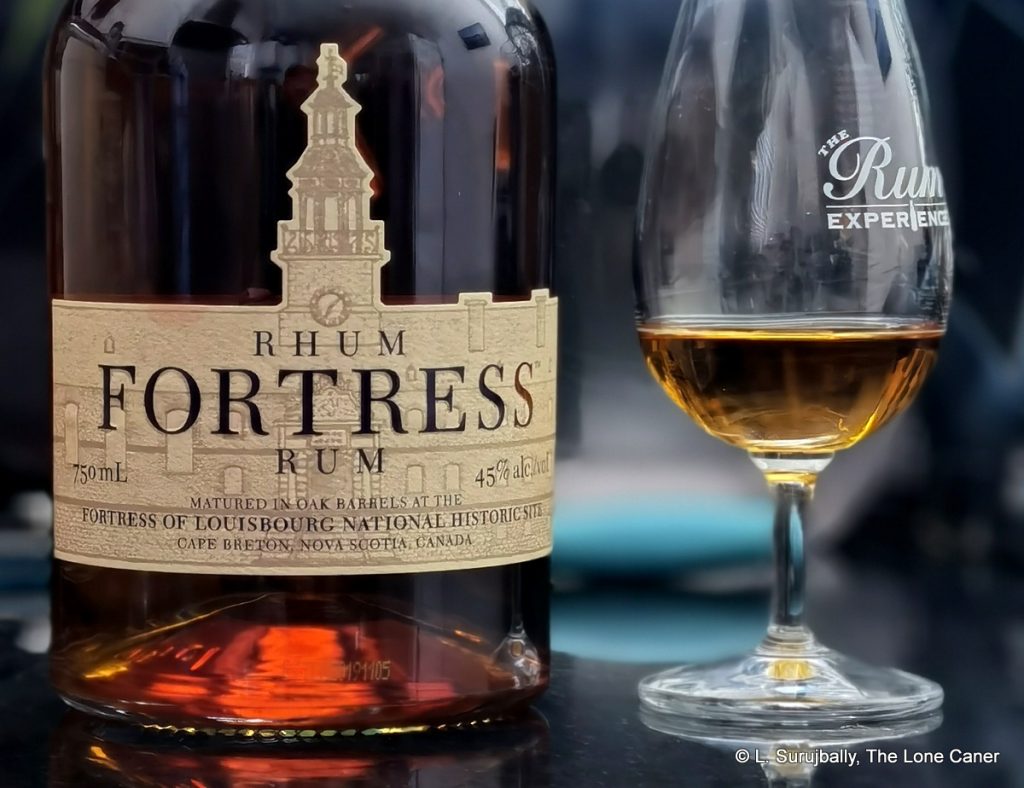 Other notes
Originally released in

2015

as a result of research with Parks Canada to release something authentic to the 18th century period

.

The ageing of the barrels in or near to the Fortress itself strikes me as a nice marketing gimmick

,

but no more

.

For a rum issued in

2015,

minimal or nonexistent disclosure was something that could be glossed over

.

In the 2020s

,

it's unacceptable for even the company website to make no mention of anything useful

,

let alone the label

.

I get the sense from watching an

enthusiastic video review

from Booze on the Rocks that his bottle was numbered

,

but no such notation was on the one I poured from

.

Reddit /r/rum had some more positive evaluations from

here

and

here

,

and half of the

24

evaluations on Rum Ratings

rated it

8/10

or better

;

the average of two raters on

Rum-X

gave it

67/100.

Nobody else seems to have done a full review

.

I am aware of and deplore that as a Canadian-produced rum

,

its visibility and distribution is hampered by arcane and complex provincial distribution rules that cater to government monopolies

'

interests

,

not consumers

.

This does not excuse any of the weaknesses it displays

,

but it does create a feedback issue for the company since too few people get to opine on its quality

,

and wider distribution is hardly worth the effort of complying with those regulations

.
---
Historical background
Canada – especially the eastern islands and provinces – has a long history of and involvement with rum. The infamous triangular trade (Europe to Africa to the West Indies, or America to Africa to the Caribbean) included trading with Canada's eastern seaboard, and the French in Quebec and the islands had long established trading posts and a mercantile presence there. Alcohol was an early and common trading item, especially wine and beer which were made locally since the 1600s — rum, however, was an import from the beginning and came from the French West Indies. In the centuries that passed, rum has in fact become a tipple of choice for Maritimers (while whisky predominates out west, and wine and beer are of course popular everywhere).
Rums were initially bought in bulk from the Caribbean and then blended, a practice that continues to this day: standard Canadian rums brands like Potters, Lamb's, Screech, Cabot Tower and Young's Old Sam (among many others) are the result, and it will come as no surprise to know that Guyana and Jamaica tend to be the most common acknowledged sources and profiles. More recently, mirroring developments in the US, rum was also distilled from shipped-in molasses by small distilleries, which often have whiskies as their prime focus – Smuggler's Cove and Momento and Ironworks are examples of that trend, though so far results have been mixed and none have made any serious local, regional or international splash. As remarked above in "other notes", this has a lot to do with restrictions laid on Canadian producers by the state and its provincial monopolies.
---