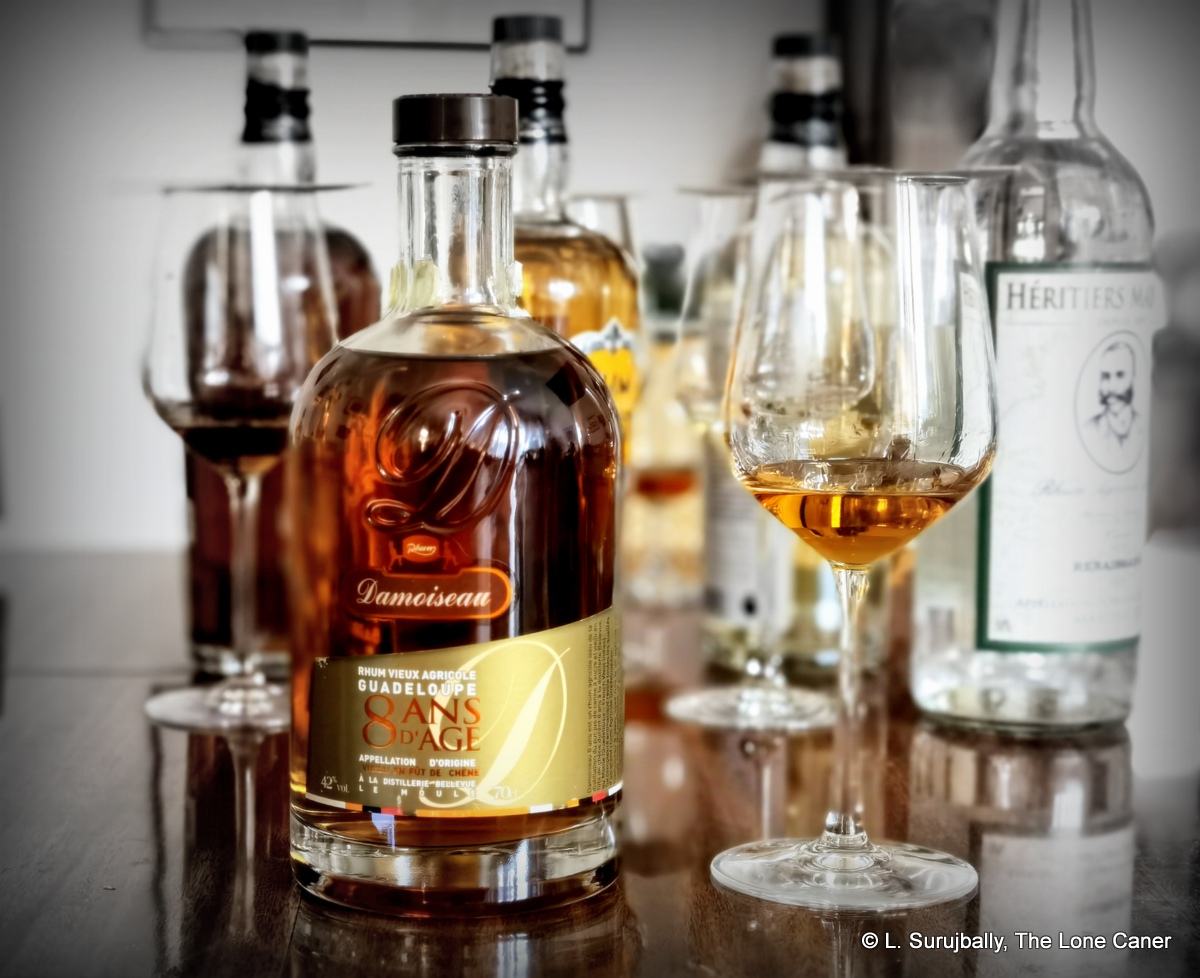 The Damoiseau 8 YO was for years one of the unsung stars of the brand, a rhum that has been made year in and year out for ages, and the one that edged most into premiumized territory without actually being one itself 1. But if its increasing online unavailability and absence on the webpage of the company is any indication, we might be seeing it headed for a decline and discontinuation, and if that's true then my advice for those reading this review would be to stock up, because this is one pretty damned fine piece of work, and you'll miss it once it's gone. Yes there are older ones in Damoiseau's portfolio, and yes there are worse (though not all are cheaper) – but as an all round people pleaser and near premium standard strength rhum, this one presses a lof of the right buttons.
For all that, you would be hard pressed to find a review of this specific rhum anywhere online. Rum Ratings has a single dismissive 4/10 assessment while Rum-X has seven, averaging out at 81 points; and not one of the english language regulars (including me, up to today) have ever written about it, and that includes reddit's usually reliable /r/rum sub. I'm not casting blame on anyone for the omission, mind you, because that would be unfair: Damoiseau makes literally dozens of aged expressions, they vary in availability, and seems to cycle them in and out of production without notice (I've been told it's a supply issue since they don't always have enough rhums on hand to make the ones they want to, all the time); some have greater outturns, some less. I merely maintain that for a rhum that's this good, it's a pity that more attention was not paid.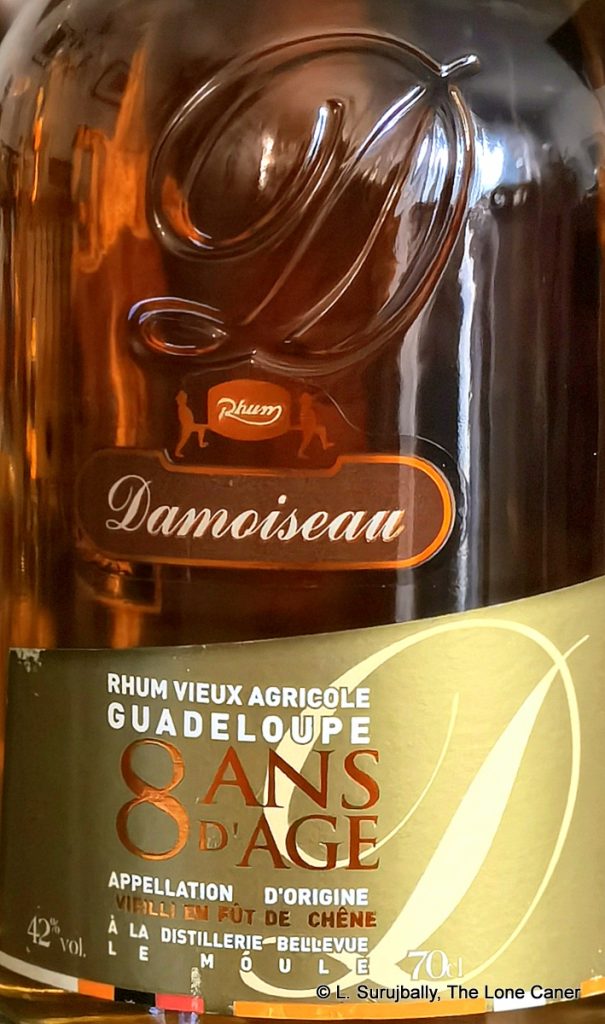 Let's go through the tasting, then (which came from a bottle I had bought for about €60 three years ago, if you're curious about these things – I only just got around to opening it). The rhum is 42% and from cane juice, a quite straightforward agricole without any fancy flourishes. It hails from Guadeloupe, run through a column still and aged in oak casks for eight years, then blended. If it was aged in Europe we'd hardly blink, and pass it by without stopping.
But nose it and you begin to get an indication of its hidden quality. It's soft, warm, mellow and quite fruity, with just enough of a tang to it to stop it from being…well, boring. Vanilla ice cream, dates, white guavas, green peas, pears and watermelon can be sensed, which is good, but we've had rums that started like this and then lacked contrasting aromas to balance things off with something more tart, so do we get that, or will it just be a yawn through? Fear not: the rhum shows off some weak notes of pineapple and strawberries, as well as herbs (dill, rosemary, cardamom) and that indefinable green grassiness with lemon zest that marks the agricole rhum. There's balance in the Force, so to speak and while it's not particularly strong (that mild 42% has its downsides too), there's little to complain about.
Although it gave a good account of itself on the plate, tastewise it's not as complex as the nose suggested. Again, fruits lead the way, soft, fleshy, rich, and musty: overripe peaches, dates, apricots and prunes. For a layer of sharper notes we have some apples and grapes (quite ripe), honey, a touch of licorice, honey and those herbs again, very faint now. It's good, just not as developed as one might wish. The finish, though, is nice: short and spicy with a lingering aftertaste of coca cola, licorice, soft pineapples, grass, water melons and papaya. It's all there, just difficult to tease out at times.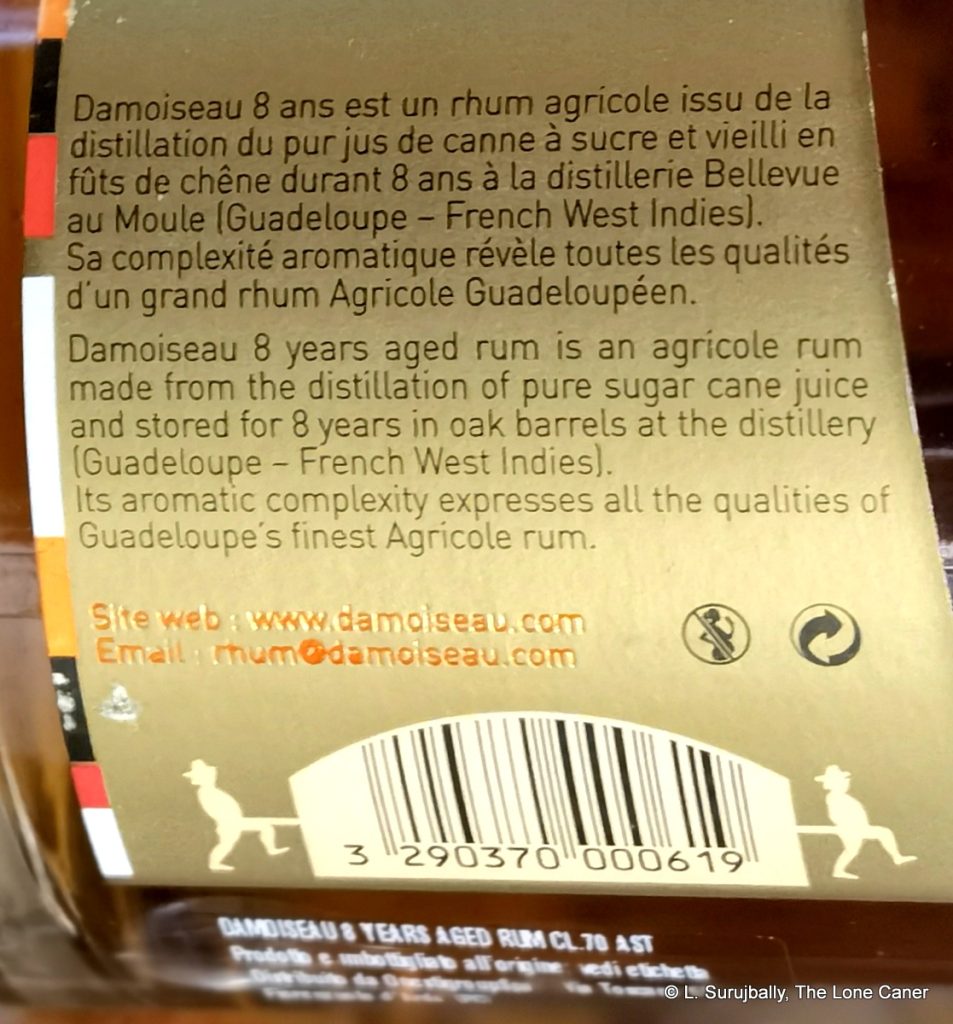 The rhum, then, is an interesting balance of hits and misses., We sort of sense more than we get, yet the imagination does help enrich the experience. What I've described is what I smelled and tasted, and it worked well, even if it doesn't all come together completely — as I said, the strength can be too mild for some. Yet I like Damoiseau rhums generally and this one specifically – had it been cheaper and more solid in the other criteria I might have noted it as a Key Rum, ahead of the Five Year Old. Perhaps the rhum's best recommendation comes from Damoiseau themselves: they have released at least three different 8YO cuvees over the years from different years, suggesting they at least have great faith in its qualities. Those are higher priced, of course — they get marketed as vintage premiums — so my suggestion would be to see if you can get the "standard" 8 YO when available, because to my mind it's a really good rum, and an undiscovered steal.
(#922)(85/100) ⭐⭐⭐½
---
Other Notes
As noted

,

there are several rhums labelled as being eight years old in the Damoiseau stable

.

The one I write about is the one lacking any flourishes or badges of premiumization

.

It's not the

8

Year Old Cuvee du Millénaire from

2002

or

1993,

or the Rhum Vieux Cuvée du XXIème siècle

,

which all come in a flask similar to the famed

1953;

or the Millesime

2008

Cuvee

(

that one is

47.9%)

or any of those made for other specific years

.

Herve Damoiseau

,

when approached

,

said

(

as others had also suggested

)

that availability of stocks was the issue for the decline in releases of the standard

8

YO

.

A new 2014-distilled version is due for release in

2022.