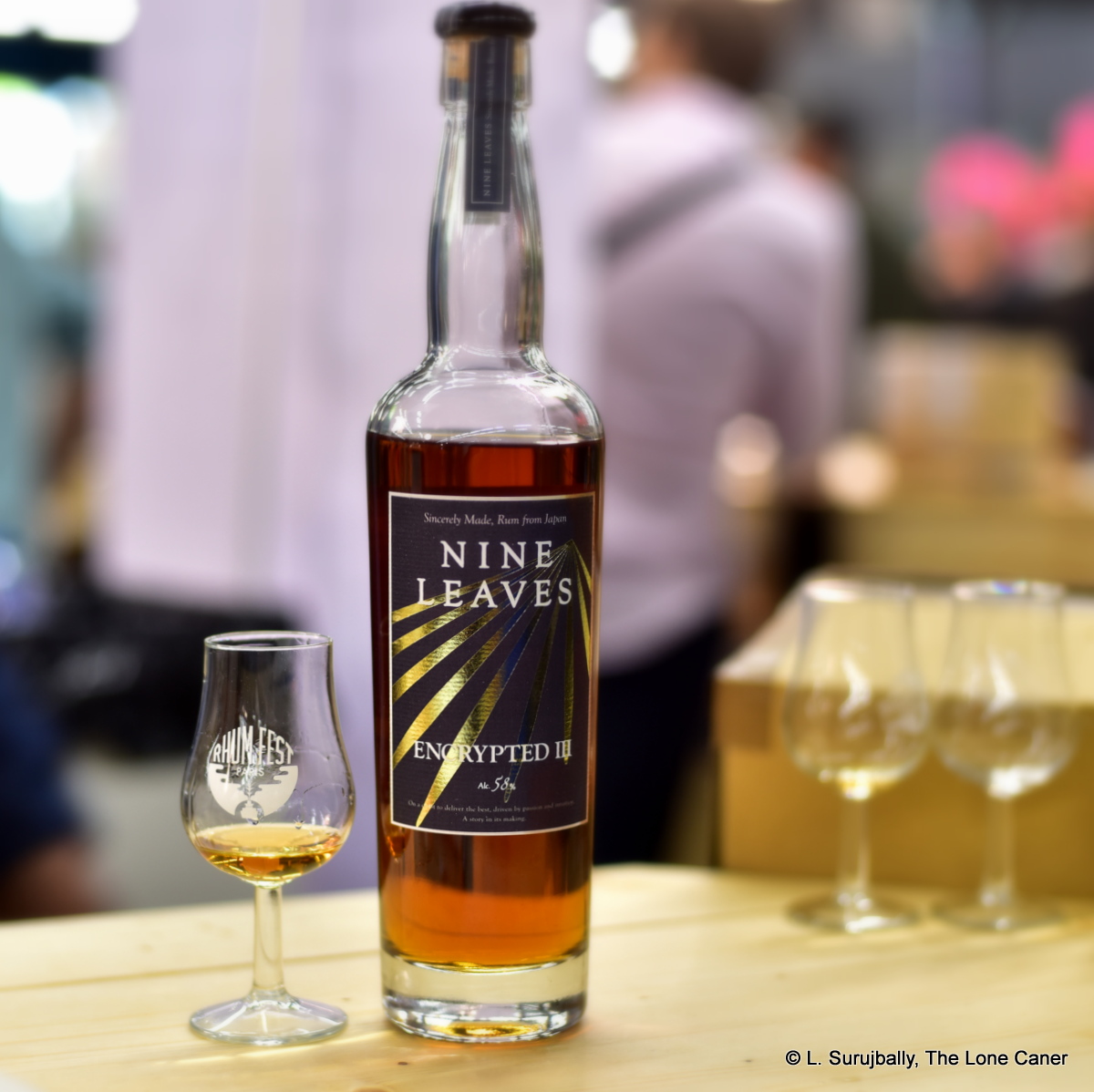 After having written on and off about Yoshiharu Takeuchi's company Nine Leaves for many years, and watching his reputation and influence grow, it seems almost superfluous to go on about his background in any kind of detail. However, for those new to the company who want to know what the big deal is, it's a one-man rum-making outfit located in Japan, and Yoshi-san remains its only employee (at least until July 2020, when he takes on an apprentice, so I am reliably informed).
Nine Leaves has been producing three kinds of pot-still rums for some time now: six month old rums aged in either French oak or ex-bourbon, and slightly more aged expressions up to two years old with which Yoshi messes around….sherry or other finishes, that kind of thing. The decision to keep things young and not go to five, eight, ten years' ageing, is not entirely one of preference, but because the tax laws of Japan make it advisable, and Yoshi-san has often told me he has no plans to go in the direction of double digit aged rums anytime soon…though I remain hopeful. I've never really kept up with all of his work – when there's at least four rums a year coming out with just minor variations, it's easy to lose focus – but neither have I left it behind. His rums are too good for that. He's a perennial stop for me in any rumfest where he and I intersect.
But now, here is the third in his series of Encrypted rums (Velier's 70th Anniversary Edition from Nine Leaves was humorously referred to as "Encrypted 2½") and is an interesting assembly: a blend six different Nine Leaves rums, the youngest of which is two years old. The construction is nowhere mentioned on the elegantly spare label (probably for lack of space) but it's composed of rums aged or finished in in two different types of P/X barrels, in bourbon barrels, Cabernet Sauvignon barrels, Chardonnay barrels….and one more, unmentioned, unstated. And in spite of insistent begging, occasional threats, offers of adoption, even promises to be his third employee, Yoshi-san would not budge, and secret that sixth rum remains.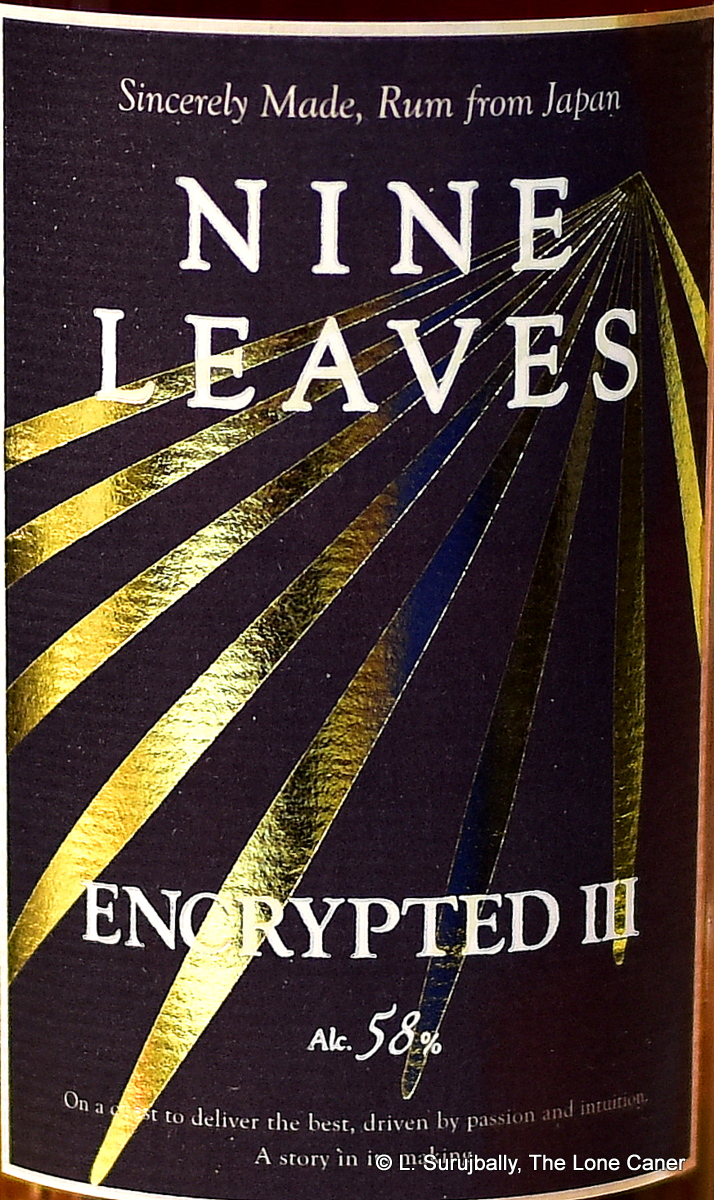 Whatever the assembly, the results spoke for themselves – this thing was good. Coming on the scene as the tide of the standard strength forty percenters was starting to ebb, Nine Leaves has consistently gone over 40% ABVm mostly ten points higher, but this thing was 58% so the solidity of its aromas was serious. It was amazingly rich and deep, and presented initially as briny, with olives, vegetable soup and avocados. The fruity stuff came right along behind that – plums, grapes, very ripe apples and dark cherries, and then dill, rye bread, and a fresh brie. I also noticed some sweet stuff sweet like nougat and almonds, cinnamon, molasses, and a nice twitch of citrus for a touch of edge. To be honest, I was not a little dumbfounded, because it was outside my common experience to smell this much, stuffed into a rum so young.
The rum is coloured gold and is in its aggregate not very old, but it has an interesting depth of texture and layered taste that could surely not be bettered by rums many times its age. Initially very hot, once it dialled into its preferred coordinates, it tasted both fruity and salty at the same time, something like a Hawaiian pizza, though with restrained pineapples (which is a good thing, really). Initially there were tastes of plums and dark fruits like raisins and prunes and blackberries, mixed up with molasses and salted caramel ice cream. These gradually receded and ceded the floor to a sort of salty, minerally, tawny amalgam of a parsley-rich miso soup into which some sour cream has been dropped and delicate spices – vanilla, cinnamon, a dust of nutmeg and basil. I particularly enjoyed the brown, musky sense of it all, which continued right into a long finish that not only had that same sweet-salt background, but managed to remind me of parched red earth long awaiting rain, and the scent of the first drops hissing and steaming off it.
I have now tasted this rum three times, and my initially high opinion of it has been confirmed on each subsequent occasion. The "Encrypted" series just gets better every time, and the sheer complexity of what's in there is stunning for a rum that young, making a strong case that blending can produce a product every bit as good as any pure single rum out there, and it's not just Foursquare that can do it. I think it handily eclipses anything else made in Japan right now, except perhaps the 21 year old "Teeda" from Helios which is both weaker and older. But the comparison just highlights the achievement of this one, and it is my belief that even if I don't know what the hell that sixth portion in the blend is, the final product stands as one of the best Nine Leaves has made to date, and a formidable addition to the cabinet of anyone who knows and loves really good rum.
(#743)(88/100)