There's another S.B.S rum from Trinidad I should really be writing about, tried on that magical evening in Paris when I ran heedless and headfirst into the Mauritius 2008 and the Jamaican DOK 2018, but naah – there's this other one they made back in 2016, probably long sold out and gone, which I remember equally well. And that's the S.B.S. Enmore, distilled in 1988, bottled twenty seven years later, with the sort of solid 51.8% ABV strength that would make the near legendary Bristol Spirits PM 1980 nod approvingly and dab a single ethanol tear from its metaphorical eye.
1423, the parent company making the Single Barrel Selection series laboured in obscurity in Denmark for years, it seems to me, before coming to the attention of the larger world with startling suddenness. All this time – ever since 2009 when they released their first rum from barrel #1423 – this small concern founded by four friends (now five) expanded. And although they were primarily into distribution, they never ceased sourcing and bottling their own rums on the side – this culminated around 2016 with the formation of the more exclusive SBS brand, which, as the name implies, does rums from single barrels. The first year they bottled juice from Panama, Barbados, Trinidad, Jamaica, Fiji and Guyana, and haven't stopped running since.
You'll forgive me for having a soft spot for Guyanese rums. The profile of the wooden stills' output appeals to me more than most, when it isn't dumbed down and tarted up with the sweet stuff (I move off fast when that happens because if I wanted a Tiger Bay strumpet I'd go there to get rolled, thank you very much). Anyway SBS follows the indie maxim of not messing with what's in the barrel, so we have something clean here, as I'd expect.
It smells perfectly fine. It reeks of well polished leather, aromatic tobacco smoke, prunes and unsweetened dark chocolate, and that's just for openers. There's also raisins, salted caramel, brine, an olive or two, some mild coffee and some moist brown sugar that still has the whiff of molasses in it. And behind all that is damp black earth, rotting bananas and a darkness that makes you think perhaps it's trying to channel a HP Lovecraft or something.
I enjoyed the nose for sure, but it's the taste that makes or breaks a wooden still rum. Here, it was excellent – thick, dark, and almost creamy, like Irish coffee. Some licorice and mint chocolate led off, a bit of raisins, toffee, nougat, a twitch of ripe apples. And then it opened up and out came the coffee, the leather, salt caramel, prunes, plums, blackberries, molasses … and was that ripe avocados with salt I was getting in the background? Quite possibly – the richness of the rum, both in taste and in texture, could hardly be faulted. And the finish was excellent, solid and breathy, not giving anything new, but sort of summing things up – so, some leather, tobacco, stale coffee grounds, caramel and those fruits again, fainter this time.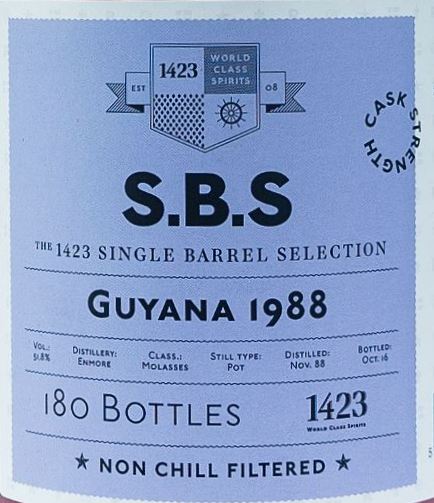 Now, there's no doubt in my mind that this was as Guyanese as pepperpot and DDL – the real question is, which still made the rum? The label says it's an Enmore from a pot still, all of SBS's records (here and here) say "Enmore" and "pot" but the Enmore still itself is a wooden coffey, so that only leaves two options – either the label is wrong, or it's one of the two other stills, the Port Mourant wooden double pot, or the Versailles wooden single pot. And since Marco makes no mention of the PM still ever going near Enmore (it was moved to Albion, then to Uitvlugt and then to Diamond), and since the Versailles still was in Enmore in 1995 (the last year that estate's distillery made rum) then the balance of probability says it's a Versailles, as Marius of Single Cask Rum stated without attribution in his own rundown of the SBS rums.
Assuming my line of reasoning is correct, then it's a Versailles-still rum (SBS are digging to clear this mystery up on my behalf after I contacted them about the discrepancy), but maybe this is all just pedantry and anal-retentive detail mongering. After all, it tastes a lot like the Moon Import Enmore 1988-2011 which supposedly was a coffey still rum from there, and even if it was (or wasn't), who that drinks this thing really deep-down cares? I thought that the rum was more solid and "thicker" than a true — and usually more elegant — Enmore, yet more civilized than the Versailles rums tend to be. It was deep, dark, and delicious, a very good rum indeed for those who like that profile, and if we can't identify its origins with precision, at least we can drink it, enjoy it, love it — and thank SBS for bringing it to our attention. We just don't see enough of such rums any more and that's reason enough to appreciate what they did, even without the business about which still it came off of.
(#640)(86/100)
---
Other notes
Distilled November

1988,

bottled October

2016.

For my money that's a

28

year old

Many thanks to Nicolai Wachmann

,

who sourced me the sample quite a while back

.

I seem to have lost my glass-and-sample-bottle picture

,

hence my using stock photos

The rum is red brown in colour

,

very pretty in a glass

.