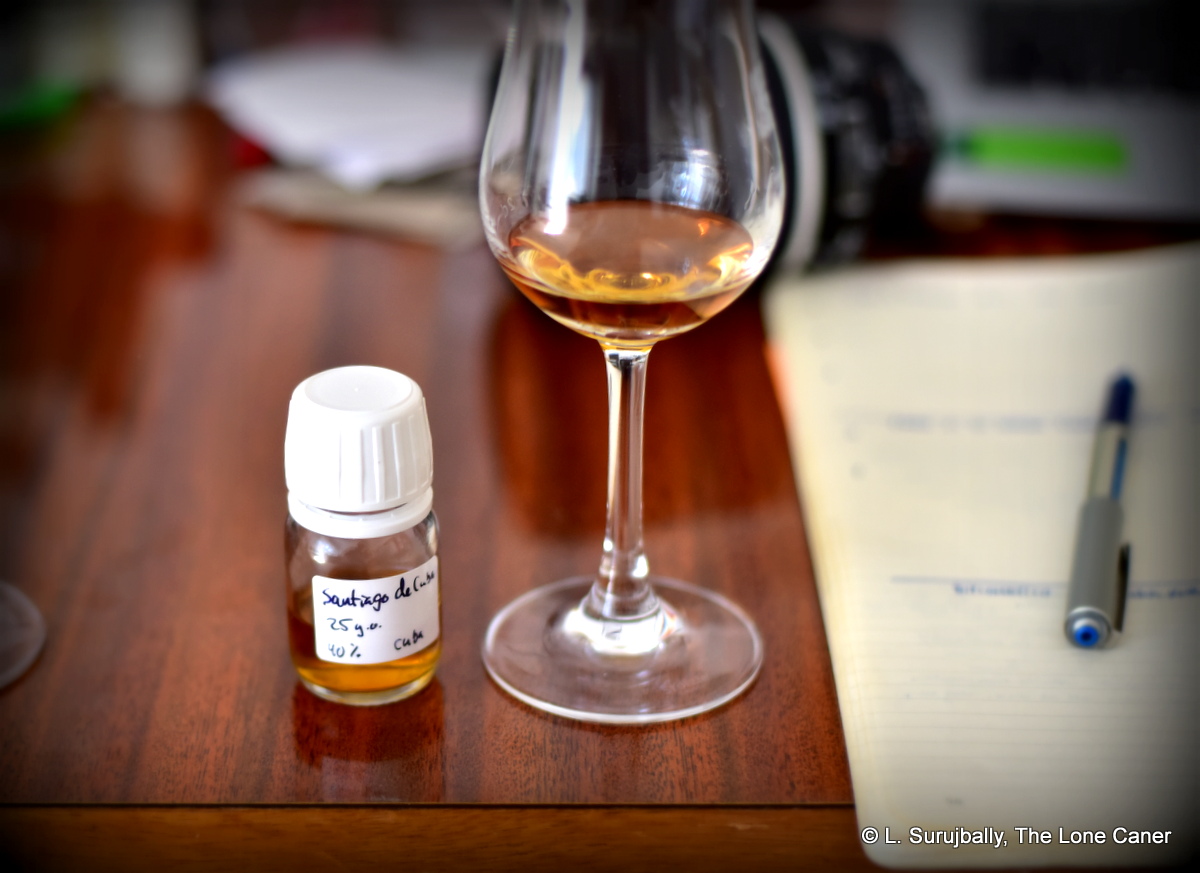 It's been some time since a current production Cuban rum not made by a third party crossed my path.  Among those was the Santiago de Cuba 12 YO, which, at the time, I enjoyed a lot, and made me anxious to see how older versions from the Cuba Rum Corporation's stable would work out.  So when the 25 YO became available, you'd better believe I snapped it up, and ran it past a bunch of other Latin rums: a Don Q, the Diplomatico "Distillery Collection" No. 1 and No. 2 rums, a Zafra 21 and just because I could, a Kirk & Sweeney 18 YO.
The Cuba Rum Corporation is the state owned organization located in the southern town of Santiago de Cuba, and is the oldest factory in the country, being established in 1862 by the Bacardi family who were expropriated after the Cuban Revolution in 1960. The CRC kept up the tradition of making light column-still Cuban rum and nowadays make the Ron Caney, Varadero and Santiago de Cuba lines, the last of which consists of an underproof blanca and sub-5YO anejo, and 40% 12 YO, 20 YO and this 25 YO. The 25 YO is their halo product, introduced in 2005 in honour of the 490th anniversary of the city of Santiago de Cuba's founding and is lavish bottle and box presentation underscores the point (if the price doesn't already do that).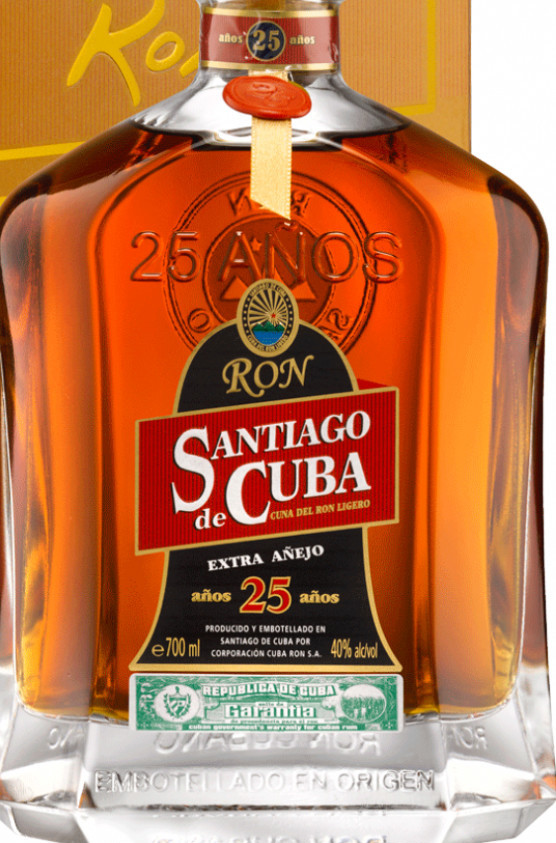 Could a rum tropically aged for that long be anything but a success? Certainly the comments on the crowd-sourced Rum Ratings site (all thirteen of them, ten of which rated it 9 or 10 points out of ten) suggest that it is nothing short of spectacular. 
The nose was certainly good – it smelled richly of leather, mint, creme brulee, caramel, raisins, cherries, and vanilla.  The aromas were soft, yet with something of an edge to them as well, a bit of oak and tar, some citrus peel and lemon juice (just a little), plus a whiff of charcoal and smoke that was not displeasing. Even at 40% (and I wish it was more) it was enormously satisfying, if unavoidably light.  Good thing I tried it early in the session – had it come after a bunch of cask strength hooligans, I might have passed it by with indifference and without further comment.
The challenge came as it was tasted, because this is where standard strength 40% ABV usually falls flat and betrays itself as it disappears into a wispy nothingness, but no, somehow the 25 year old got up and kept running, in spite of that light profile.  The mouthfeel was silky, quite smooth and easy, tasting of cinnamon, aromatic tobacco, a bit of coffee. Then came citrus, nuts, some very faint fruits – raisins again, ripe red grapes, kiwi fruits, sapodilla, yellow mangoes – that was impressive, sure, it's just that one had to reach and strain and really pay attention to tease out those notes…which may be defeating the purpose of a leisurely dram sipped as the sun goes down somewhere tropical.  Unsurprisingly the finish failed (for me at any rate – your mileage may, of course, vary): it puffed some leather and light fruits and cherries, added a hint of cocoa and vanilla, and then it was over.
The Santiago de Cuba brand was supposedly Castro's favourite, which may be why the Isla del Tesoro presentation quality rum retails for a cool £475 on the Whisky Exchange and this one retails for around £300 or so.  Personally I find it a rum that needs strengthening. The tastes and smells are great – the nose, as noted, was really quite outstanding – the balance nicely handled, with sweet and tart and acidity and muskiness in a delicate harmony, and that they did it without any adulteration goes without saying. It would, six years ago, have scored as good or better than the 12 year old (86 points, to save you looking). 
But these days I can't quite endorse it as enthusiastically as before even if it is a quarter of a century old, and so must give it the score I do…but with the usual caveat: if you love Cubans and prefer softer, lighter, standard proofed rums, then add five points to my score to see where it should rank for you.  Even if you don't, rest assured that this is one of the better Cuban rums out there, tasty, languorous, complex, well-balanced….and too light.  It's undone – and only in the eyes of this one reviewer – by being made for the palates of yesteryear, instead of beefing itself up (even incrementally) to something more for those who, like me, prefer something more forceful and distinct.
(#641)(82/100)
---
Other notes
Pierre-Olivier Coté's informative 2015 review on Quebec Rum noted the outturn as 8,000 botles.  One wonders whether this is a one-off, or an annual release level.