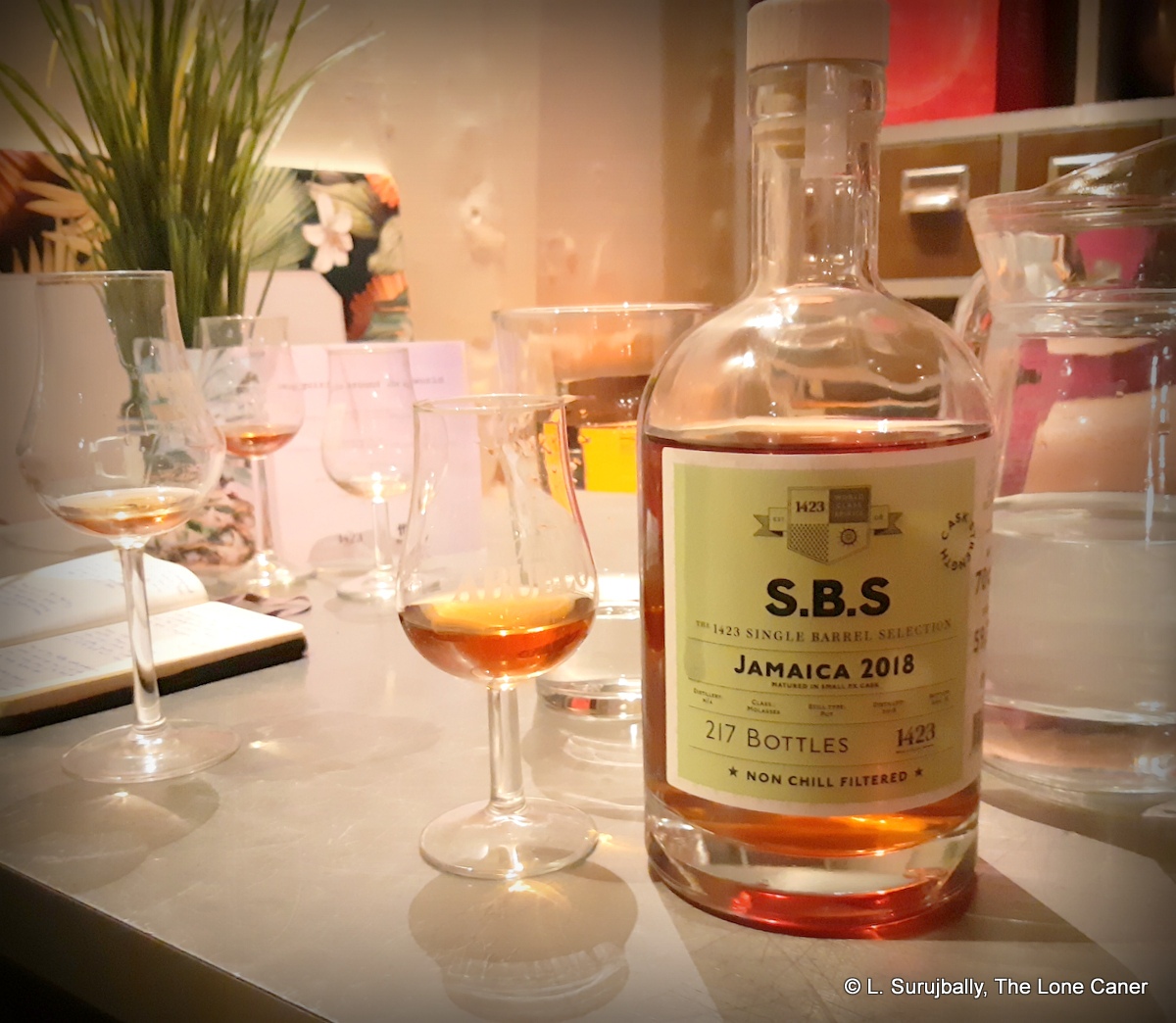 It's remarkable how fast the SBS line of rums have exploded onto the rumconsciousness of the world. This is a series released by 1423, the same Danish outfit which made the really quite elegant 2008 Mauritius rum I wrote about with such love a while back, and has received enormously positive word of mouth on social media for the last year or so.  The only similar company I can call to mind that rose so quickly in the public's esteem would be the Compagnie des Indes, which shared a similarly exacting (and excellent) sense of which barrels to choose and which rums to bottle.
Three things make Jamaica in general — and Worthy Park and Hampden in particular — the current belle du jour for rums.  One there's the fairy tale story of old and noble rum houses in previously shabby circumstances rising phoenix-like from the ashes of near closure and bankruptcy, to establish their own brands and not just sell bulk.  Two, there's that thing about pure rums, pot still rums, traditionally made, from lovingly maintained, decades-old equipment, eschewing anonymous blends. And three, there's the ever-expanding circle of rum enthusiasts who simply can't get enough of the dunder, the hogo, the rancio, that funky flavour for which the island is famous.
By that standard, this rum presses all the right buttons for Jamaican rum lovers.  It has much in common with both the Wild Tiger rum, and the NRJ series released by Velier last year, and some of the Habitation Velier rums before that.  It's a Hampden rum, massively ester-laden at close the the bleeding max of 1600, thereby earning the marque of DOK (which actually stands for Dermot Owen Kelly-Lawson, a Hampden distiller who died in 1934). It's unaged except for six months' rest in PX barrels, and released at a firm but not obnoxious 59.7% ABV – more than good enough for Government work.
Now me, after the shattering experiences with the TECA and TECC (and to some extent the Wild Tiger), I approached it cautiously.  I spoke gently, kept my head bowed low, and did not make eye contact immediately. Maybe the PX casks' ageing ameliorated the furious acid-sweet and rotting rancio of such high ester funk bombs, but I wasn't taking any chances. It might have ninja knives hidden behind the demure facade of the minimalist labelling.
I needn't have worried. The nose started off with the dust of old clothes cupboards with one too many mothballs, leavened with fruits, lots of fruits, all sweet and acidic and very sharp (a hallmark of the DOK, you might say).  Pineapples, yellow mangoes, ripe apricots and peaches, cashews, and soursop all duelled for bragging rights here. It's what was underneath all those ripe and rotting and tear-inducing aromas that made it special – because after a while one could sense acetones, glue, nail polish, damp sawdust mixed in with white chocolate, sour cream, and vanilla in a nose that seemed to stretch from here to the horizon. I had this rum on the go for three hours, so pungent and rich were the smells coming from it, and it never faltered, never stopped.
And the palate was right up there too.  Not for this rum the thick odour of mouldering rancio which occasionally mars extreme high-ester rums – here the sherry influence tamed the flavours and gave it an extra dimension of texture which was very pleasant (and perhaps points the way forward for such rums in the future).  The tastes were excellent: sweet honey, dates and almonds, together with licorice, bitter chocolate, cumin, a dusting of nutmeg and lemon zest. As it opened up, the parade of fruits came banging through the door: dark grapes, five-finger, green apples, pineapples, unripe kiwi fruit, more soursop, more lemon zest…merde, was there anything that was not stuffed in here? As for the finish, really good – long, dry, hot, breathy.  Almost everything I had tasted and smelled came thundering down the slope to a rousing finale, with all the fruits and spices and ancillary notes coming together…a little unbalanced, true, a little sharp, yes, a shade "off" for sure, but still very much an original.
Summing up then. The SBS Jamaican 2018 is a Hampden rum, though this is nowhere mentioned on the label.  It's a furiously crisp and elegant drink, a powerfully and sharply drawn rum underneath which one could always sense the fangs lying in wait, biding their time.  I noted that some of its tastes are a bit off, and one could definitely taste what must have been a much more pronounced hogo. The sherry notes are actually more background than dominant, and it was the right decision, I think, to make it a finish rather than a full out maturation as this provides roundness and filler, without burying the pungent profile of the original.
The other day I was asked which of the Jamaican high ester funky chickens I thought was best: the TECC, the Wild Tiger, or this SBS version.  After thinking about it, I'd have to say the Wild Tiger was rough and raw and ready and needed some further taming to become a standout – it scored decently, but trotted in third. The real difficulty came with the other two.  On balance I'd have to say the TECC had more character, more depth, more overall maturity…not entirely surprising given its age and who picked it. But right behind it, for different reasons, came the SBS Jamaica. I thought that even for its young age, it comported itself well.  It was tasty, it was funky to a fault, the PX gave it elegance and a nice background, and overall it was a drink that represented the profile of the high ester marques quite well.
DOK Jamaican rums that are identified and marketed as such are a recent phenomenon, and were previously not released at all (and if they were, it was hardly mentioned). They've quickly formed an audience all their own, and irrespective of the sneering dismissal of the marque by some distillers who persist in seeing them as flavouring agents not meant for drinking, this is pissing into the wind — because nothing will stop the dunderheads from getting their fix, as the rapid online sellout of the SBS's 217 bottles demonstrated.  When one tastes a rum like this one, it's not hard to understand the attraction. So what if it does not conform to what others say a Jamaican rum should be? Who cares about it being too hogo-centric? It's distinctive to a fault, nicely finished, well assembled and an all-round good drink — and that may be the very mark of individuality to which many a DOK made in the future can and should aspire.
(#633)(86/100)
---
Other Notes
According to 1423, the rum was freshly distilled in 2018 and aged for six months in four 40 litre casks, then blended together, rested and issued outside the normal release cycle, in November 2018, as a sort of individual bottling.

All ageing done in Europe
A week after this review came out, Flo of Barrel aged Thoughts posted a comparison of six DOK rums including this one (in German), which is worth going through.