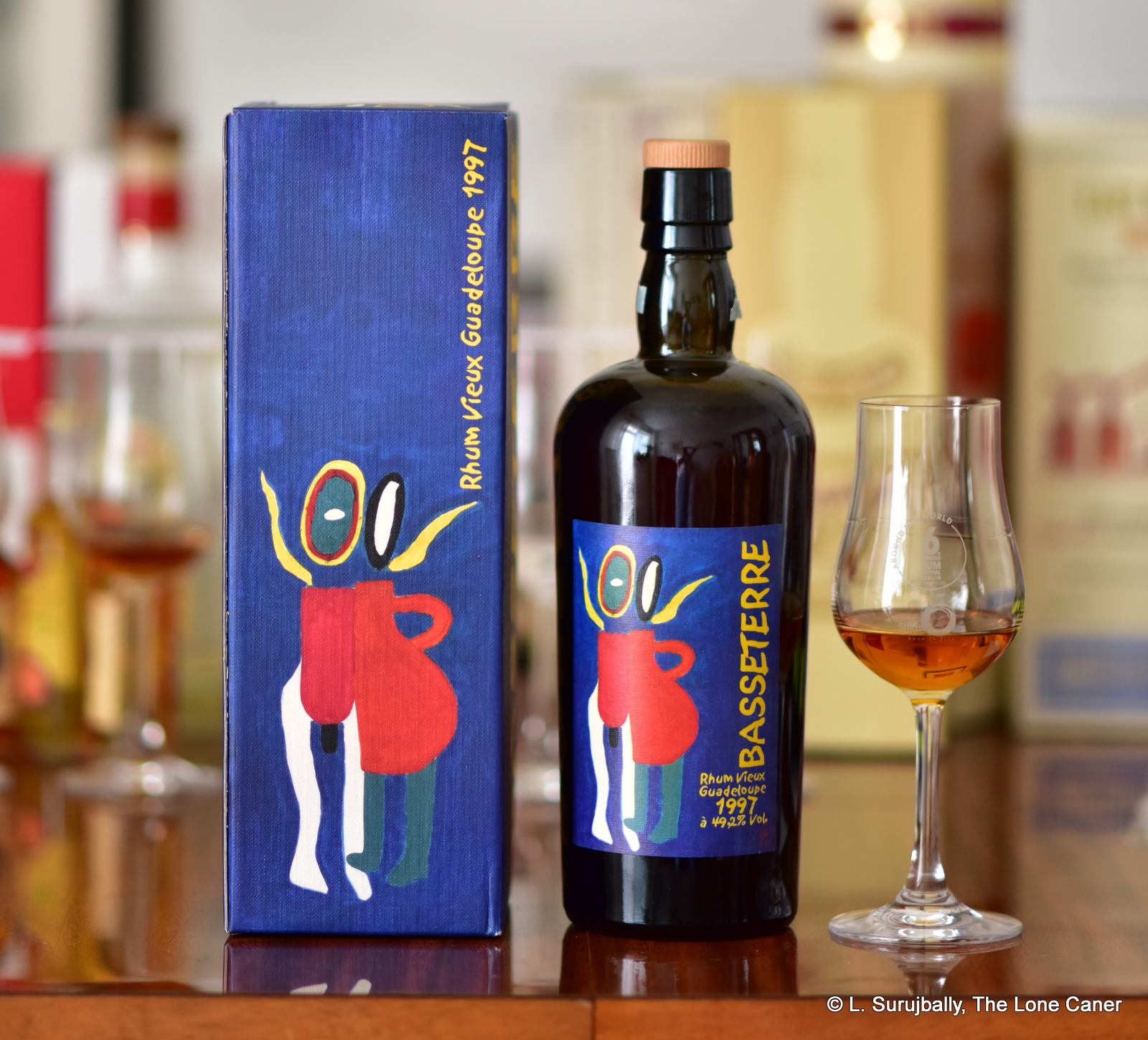 #0491
Don't get so caught up in the Velier's 70th Anniversary bottlings, their dwindling Demeraras or the now flavour-of-the-month Caronis, that you forget the one-offs, the small stuff, the ones that don't make waves any longer (if they ever did). Just because the Damoiseau 1980, Courcelles 1972, Basseterre and Rhum Rhum lines don't make headlines while the aforementioned series do, is actually a good reason to try and find them, for they remain undiscovered treasures in the history of Velier and are often undervalued, or even (gasp!) underpriced.
One of these delightful short form works by La Casa di Gargano is the Basseterre 1997, a companion to the Basseterre 1995, which I thought had been an excellent agricole (scored 87), if, as I mentioned in the review, somewhat overshadowed by other aspects of Luca's oevre. I had sourced them both, but for some reason got sent two of the 1995 and none of the 1997, and was so pissed off that it took me another two years to grudgingly spring the cash for another 1997 (if you're interested, I gave a Danish friend the extra 1995, unopened).
The two Basseterre rhums have an interesting backstory. Back in the mid 2000s, Velier had its relationship with Damoiseau in place and Luca, as was (and is) his wont, struck up a friendship with Sylvain Guzzo, the commercial director of Karukera, and asked him to sniff around for some good casks elsewhere in Guadeloupe. In these cynical and pessimistic times we cast the jaundiced eyes of aged streetwalkers at remarks like "he did it for me entirely out of friendship, not money" but knowing Luca I believe it to be the unvarnished truth, because he's, y'know, just that kind of guy. In any event, some barrels from Montebello were sourced, samples were sent and a deal struck to issue them under Velier's imprimatur. Luca is by his own admission a lousy painter, and therefore worked with a young architectural student from a university in Slovenia to design the labels with their abstract artwork and was going to use the Montebello name on them…before that company saw the Velier catalogue, had a lawyer issue a cease and desist order, and that plan had to change on the spot. So after considering and rejecting the name "Renegade" (maybe that would also have created problems) the label was quickly amended to "Basseterre" and so it was issued.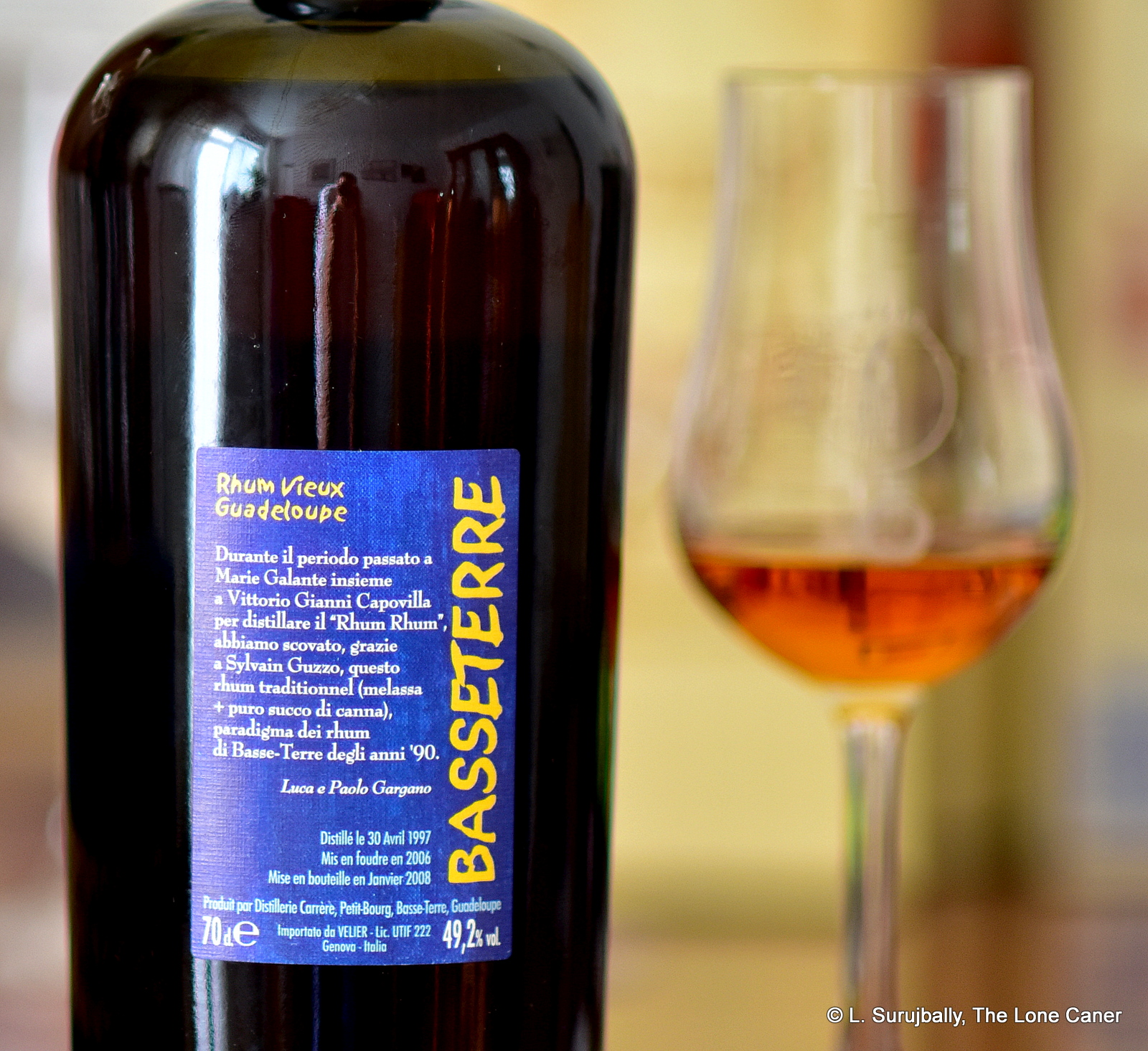 Anecdotes aside, what have we got here? A Guadeloupe column-distilled 49.2% ABV rhum from the Carrere Distillerie more commonly called Montebello, located just a little south of Petit Bourg and in operation since 1930. Curiously, it's a blend: of rhum agricole (distilled from cane juice) and rhum traditionnel (distilled from molasses). Aged…well, what is the age? It was put in oak in 1997 then taken out of the barrels in 2006 (again, just like the 1997 edition) and placed in an inert vat until 2008 for the two divergent strains to marry. So I'm calling it a nine year old, though one could argue it sat for 11 years even if it was just twiddling its thumbs for two. And as noted above, there's a reason why Sylvain's name is on the back label, so now you know pretty much the same story as me.
Even now I remember being enthused about the 1995, though it had issues with how it opened. That level of uncouth seemed to be under greater control here – it was somewhat sharp, sweet and salty at the same time, just not in a messy way. The lighter sweet started to become more noticeable after it began to morph into honey and floral notes, plus anise, a little cumin, and softer, riper fruits such as bananas. Under that was a nice counterpoint of well-behaved (if the term could be applied without smiling) acetone and rubber and an odd ashy kind of smell which was quite intriguing. In fine, the nose was a really nice and complex to a fault, quite impressive.
I also had no fault to find with the palate which reminded me right off of creamy Danish cookies and a nice Guinness. A little malty in its own way. It was very clear and crisp to taste, with brine, aromatic herbs (dill, parsley, coriander), spices (cumin leavened with a dusting of nutmeg), honey, unsweetened yoghurt, and a light vein of citrus, out of which emerged, at the end, some coffee grounds and fleshy, ripe fruits, all of which was summed up in a really good fade, dry and well balanced, that went on for a surprisingly long time, giving up gradually diminishing notes of anise, coffee, fruits and a little citrus.
The rum really was quite a good one, better than the 1995, I'd suggest, because somehow the complexity was better handled and it was faintly richer. It's great that they are not well known, which keeps them available and reasonably priced to this day, but it's too bad there were only two of these made, because unlike the Demeraras or Caronis there is not a great level of comparability to go on with. Be that as it may, the fact remains that these smaller editions of more limited bottlings — which don't have the hype or the glory of the great series for which Velier is justly famed — are like Stephen King's short stories tossed off between better known doorstopper novels like "It", "Duma Key", "The Stand" or The Gunslinger Cycle. Yet can we truly say that "Quitters Inc" "The Ledge" or "Crouch End" are somehow less? Of course not. This thing is a sweet, intense song on the "B" side of a best selling 45 – perhaps not as good as the bestseller which fronts it, but one which all aficionados of the band can justly appreciate. And speaking for myself, I have no problem with that at all.
(88/100)
---
Other notes
Outturn is unknown

Background history of the company can be found at the bottom of the

1995

review