Although the Rhum Rhum PMG is essentially a rhum made at Bielle distillery on Guadeloupe, it uses a Mueller still imported there by Luca Gargano when he envisioned producing a new (or very old) type of rhum agricole, back in 2005. He wanted to try making a double distilled rhum hearkening back to the pre-creole-still days, and provide a profile like that of a Pére Labat pot still rhum he had once been impressed with and never forgot.
Co-opting Gianni Capovilla into his scheme (at the time Capovilla was creating a reputation for himself playing around with brandy, grappa and eau de vie in Italy), the two made Marie Galante a second home for themselves as they brought their plan to fruition with Dominic Thierry, the owner of Bielle. "We used fresh, undiluted cane juice provided by the Bielle mills and then subjected it to a long fermentation in small 30hl steel cuvees, before double distilling it in two copper stills through a bain-marie (a water bath, or double boiler)." And in 2006 the first rhum came off the new still.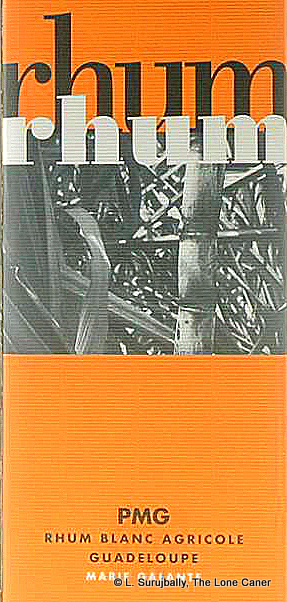 Although the plan was always to sell white (unaged) rhum, some was also laid away to age and the aged portion turned into the "Liberation" series in later years. The white was a constant, however, and remains on sale to this day – this orange-labelled edition was 56% ABV and I believe it is always released together with a green-labelled version at 41% ABV for gentler souls. It doesn't seem to have been marked off by year in any way, and as far as I am aware production methodology remains consistent year in and year out.
What the rhum does, then, is mark an interesting departure from the regular run of rhum agricoles which usually have a single pass through a creole column: here it has a longer fermentation time, and two runs through a pot still. I would never dream of dissing the French islands' blancs – they are often amazing drinks stuffed with squirming ferrets of flavour – but I gotta tell you, this thing is a quiet stunner that more than holds its own.
Nosing it immediately suggests a different kind of profile from the sweet grassy herbals of a true blanc. This is more like a Paranubes, or a clairin – it starts with that same wax and brine and olives and sweet hot dog relish, as if daring you to chuck it away; it calms down to more earthy flavours of black bread, salt butter, cream cheese, and a nice vegetable soup spiced up with a sweet soya sauce; then it gets pleasantly, crisply sweet – fennel, cane juice, citrus, lemon grass, and nice tart green apples. Quite a series of aromas to work through, not something to be hurried if you can spare the time.
On the palate the brininess (which would have been off-putting here, I think) retreats and it becomes somewhat warmer. At first the slight sour of a Korean chili sauce is evident, and a sweet-salt soya dunked into a soup with too much ginger and too many carrots. But this is just the first sip or two – once one acclimatizes, other more traditional tastes that any agricole lover would recognize come out of hiding: citrus (limes); cane juice; green grapes and apples; cloves, rosemary and even a hint of firm yellow mangoes of the sort West Indians love with salt and chili pepper. The rhum remains fresh and bright and not sharp at all, just exceedingly complex, with a lot of different layers chasing themselves up and down and around your tongue, before it finally fades away with closing notes of cardamom, papaya, mangoes, cucumbers in vinegar, swank and lime juice. It's crisp and clean throughout, and the balance is really superb.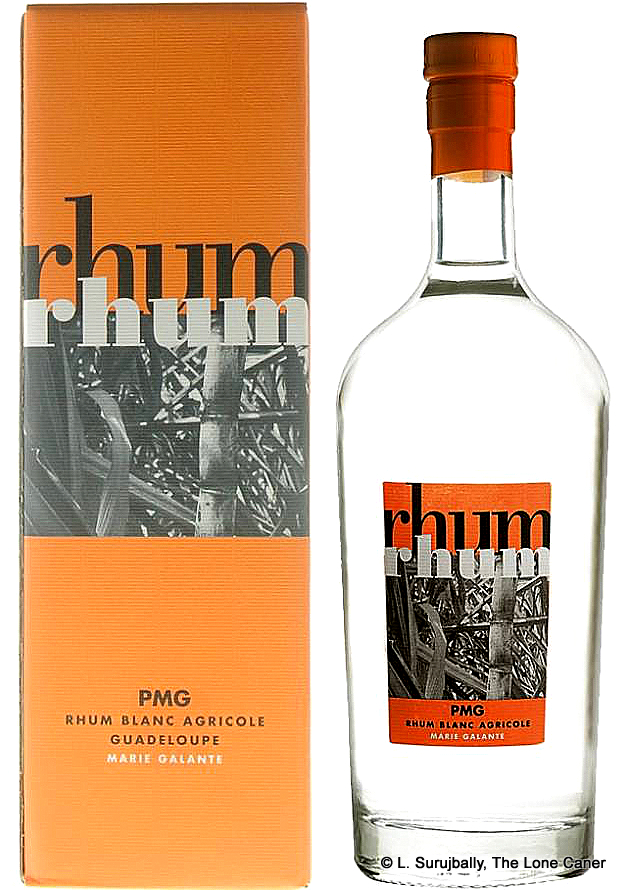 From the description I'm giving, it's clear that I like this rhum, a lot. I think it mixes up the raw animal ferocity of a more primitive cane juice rhum with the crisp and clear precision of a Martinique blanc, while just barely holding the damn thing on a leash, and yeah, I enjoyed it immensely. I do however, wonder about its accessibility and acceptance given the price, which is around $90 in the US. It varies around the world and on Rum Auctioneer it averaged out around £70 (crazy, since Master of Malt have it for £48), which is problematic when one considers all the other very good blancs out there retailing for less.
For people into their cocktails and who love white rums with real character, I would suggest it's the bees knees, however. It's got great complexity, loads of flavour and is made at right angles to more popular and better known whites that aren't as "difficult". Yet at the same time it respects the traditions of rhum making; and it tastes amazing. It might not appeal to those now getting into the white rhum subculture – at least, not yet – but perhaps once in a while when there's a bit of extra coin rattling around in the pockets, it'll be worth it to splurge on this distinctive and original white rhum which gets far too little press. It may yet turn out to be that undiscovered gem we're all look for, even if it's not quite underpriced.
(#798)(86/100)
---
Other notes