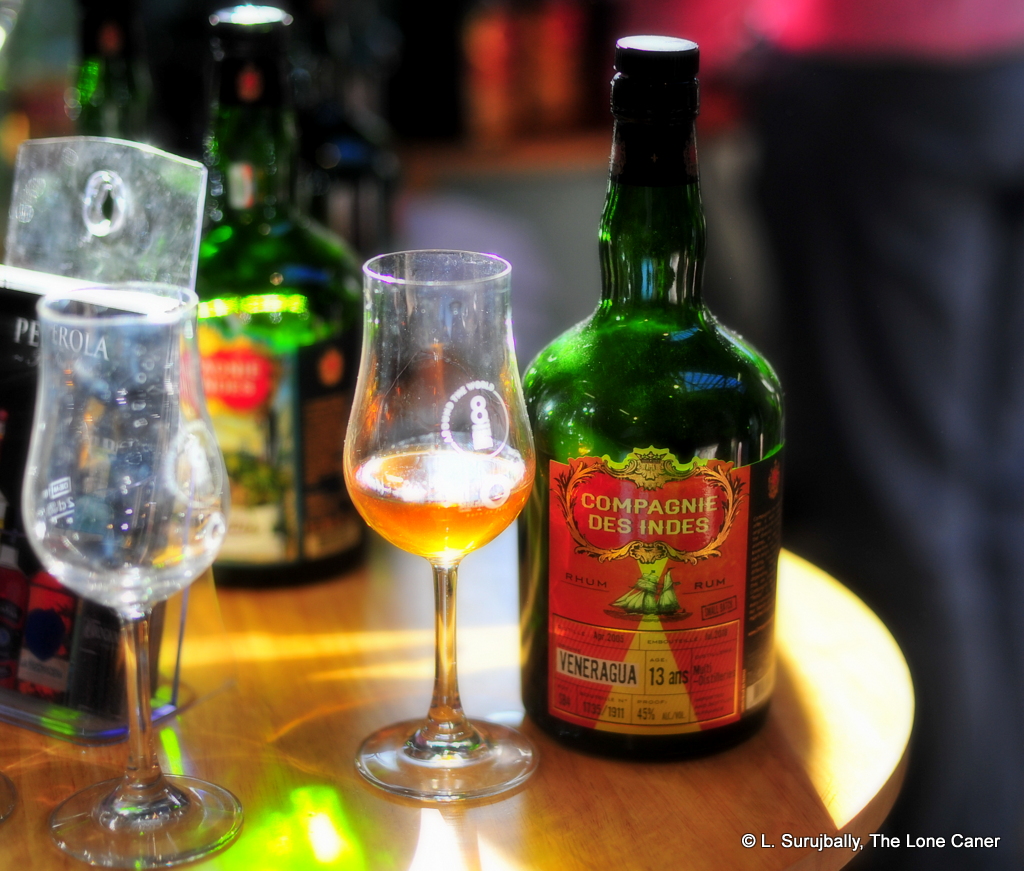 In spite of being better known for the exceptional single cask line that made the name of the Compagnie des Indes (at least, with this writer), it was the later blends that sold a lot better and moved off the shelves with more alacrity. Independent bottlers are businessmen, and while sentiment may have them prefer the tuxedo-crowd snoot-rums, it's the low-end tanker loads that keep the company afloat (a matter not restricted to the Compagnie) and therefore get made.
Compagnie des Indes has a whole lot more blends than is immediately apparent: the Darklice, Dominidad, Kaiman, Latino, Caraibes and Boulet de Canon series spring to mind (the Boulet is into its 9th iteration already), and more recently the West Indies, Jamaica and the Oktoberum series, and the subject of today's review, the Veneragua.
This last is a blend of Venezuelan and Nicaraguan distillate (3 barrels from the former, 2 from the latter), with all the usual mystery behind the mashup. That's hardly a problem for the Nicaraguan component since that's the Flor people, but Venezuela is a tad bigger and has a few more distilleries, so I'm not sure who provided that part. The outturn is 1911 bottles, making it a small- to mid-sized release (a single barrel release is usually 300 bottle or so). We can assume it's a light distillate, column still, and the label informs us it's 13 years old, which I'm going to say was continental ageing all the way.
More than that I don't have so let's move right along. Nose first: it's delicate fast-dissipating sugar-cane juice, grass and herbals, with a more solid core of caramel drizzled over condensed milk and shave-ice by the sno-cone man. Left standing for a while, it develops aromas of vanilla, cinnamon, licorice, white chocolate, ice cream and some light fruits – pears and raisins, mostly, and some lychees.
The palate is pretty nice to sip – the strength of 45% makes it warm and silky, with light tones and accents. The tastes are primarily flowers and fruits and spices – nougat, almonds, grapes, raisins, and the crisp snap of ginger. All underlain with caramel, tobacco, coffee grounds and red wine hints, some burnt sugar, but little in the way of tart acidic fruitiness that would balance these off. The finish was relatively short, with clear-cut vanilla, crushed walnuts, almonds and port-infused tobacco and a last bit of salted caramel.
So, thoughts. I liked it…kind of. Nothing super exciting here, just a well done rum. It lacked specificity, which has always been blended rums' strength and weakness as a category, because a rum made for everyone in general is also one made for nobody in particular. Blends remain the same for long periods and are geared towards mass audiences, which may say something about the Compagnie's strategy and long term marketing aims. It's not often appreciated that erudite reviews of single barrel or limited releases, high points scores and fanboy partisanship may raise awareness and appreciation of a rum company's halo products, but those are bought by a very tiny sliver of the purchasing public. They don't shift the needle of the bottom line appreciably – in other words, there's a reason why Bacardi and Tanduay and McDowell's are the behemoths they are and smaller companies renowned for their single barrel cask strength rums are not.
I think Florent gets this very well. Without making a big point of it, he continues issuing his limited editions from specific distilleries, just like IBs the world over do; but in the meantime, he has his eye on what pays the bills. The rums he blends do that and are, happily, quite good enough to please many.
Therefore, for anyone who wishes to just have a decent low strength sipping rum without a lot of complex and aggressive tastes and scents jostling and demanding attention, who desires a good drink with enough complexity at an affordable price to chase the evening away, the Veneragua is perfectly fine. It simply chooses not to play in those rarefied regions inhabited by more limited and more exclusive drinks extolled by the never-silent uber-commentators. The Compagnie has other rums that live there. This one happily moves in a more approachable, less exacting stratum.
(#783)(81/100)