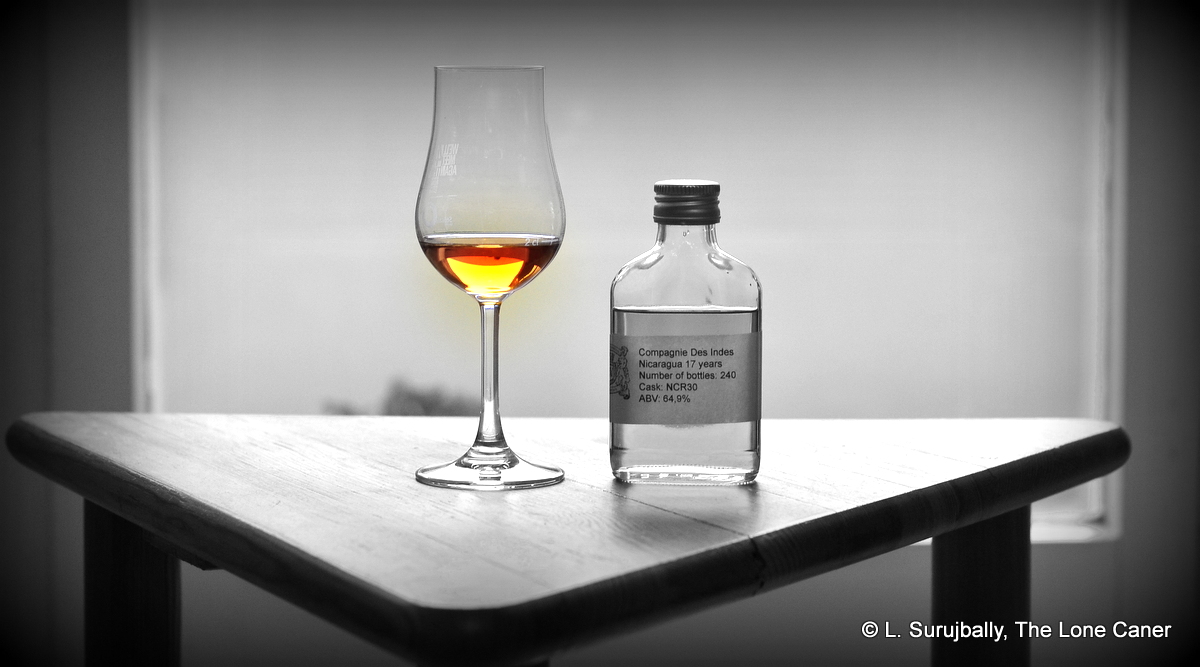 Of all the Central American rums I've tried, Nicaraguan rums from the Flor de Caña facilities probably are the least like that light Spanish style so popularized by Bacardi. They inhabit a tasting style niche that isn't quite Latin (or Cuban, if you will), but something that blends the light column still taste with something a bit deeper and richer. It makes for a nice amalgam, though it must be said that their own rums don't always showcase that effectively, and sometimes it takes an indie to make the point with a single barrel expression. Not as a rule, not consistently, but occasionally, like here, yes.
Black Adder had done some intriguing work with their 12 YO back in 2015, and the Compagnie des Indes has released another Nicaraguan single barrel rum I quite liked, the 2004-2016 11 YO which illustrated the depth of such rums nicely. That one was fruit-forward with background notes of tobacco and spices, and possessed a certain plush softness I wasn't expecting (previously my experience had been with Flor de Caña's main line of commercial blended rums). So I was curious how a 17 year old rum from the Compagnie ranked against those two, and whether that additional five or six years of ageing (continental) made a discernible difference.
It did, I think. It almost seemed like there was some pot still action going on behind the scenes, upon a first sniff – rubber, salt, esters and acetone, a little paint thinner. Also a nice olive and briny note, set off by sweeter aromas of tinned peaches or apricots in syrup. Some nuts and cereals backed up the chorus, and the real takeaway was the impressive manner in which the balance among these competing aspects was maintained, with no single scent dominating the experience. Even a vague salty rottenness of of overripe cashew fruit (the ones with the external seeds), added rather than detracted from the overall complexity and it was quite a bit better than the 2004 11 YO I brought out of mothballs to do the comparison.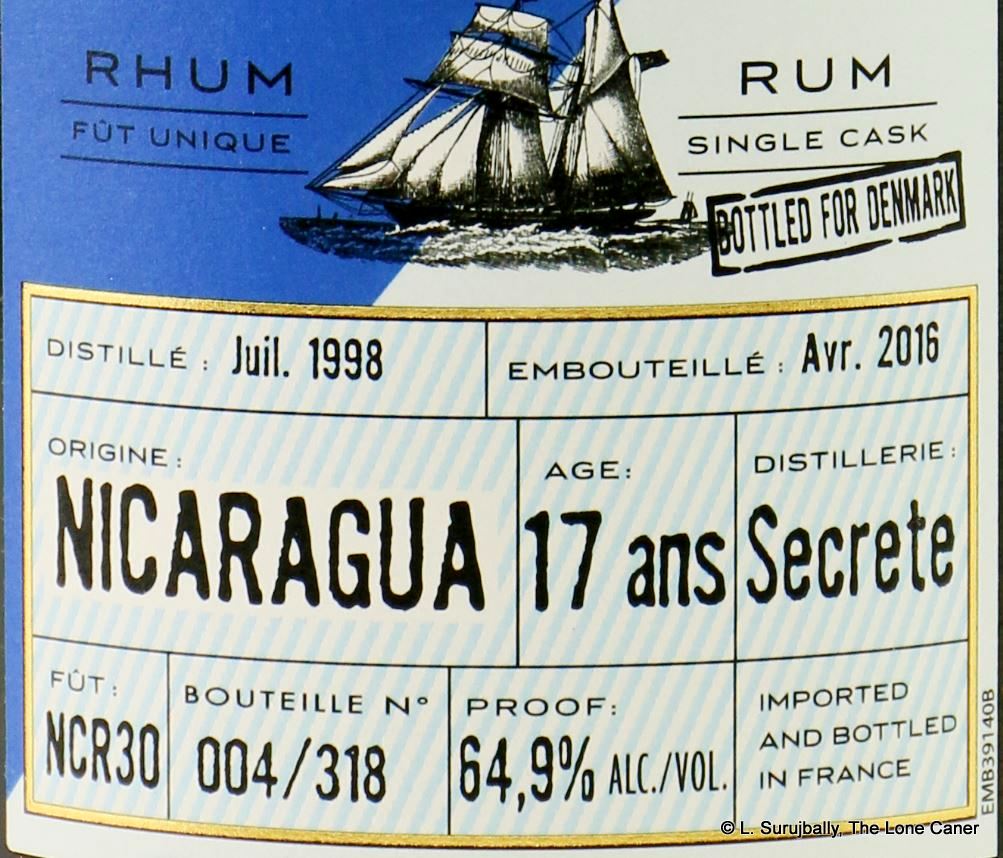 On the palate the rum started off with something of a different vibe: the estery fruitiness I had smelled changed to a delightful sprightly young bubble gum, mint and menthol combo which opened the show in fine style. The rum felt thinner than the nose had suggested, and sharper, but that was likely just a function of the high ABV (64.9%) and again, it felt like it had more richness and depth than either the Blackadder or the 11 YO I was using as comparators. With water, additional notes crept out: honey, dates, nougat and apricots (minus the tin or the syrup this time). There were some vague sensations of oak tannins, aromatic tobacco, caramel, vanilla and a little bit of molasses backing things up, leading to a very long, dry finish of fruits, nuts, honey and coconut shavings.
My personal opinion is that some water might be useful to aid in taming the beast and bringing out subtler flavours that might otherwise be cowed (and there are a lot of those). This is one of those cases where perhaps toning the rum down to an ABV more in the mid-fifties might have paid dividends: nevertheless, I can't complain with what Florent has achieved here, which is to coax a sterling profile out of a difficult and complex high proofed spirit. And although the Danes were the only ones who got this rum at this strength back in the day, Nicaraguan rums at full proof remain a staple of the Compagnie's releases, all of which can trace their descent back to the quality of what was envisioned five years ago, in this deserving and near unnoticed release.
(#718)(85.5/100)
---
Other notes
240

bottle outturn

,

from Barrel #NCR-30