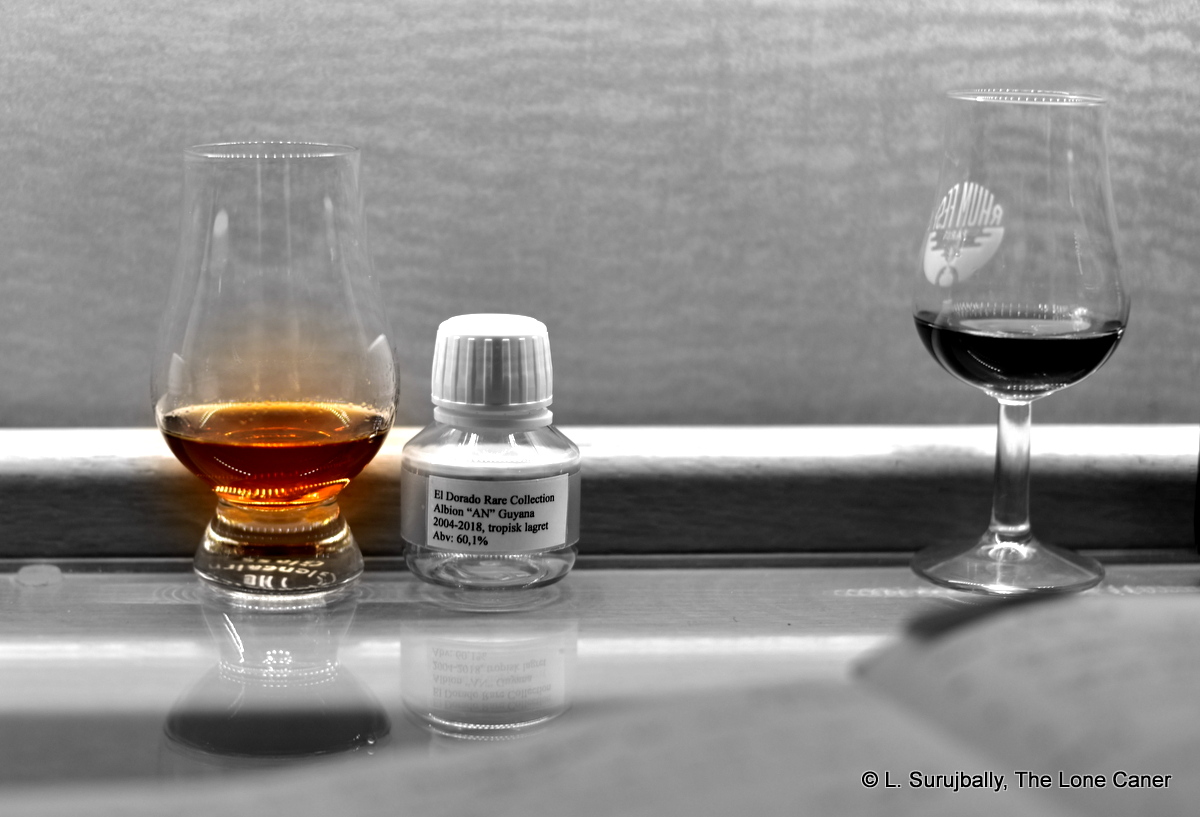 In early 2016 when the first Rares from El Dorado hit the market, there was a lot of mumbling and grumbling in the blogosphere. Most of that was the feeling that Velier (which was to say, Luca Gargano, whose star was in rapid ascent back then) had been inconsiderately evicted from his privileged access to DDL's barrels in a cheap shot to muscle in on the market niche he had almost singlehandedly built, for tropically-aged ultra-old full-proof still-specific Guyanese rums. But almost as loud was the squealing about the prices, higher than Velier's and the prevailing indies' rates, which were seen as exorbitant for an untried first release by a company long known for dosage and lack of customer engagement. When the first reviews rolled out, many pundits ranked them lower than the Veliers from the Age which they replaced.
Three years later on, the Rare Collection is an established fact, though DDL continues to refuse to speak about them in open social media fora, and it's gotten to the stage that many people were not even aware the Second Release had hit the stores in late 2017. By the time 2018 drew to a close, however, just about everyone knew of the Third Release, because two of the most hallowed marques in the Velier canon were being issued – an Albion and a Skeldon. Arguably, the three wooden stills of Versailles, Port Mourant and Enmore have always had greater name recognition, but the sheer rarity of the Albions and the near mythical status of the Skeldon just about guaranteed them serious attention.
Whether any rum can stand up to the weight of such expectations is an open question. Albion has not had a functional distillery apparatus since at least 1969 when Bookers' rationalization of several Berbice distilleries into Uitvlugt was completed. So an educated guess says that the rum (and all others with the marque) is a recreation built up from the Enmore still (not the French Savalle still) housed at Diamond, based on what we can reasonably assume is old distiller's notes and still settings and a rigorous attempt to copy a profile from perhaps existing old samples (I'd ask DDL directly, but since they don't answer I've stopped trying, since my patience, like my outhouse, has finite limits for b.s.).
With or without information, however, it must be said that I liked the Albion, a lot. It sported 14 tropical years of age, a ripped bod screaming in at 60.1% ABV and when I tried it for the first time, I was transported back to that time I tried the 1994 version that started me off on the Velier kick way back in 2012. It was a dark amber rum, enormously, deeply, wonderfully fragrant – of cedar wood, eucalyptus, sandalwood, evocative woody notes one might even have thought came from a wooden still (but didn't) to which were added red wine, vanilla, caramel, toffee, candied oranges, and crushed nuts. And then dissatisfied, the wheels were turned and even more was cranked out – molasses and brown sugar, plums, prunes, blackberries and other dark fruits. It was actually somewhat sweeter than I had been expecting, but fortunately the bite of sharper fruits and tannins of the barrel kept things crisp and balanced and it made for a seriously ba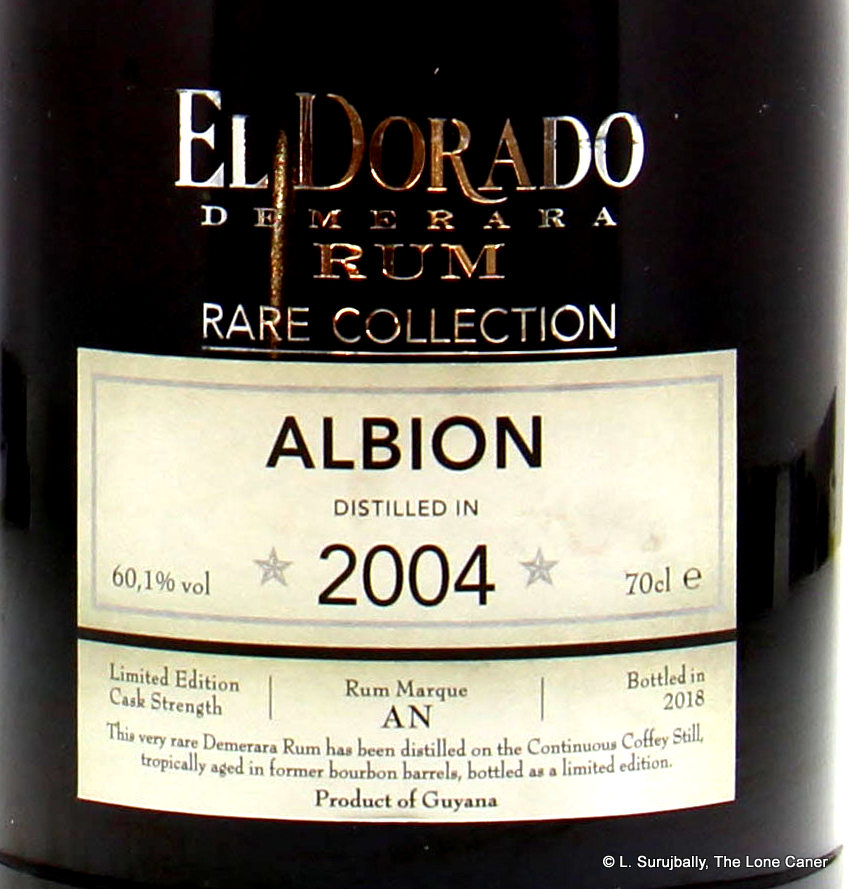 dass olfactory experience.
The palate was executed at a similarly high level. Like many of the very best rums made at high proof points, I hardly felt the proof searing across the tongue or carving divots in the throat. In fact, while strong and hot, it never exhibited the scratchy harshness of a harridan's nagging and could best be described as powerful, with tastes to match. There were the wooden lumber notes again (cedar), some vaguely bitter wooden tannins and nutmeg spice which went well with the dark fruits (blackcurrants, prunes), sweet red olives, brine and concentrated black cake. It was not quite sweetish and maintained a sort of musky and earthy profile throughout, but I liked that, and the finish – dry, long lasting – was quite good, redolent of prunes, coca-cola, faint licorice, nuts, toblerone, almonds and dark triple-chocolate. All said and done, just yummy. I'll take two.
The quality of the Albion 2004 is high and self evident on even a casual tasting — even though, good as it is, it doesn't quite make it into the meadow of rarefied unicorn territory. What is clear is that the Albion dispels any doubts that the Rares are now worthy inheritors of Velier's reputation built up during the Age. It's among the very best rums DDL have ever issued (edged out only by the Enmore 1996 20 YO from R2…at least, so far), and if one yearns to try something that's close as dammit to one of the more legendary Albions like the Velier editions of 1983, 1984, 1986, 1989, or 1994 – then this is as near as you'll get without breaking the bank…it's as good as most, and perhaps even better than some.
(#690)(88/100)
---
Other notes
The label states the rum derives from the "Continuous Coffey Still." Given the French Savalle is never mentioned and the other Enmore rums in the Rare collection are also referred to as being made on the continuous still

,

as well as the woody taste profile

,

it stands to reason this is actually an Enmore wooden continuous still rum

,

tweaked to resemble the Albion

.

Outturn is unclear

–

Wes suggested it was ~2000 bottles

,

while

Ivar commented with more assurance in his review

that it was

4500.