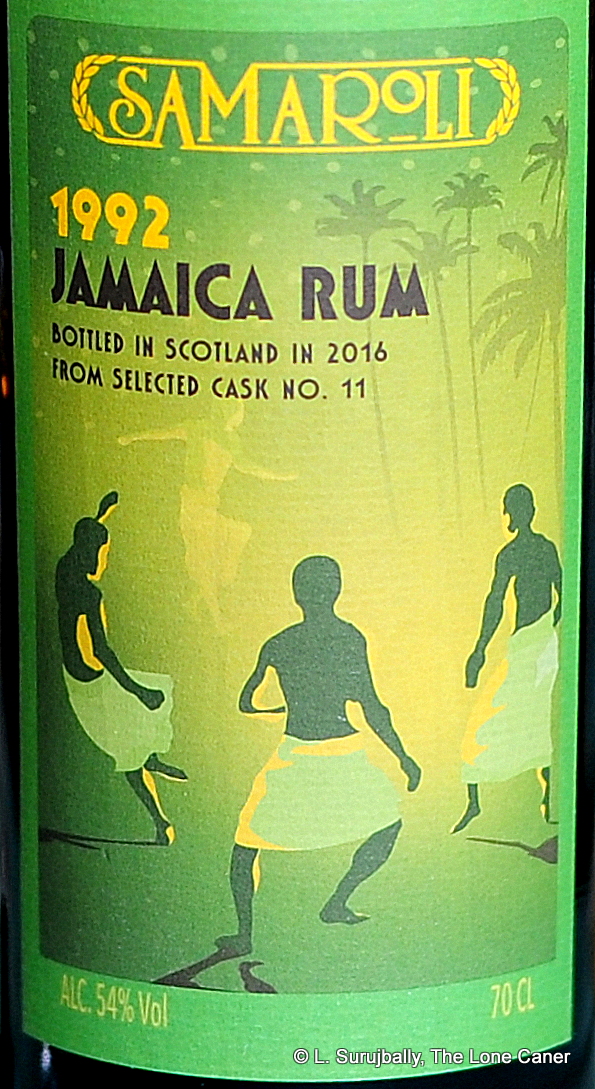 Although it's older, Samaroli is somewhat eclipsed these days (by Velier), and is sometimes regarded as being on the same tier as, say, Rum Nation, or L'Esprit (though the comparisons are at best inexact). With the passing of its eponymous founder, there is no single person around whom aficionados can rally, no-one to show the flag, to enthusiastically promote its rums and excitedly show off the best and newest thing they have going (not that he was doing much of that in the years immediately prior to his passing, but still…). It survives in the regard of many – myself among them – on the basis of the heritage and reputation Sylvano left behind, beautiful label design, and some really kick-ass selections.
Still, good selection or not, at the top end of the single-barrel, limited-outturn value chain, picking barrels can be a hit or miss proposition by minute increments of quality or preference. Although it's a good rule of thumb, it does not necessarily follow that just because one release in one year is good, that all others from the same year would be of a similar level of excellence. The lesson was brought home the other day when a bunch of us tried the 2016 Samaroli 24 YO from Jamaica, which was distilled in the same year – 1992 – as the near-sublime Samaroli 25 year old 2017 edition we'd had just a few months before (and which was used as a control in subsequent tastings).
Let me just run you through the tasting notes, because this really was quite an impressive dram in its own right. Quiet and almost sleepy, it was dusty, dry, sweet and tart to begin with, like a long-unaired spice cupboard. Gradually the fruity notes of peaches, pineapple, gooseberries and cherries built up force until they took over, combining well with licorice, citrus peel aromatic tobacco, even a hint of sherry; and behind all that was the restrained funk of rotting bananas, a sort of quiet gaminess, and the medicinal sweetness of cherry-flavoured cough syrup.
The palate was where the action really was, and fortunately it didn't display any kind of brute force, or the sort of over-oakedness that more than two decades sometimes provides. In fact, it was remarkably drinkable, and there was a lot going on: brine, olives, flowers, licorice, peaches in syrup, cherries were the main components, backed up by citrus, mint, lemongrass, green grapes, stewed apples, bananas going off, earthy and meaty … and there was a weird salty gaminess carrying over from the nose that was vaguely like a sausage starting to spoil. How all that integrated with the fruits and flowers is a mystery, yet somehow it did, though I have to confess, the balance wasn't quite as neat as the nose suggested it would be. The finish was a bit sharp, but elegant and complex, with fruits, nuts and some salt lasting nicely and then fading.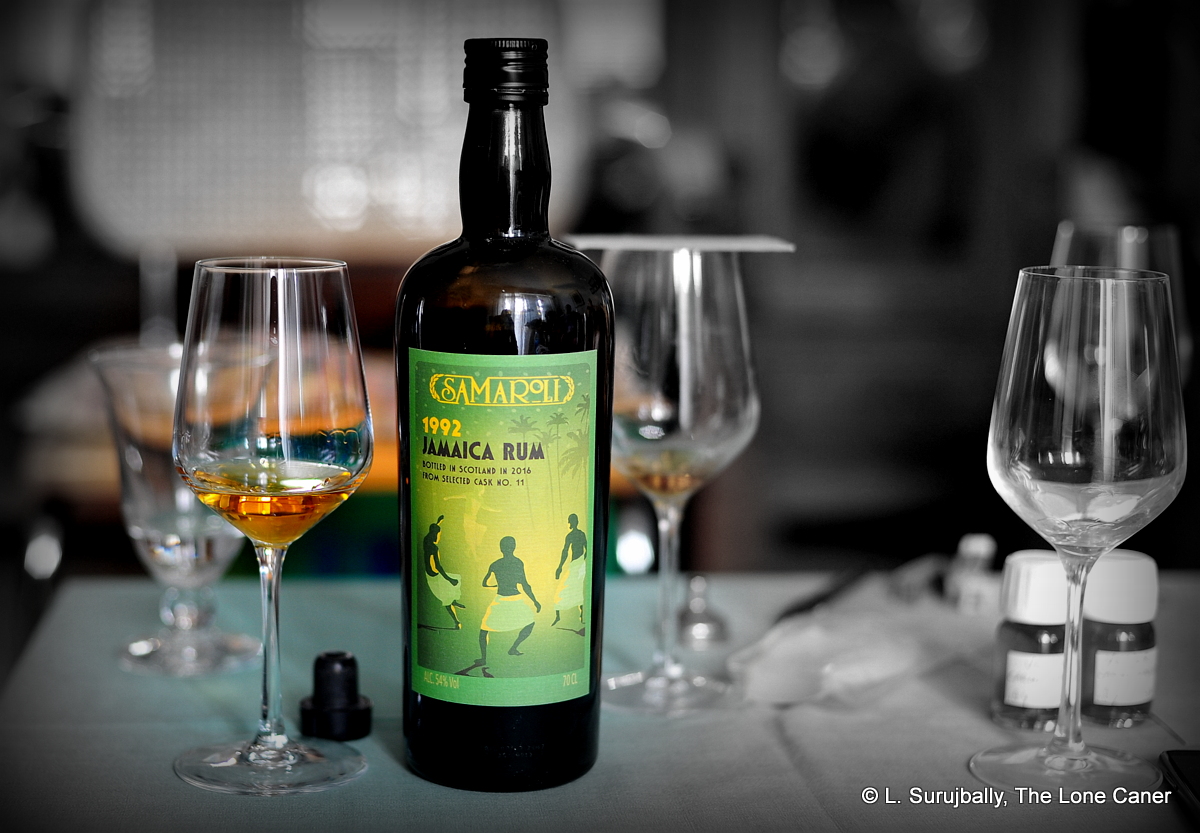 This was really well put together. There was absolutely nothing intrinsically wrong with the 2016 24 YO, and it didn't fail: it was a strong, tasty rum in its own right, represented Hampden like a boss, and it scored high (with me, as well as with Marius, who looked at earlier in 2019 and awarded it 87 points, while remarking he felt it should have been decanted earlier). But good as it was, the general consensus was that the 1992 25 year old was simply better. Better balanced, better integrated, better tasting, smelling, the whole nine yards. The 2016 lacked a little something, an extra fillip of integration and overall enjoyment that was subtle, yet noticeable when sampled in conjunction with its brother.
In short, the 2017 had us searching our thesaurus for suitable adjectives (and expletives) and was one of the best Jamaican rums we'd ever tried. The 2016 — distilled the same year, and bottled a year and 2% ABV apart — made us nod appreciatively, mark it up as a really good rum to have, and one to recommend…but also move on to the next one in our session.
(#666)(88/100)
---
Other notes
The label doesn't state it

,

but as far as I know it's pot still

.
240

bottles released

.

This is

#29
54%

ABV

,

European ageing