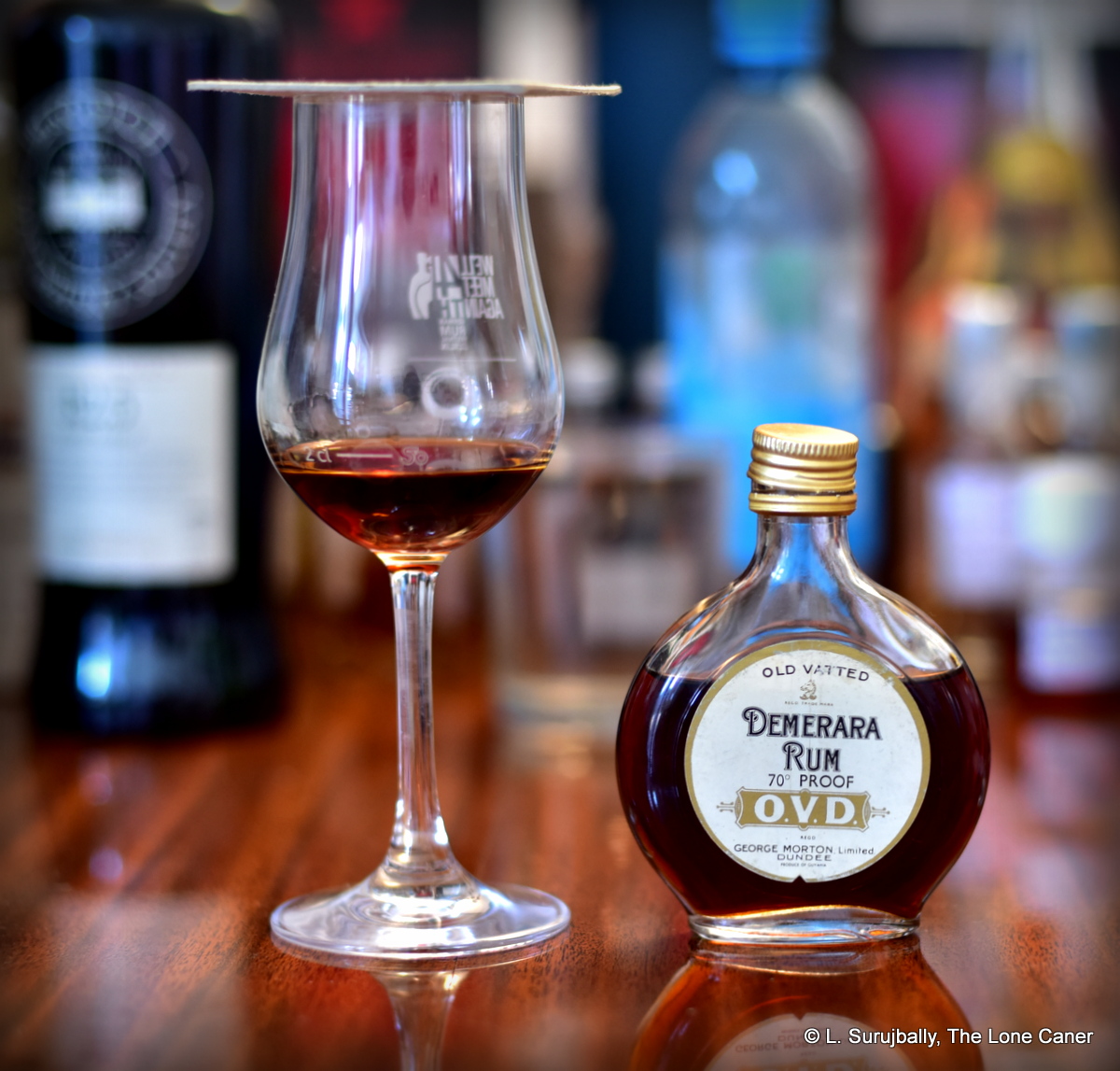 Rumaniacs Review #101 | 0667
Like the Lamb's Navy rum we looked at last time, this is a 70º proof rum, which was produced by George Morton Ltd out of Scotland. Dating this bottle is tricky, since George Morton still exists and is folded into William Grant & Sons, and OVD continues to be made (it's popular in Scotland and Northern England, wrote Wes Burgin, who reviewed a more recent edition back in 2014) — but my own feeling is that this bottle hails from the early 1970s.
By the 1980s the old British companies had left Guyana — DDL was formed in 1983 when Diamond Liquors (Sandbach-Parker's company) and Guyana Distillers (Booker-McConnell's) were merged. At the same time — January 1st 1980 to be precise — the degrees proof words and "º" symbol  on the label had been discontinued and % ABV became the standard nomenclature.

This bottle notes George Morton, founded in 1838, as being located in Dundee which the OVD history page confirms as being the original offices. But a 1970s-dated Aussie listing for a 40% ABV OVD rum already shows them as being located in Glasgow, and a newer bottle label shows Talgarth Rd in London, so my Dundee edition has to be earlier. Lastly, an auction site lists a similar bottle from the 1970s with a label also showing Dundee, and a spelling of "Guyana", so since the country became independent in 1966, I'm going to suggest the early 1970s is about right
None of this is strictly relevant, but I like illustrating the rabbit hole of research from time to time.  The rum is, of course, from Guyana, though its exact age and date of distillation is unknown.
Colour – Very dark amber
Strength – 40% ABV (since 100º proof was ~ 57.14%, then mathematically 70º proof = 40% ABV)
Nose – Heavy, dull aromas. Tobacco, dust, glue, the mustiness of old books in the abandoned sections of old libraries.  Molasses, spoiled prunes, plums and pears gone off. Little acidity or tartness here. Vague orange peel, smoke, caramel, furniture polish, toffee, brown sugar.
Palate – Curiously flat for a nose which had such heaviness to it. A little sweet, mostly dry. Molasses, dust, light fruits.  Licorice, biscuits, coca cola – perhaps they wanted to have an all-in-one snack?. There's a slight metallic note to it, some dark fruits and dates and, of course, more caramel and molasses. Fairly simple and straightforward rum to chuck into a glass and mix up. 
Finish – Sharpish, short. Cola, lemon zest, licorice, varnish, some sawn lumber, caramel, molasses.  Not particularly complex
Thoughts – It feels like a low-rent Port Mourant, and indeed, after I wrote these words I found out that historically it had indeed mostly been PM distillate that formed the core of the OVD. Too weak and undistinguished for me, but even in this standard proofed rum, the qualities of the wooden still could not be denied and elevated it a smidgen above merely ordinary.
NB: I managed to test this with a hydrometer, and it came out at 37.33% ABV, which calculates out to 12 g/L…so either they themselves dosed it, or got the barrels like that. It's too far back in history to know for sure, now.
(0667 | R-0101)(80/100)