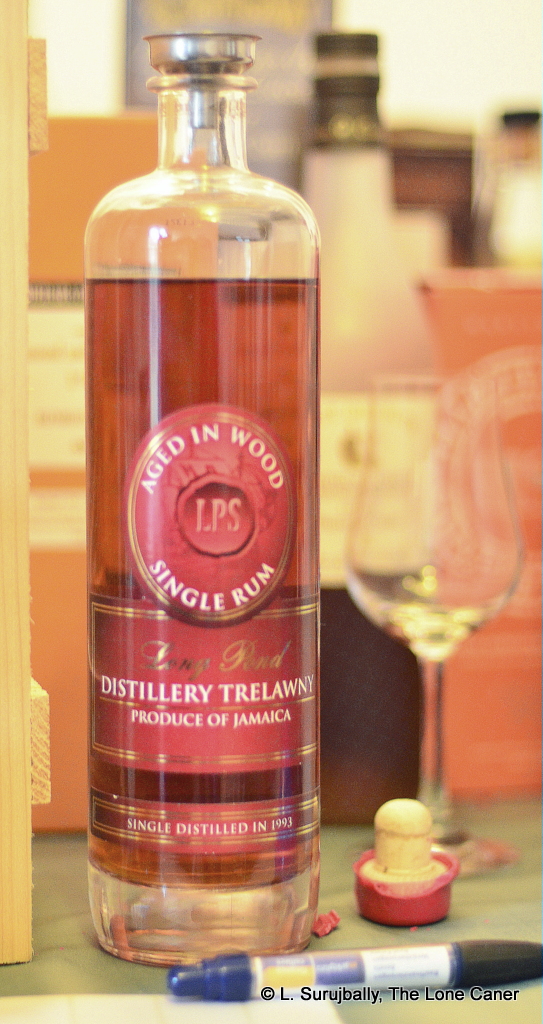 Until Velier came along last year and produced that incredible Long Pond Quartet, you would have been hard pressed to get much from that distillery, which sent most of its stock overseas to age and be issued by others. Much of their production was placed into blends, and occasionally a small single cask release would be spotted on the market – the Juuls Ping 9, BBR 1977, Compagnie's 2003 12 YO, Rum Nation's 1986 Supreme Lord VI, the snarling 81.3% bronto of SMWS R5.1, and, of course, greatest of them all, the near legendary G&M 1941 58 year old.
Now, we hear a lot about E&A Scheer these days, but that doesn't mean other bulk importers don't exist in Europe. One of these is Rum Albrecht GmbH, a north-German subsidiary of the family owned Heinz Eggert & Co, which is an importer and exporter of distillates, spirits, aromatics essences, alcoholic raw materials, wines and liqueurs for over sixty years. Since working with aromatics and rums leads directly towards high ester rums, perhaps it's no surprise that as of 2004 they began releasing limited editions of the "LPS" series of rums from Long Pond, and have thus far produced several: an 11 YO, a 13 YO, a 17 YO and an 18 YO , all from the distillation year of 1993.
Unfortunately, that and the strength (53% across the range) is about all the information easily available — the label is a masterpiece of nothing-in-particular, really. Flo of Barrel Aged Thoughts noted in his 2013 review that the rum was imported from and fully aged in Jamaica and simply bottled in Germany, with a release of 342 bottles, and he also remarked on it being a pot still distillate, (said info provided by RA themselves, since the label mentions nothing of the kind). So okay, we have that.
But none of that really mattered, because when tried in concert with several other Jamaicans, this thing shone even without knowing precisely what it was (at the time). It was so different from the Ping 9 as to be a different rum altogether, and seemed to share DNA more with the 1941, or even a Hampden than anything else. Its nose began with rubbery, waxy and lots of clear fruity-estery notes and then proceeded into aromas of cream cheese and chives, cereals, honey, lemon peel and cumin. And as if it got bored with that, after an hour or so it coughed up a few extras for the patient, of cardamom, overripe bananas and sour cream, all very crisp, very aromatic, a veritable smorgasbord of Jamaica.
The taste was similarly complex: while initially a bit sharp, it calmed down rapidly and glided smoothly across the palate, and the first notes I made were about rough black bread and cream cheese, brine and olives and many of the bits and pieces carrying forward from the nose. Vanilla, caramel, toffee, plus cumin, freshly sawn cedar planks, nougat, almonds and a hint of smoke and leather, with an excellent, long-lasting finish that summed up everything that came before – mostly brine, rubber, cedar, nuts and sharper fruits (apples, green grapes and firm yellow mangoes). I know Jamaicans from the old and famed distilleries can have bags of flavour, but honestly, the assembly of this rum was nothing less than outstanding.
What's even more surprising about the rum, is how under-the-radar it was when it was released in 2013 (and continues to be, now – I mean, have you ever heard of it?). Granted, back then the Jamaican rum renaissance was just beginning to get a head of steam, the Velier Hampdens and the Long Pond Quartet were just glints in the milkman's eye, and all was somewhat overshadowed by the burgeoning reputation of Foursquare. But a rum like this, from the 1990s, 17 years tropical ageing (another thing that hadn't quite taken off back then), from Long Pond? It should have been lauded from every hilltop and rumfest in sight and disappeared off the shelves faster than you could say "Was zum Teufel?" in Jamaican.
My own feeling is that Albrecht didn't really understand what they were sitting on and released it to the German market without much fanfare, and the story goes that some 10-15 far-sighted cocktail-loving people bought like 80% of the entire outturn to juice up their bars, and then it just sank out of sight in spite of the German reviewers' praises. Well, there probably isn't much of it remaining after all these years, and I've never seen one go up for sale on the auction sites of FB sales pages. But I know that if it ever does, I'm buying one, and I sure hope Albrecht has squirrelled away a few more like it for future release to the Faithful.
(#603)(88/100)