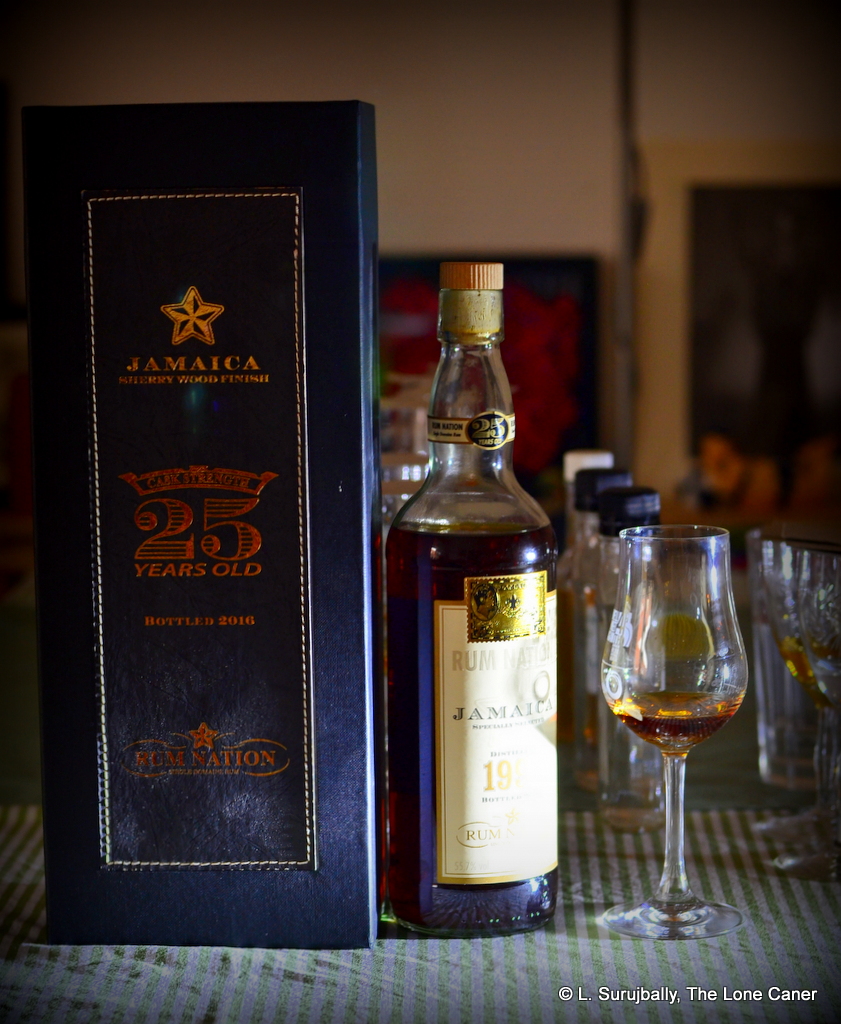 Before considering the €300+ price tag, or grumbling about Rum Nation's penchant for adding something extra to (some of) its rums, give the last Supreme Lord Jamaican rum from 1991 a whiff, a sniff and a snort. Sip a dram. Take your time with it. Enjoy. Because it's simply outstanding, and even in concert with eight other Jamaicans that were on the table the day I tried it, it held up in fine style.
Part of that derives from the extended "sherry finish" — though since it spent eleven years in oloroso casks I'd suggest it's more a double maturation in the vein of Foursquare's Exceptionals than a finish of any kind. And that influence makes itself felt right away, as scents of sweet rich honey, fleshy stoned fruits (peaches, apricots), raisins, leather, oak and vanillas in perfect balance boil out of the glass. There's quite a bit of funk – sharp green apples mixing it up with rotting bananas – just less than you'd expect. And here's the peculiar thing — one can also sense molasses, caramel, a slight tannic tang and a flirt of licorice, and when that comes sauntering through the door, well, you could be forgiven for thinking this was actually a slightly off-kilter Demerara instead of something from Monymusk.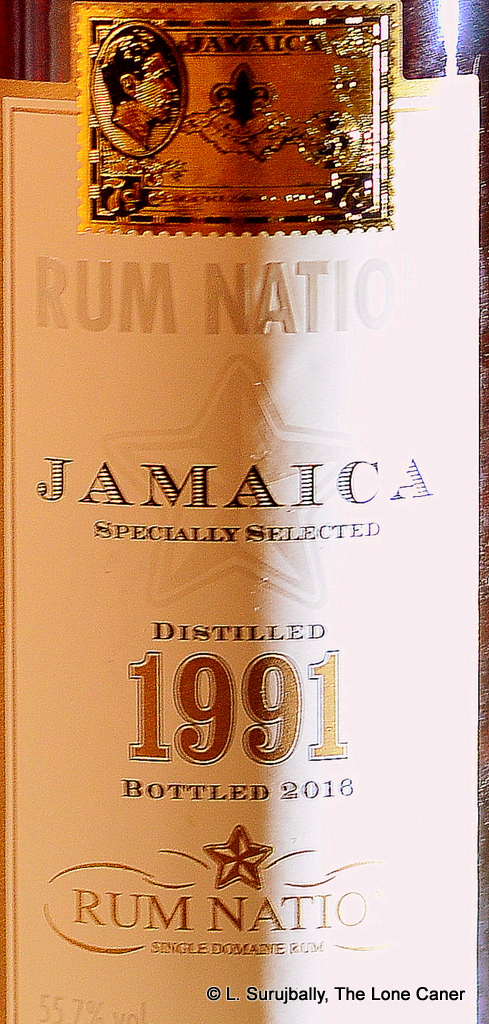 And for anyone who enjoys sipping rich Jamaicans that don't stray too far into insanity (the NRJ TECA is the current poster child for that), it's hard to find a rum better than this one. The 55.7% strength is near perfect. It demonstrates great thickness, excellent mouthfeel, admittedly somewhat sweet, but very clean and distinct (which is to say, not near-smothered by a blanket of softening additives which so demeans many of El Dorado's aged offerings) to allay my concerns about dosing. It tastes of Thai lemon-grass soup or a green curry (both for veggie saltiness and the sharper line of citrus), without ever losing the core heat and fruity over-ripeness of the bananas, soft fruit, black cherries, grapes and that faint whiff of licorice. It has solid closing notes of hot black tea, more fruits (same ones), and is pleasantly, luxuriously long-lasting, reasonably firm, yet loses none of its snap and vigour.
What puts this rum over the top is the balance and control over the various competing elements of taste and smell; it's really quite good, and even the finish – which sums up most of the preceding tasting elements – showcases that care and attention paid to assembling the profile. It's kind of a shame that only 750 bottles were issued and now, nearly three years after being issued, it retails for so much. But consider: when I tried it, it edged out the SL VII, held its own (and then some) against the Ping 9, Albrecht Trelawny, CDI Worthy Park 2007 8 YO, and cruised with ease past the AD Rattray 1986 25 YO. If there was one rum that gave it serious competition, it was the EKTE 12, half as old and just as good (and also from Monymusk).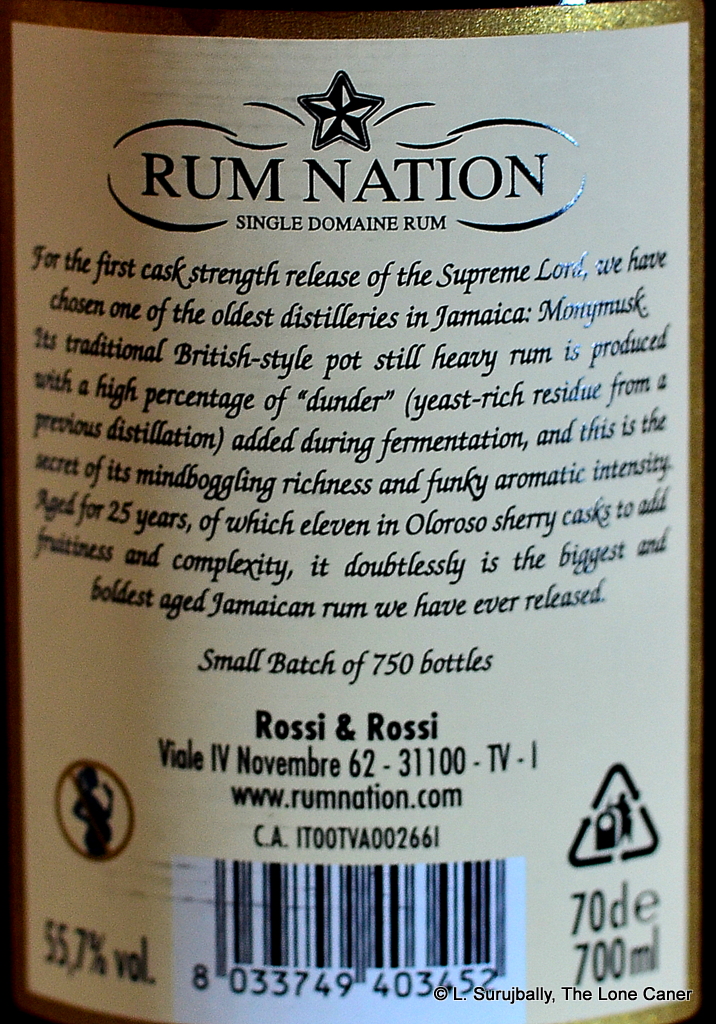 The rum continues along the path set by all the seven Supreme Lords that came before it, and since I've not tried them all, I can't say whether others are better, or if this one eclipses the lot. What I do know is that they are among the best series of Jamaican rums released by any independent, among the oldest, and a key component of my own evolving rum education.
It is with some sadness that I also note that just as it was the first cask strength SL, it is likely to be among the final ones to be issued, as it represented some of the last barrels of seriously aged Jamaican stocks held by Fabio Rossi. He retained some Long Pond to make the superlative blended 30 year old a year or two back, and his attention is now more on the Rare Collection which supplant the Aged series…but whether you like the more recent offerings or the older ones, the pricier ones or the entry level iterations, there's no doubt in my mind that the Supreme Lord rums (as well as their cousins the aged Demeraras), are among the top rums Rum Nation ever issued. And this one ranks right up there with the best of them.
(#589)(89/100)