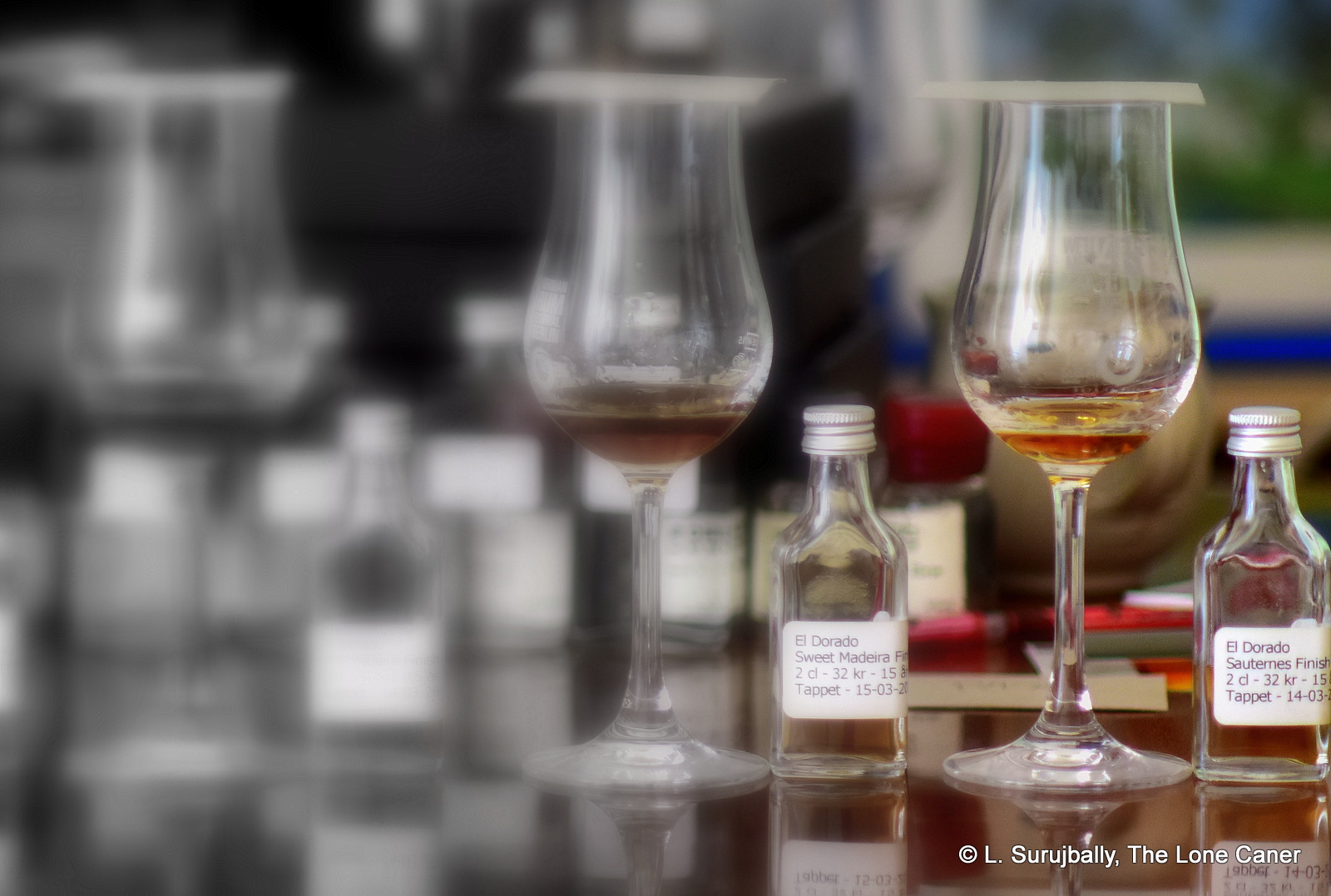 This is the sixth and last short form review of the six "finished" variations of the 15 year old El Dorado rums. Because they're all based on the standard 15 year old which is very well known, I'll be briefer than usual in my descriptions, rather than provide an essay in each case. Tomorrow I'll wrap them all up with a summary and such observations as seem relevant.
The rums were all tasted together, blind, in a four-hour session, using the original (retasted) El Dorado 15 with a non-blind score of 82, as a control baseline. All point scores relate to that rum.
---
As for all these finished El Dorados, the basic component is the 15 year old, and an additional 18-24 months of finishing is done…strictly speaking that makes it (and all the others) at least a 16 year old rum, which is nice. In this case, the finish is done in casks that once held (were "seasoned with") Sauternes wine, a sweet white from the Sauternais region in Bourdeaux characterized by concentrated and distinctive flavours. And like with the Sweet and Dry Madeira-finished rums, the source estate of the casks is not named, for whatever obscure reason.
Colour – Amber
Strength as labelled – 43%
Strength as measured (RumShopBoy) – 42%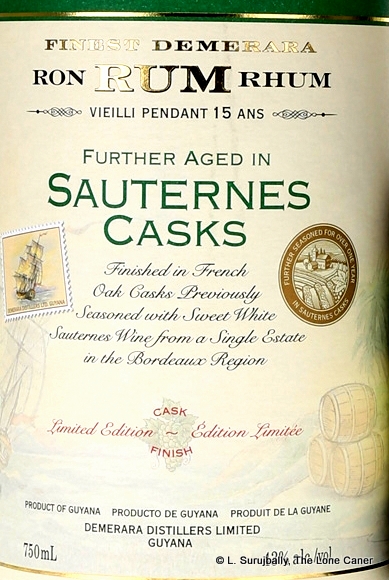 Nose – In a subtle way this is different from the others. It opens with aromatic tobacco, white almond-stuffed chocolate and nail polish before remembering what it's supposed to be and retreating to the standard profile of salty caramel, molasses, vanilla, cherries, raisins, lemon peel and oak, quite a bit of oak, all rather sere.
Palate – The tobacco remains but the familiar El Dorado profile is more robust: vanilla, chocolate, coffee, molasses and quite a bit more dried dark fruit notes of raisins, plums, dates, and a quick hint of anise. The oak is quite noticeable for all the rum's softness, somewhat mitigated by salt caramel and toffee. It is also quite dry, and much of the near-cloying sweetness of the regular El Dorado 15 YO is absent.
Finish – Nope, no joy here, soft, wispy, short and over way too quick. Raisins and unsweetened chocolate, some almonds, and just a hint of orange zest.
Thoughts – Well, it's intriguing to say the least, and when you have a number of rums all of generally similar profiles, it's always interesting to have one that's a bit bent. I liked it, but not enough to dethrone either the Standard 15 YO or my own pet favourite of the series, the Sweet Madeira.
(#534)(78/100)
---
Links to other rums in the "additional finish" series:
0534

El Dorado

15

Year Old

–

Sauternes Finish