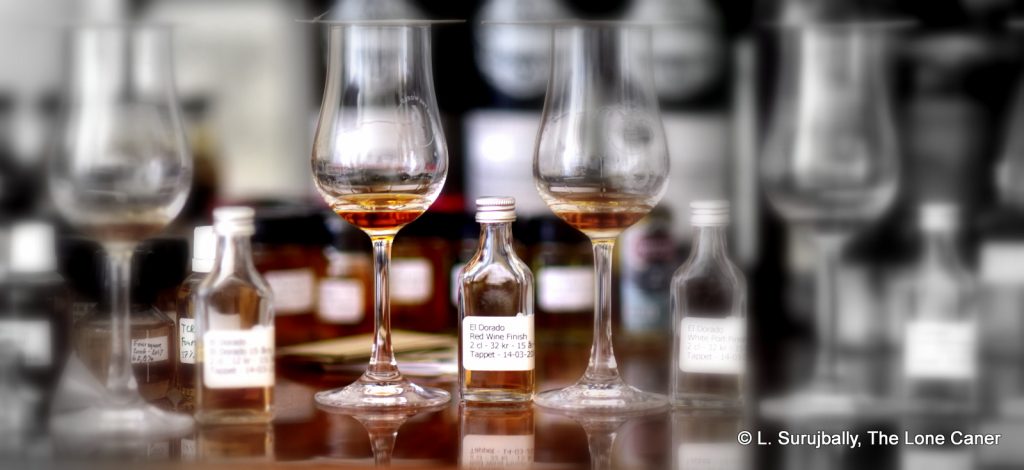 This entire week I'll look at the six "finished" variations of the 15 year old El Dorado rums, one per day.  Because the basic information is similar in general – the 15 year old is the core of it all, of course – I'll use the short form to describe them rather than an essay in each case, and then wrap them all up with a summary on the last day.
The rums were all tasted together, blind, in a four-hour session, using the original El Dorado 15 with a non-blind score of 82, as a control baseline.  All point scores relate to that rum.
---
The El Dorado 15 Year Old needs no long winded recap – it's one of the best known rums in the world, and I've looked at it twice now, once many years ago, and again as a Key Rum of the World. In 2016 El Dorado decided to add to the lineup by releasing six rums with varying barrel finishes.  Whether these succeeded in capturing a serious slice of the market is unknown, but certainly they must have liked it because in 2018 they released another six based on the 12 Year Old. In each case, aside from the standard fifteen years of ageing, an additional 18-24 months of secondary finish was applied, in lightly toasted (charred) red wine barrels from Portugal (no further detail) in this case.
Colour – Amber
Strength as labelled – 43%
Strength as measured (RumShopBoy) – 41%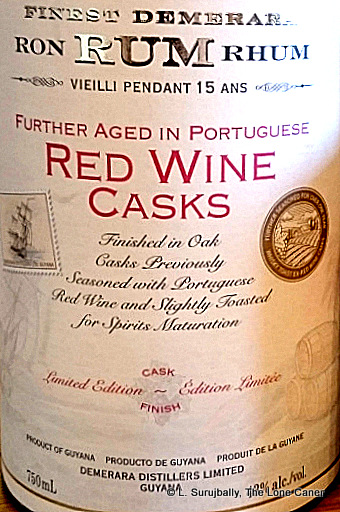 Nose – Somewhat dry and redolent of sawdust, accompanied by delicate flowers an acetones. Quite solid and lightly sweet, and deserves to be left to stand for a while, because after some minutes the molasses, caramel and light licorice notes characteristic of the line begin to make themselves felt, and are then in their turn dethroned by a deep fruitiness of ripe cherries, blackcurrants, plums, raisins and black grapes almost ready to spoil. In the background there's some leather and citrus, neither strong enough to make any kind of serious impression.
Palate – Much of the fruitiness carries over from the nose: the cherries, the ripe grapes, the plums, blackcurrants and so on.  Not much new is added, maybe some watermelons and pears.  It all remained very much in the background as slight hint and never dominated the entire experience: that was handled by the core flavours which reversed their previous reticence on the nose and dominated this stage of the rum.  So what we get is a large taste of brown sugar, salt caramel, molasses, bitter chocolate, vanilla, sweet breakfast spices, oak and anise…but they eclipse the subtleties of the red wine too much, I think.
Finish – It's okay, medium long, not really spectacular…at 43% it's not to be expected, really. Sweet and somewhat indeterminate for fruits (almost impossible to pick out individually here), and with an intriguing peanut butter and caramel core leavened by some light flowers.
Thoughts – Not too bad, an interesting variation on the theme.  Too weak at 43%, though it's logical that cask strength lovers are not the target audience for it. I think it could safely go to 46% without alienating anyone. Too, the basic ED profile remains too overwhelming, and while the influence of the Red Wine is noticeable, it's not clear enough or distinct enough. It can be sensed rather than directly experienced.  Still, not entirely something I'd throw away with yesterday's fish.
(#529)(78/100)
---
Links to other rums in the "additional finish" series:
0529 El Dorado 15 Year Old – Red Wine Finish