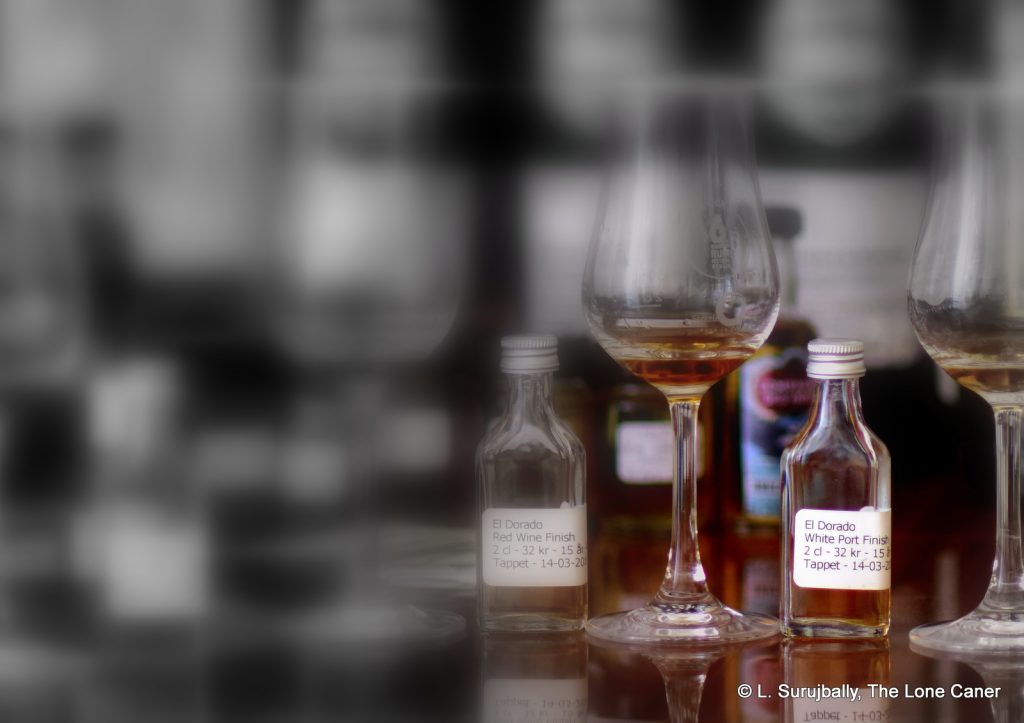 This is the third short form review of the six "finished" variations of the 15 year old El Dorado rums.  Because the basic information is similar in general – the original 15 year old is the core of it all, of course – I'll be briefer than usual in my descriptions, rather than provide an essay in each case; and then wrap them all up with a summary on the last day.
The rums were all tasted together, blind, in a four-hour session, using the original (retasted) El Dorado 15 with a non-blind score of 82, as a control baseline.  All point scores relate to that rum.
---
As for all these finished El Dorados, the basic component is the 15 year old, and an additional 18-24 months of finishing is done, which is edging close to a double maturation territory rather than just a finish. In this case, that finish is accomplished in French oak casks which once held (or were "previously seasoned with", whatever that means) White Port from the Douro valley in north-west Portugal.
Colour – Amber
Strength as labelled – 43%
Strength as measured (RumShopBoy) – 40.6%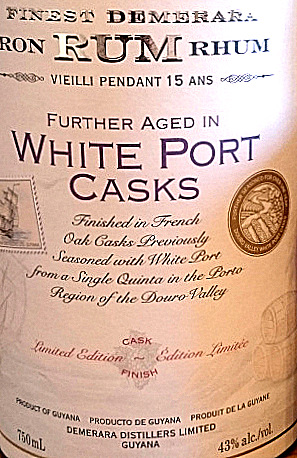 Nose – At first there didn't seem to be much of anything there, it was so mild as to be lightly flavoured alcohol.  But after some minutes it got into gear and revved up some, with a solid core of light brown sugar, molasses, salt caramel, some sweet soya.  Not much deep fruitiness here, just light grapefruit, bananas and nuttiness, and sweet white chocolate.
Palate – I came back to this one rum over and over again, thinking it was me, that this weak-kneed profile was palate fatigue or something, but no, there really wasn't much to talk about both at the beginning of the tasting session, or at the end. There was citrus, toffee, chocolate, caramel, brine, bananas – all the hits from the nose – some vanilla and breakfast spices, and if there was more, I certainly couldn't get it (which may be my problem, not yours). More subtlety than force here.
Finish – Better: nice and dry, a combination of sweet and tart and salt all at once.  Restrained oakiness, vanilla, nutmeg, citrus peel, and the nuttiness remains consistently noticeable and in the background throughout.
Thoughts – Well, it's subtle all right – so much so that it actually felt watered down. Weakest of the bunch for me.  If ever there was a case to be made for moving to higher proofs in some rums, this one is a good example of why. I have to point you to Simon's review here, because he was much more enthusiastic than I was, so for balance, read his notes.
(#531)(76/100)
---
Links to other rums in the "additional finish" series:
0531 El Dorado 15 Year Old – White Port Finish