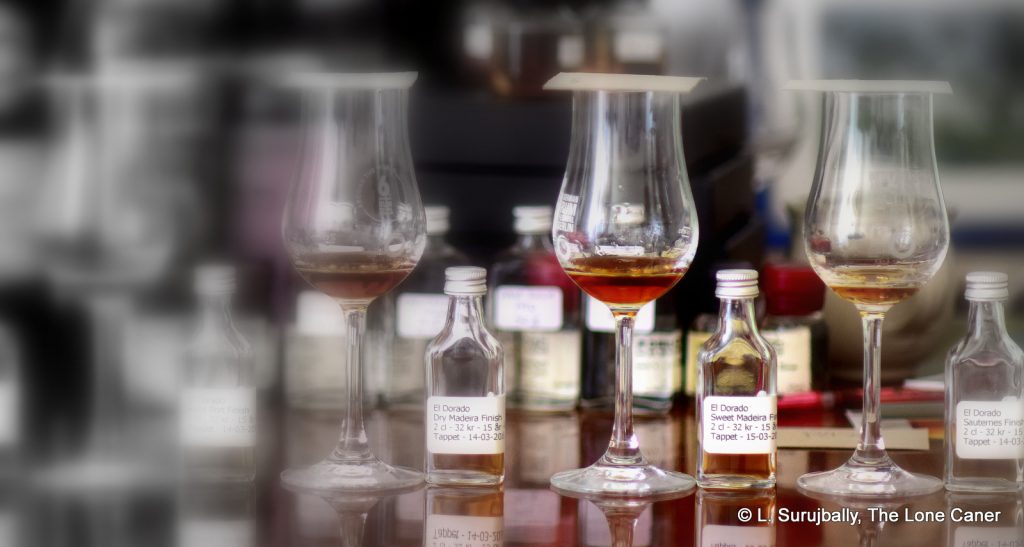 This is the fifth short form review of the six "finished" variations of the 15 year old El Dorado rums. Because they're all based on the standard 15 year old which is very well known, I'll be briefer than usual in my descriptions, rather than provide an essay in each case; and then wrap them all up with a summary on the last day.
The rums were all tasted together, blind, in a four-hour session, using the original (retasted) El Dorado 15 with a non-blind score of 82, as a control baseline. All point scores relate to that rum.
---
As for all these finished El Dorados, the basic component is the 15 year old, and an additional 18-24 months of finishing is done. In this case, the finish is accomplished in French oak casks which once held a sweet madeira wine from an unnamed estate on the Portuguese island of Madeira, so it may be the same estate as the "Dry" I looked at yesterday. I'm unclear why the estate is a point of secrecy, and, as with all others in the series, the rum is noted as a limited edition without ever actually coming out and stating the true outturn (I've read it's around 3,000 bottles) – so how limited it truly is remains an open question.
Colour – Orange-Amber
Strength as labelled – 43%
Strength as measured (RumShopBoy) – 40.7%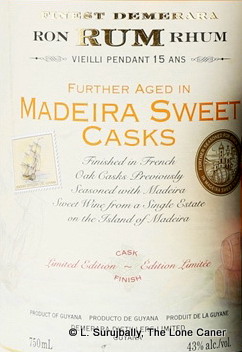 Nose – Leaving aside a slight sweetish note (which I suppose is to be expected, though still not entirely welcome), it noses relatively darker and richer and fruitier than just about all the others except the "Dry"…within the limits of its strength and mild adulteration. Peaches, raisins, cinnamon, cloves, caramel, peanut butter, cherries in syrup and candied oranges, even a little bitter chocolate. It's all rather delicate, but quite pleasant.
Palate – Also pretty nice, if somewhat mild, but that's an issue I have with all of them so let's move on. Soft is a good word to describe it, there's almost no sharp edge at all, though it is somewhat dry – more so (and more pleasingly so) than the Dry version. The oak is more forward here (while still restrained), plus raisins, cloves and cinnamon carrying on from the nose, and the fruitiness of peaches in syrup, cherries, plus toffee, salt caramel
Finish – Dry, rather longish (always nice), final aromas of almond chocolate, raisins, cloves.
Thoughts – It is supposedly finished in Sweet Madeira casks, but it's actually less sweet than the Dry Madeira, and more dry. That makes it pretty good in my book, and I felt it was the best of the six.
(#533)(81/100)
---
Links to other rums in the "additional finish" series:
0533

El Dorado

15

Year Old

–

Sweet Madeira Finish