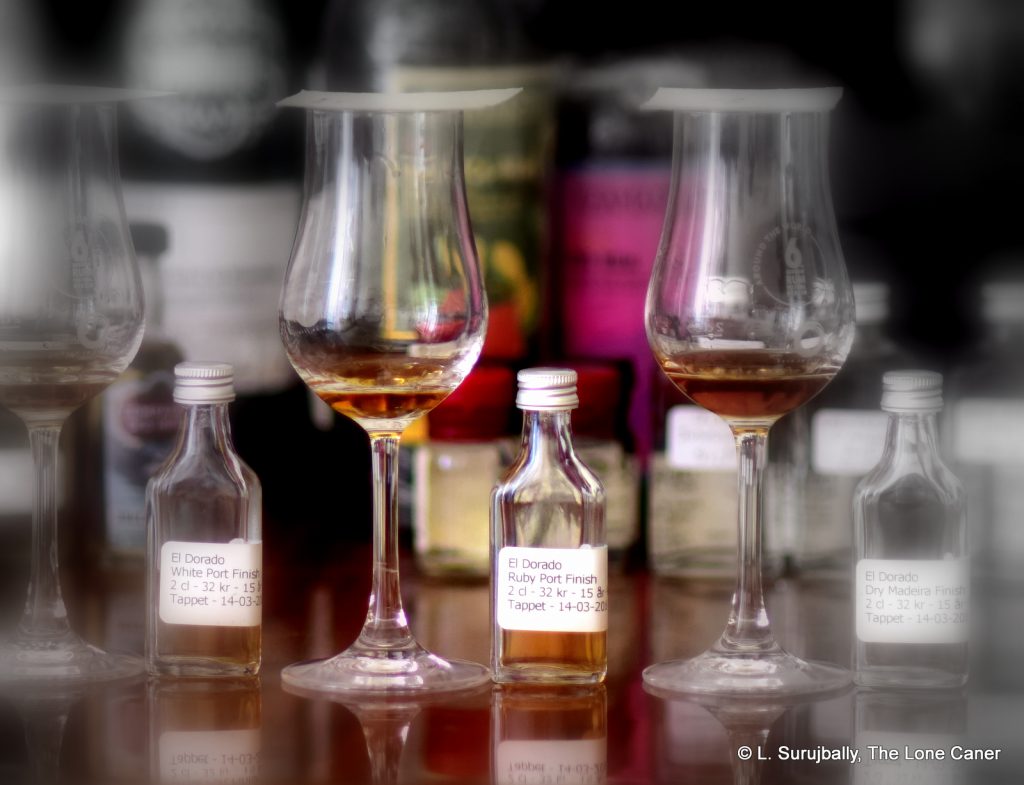 This is the second quick look of the six "finished" variations of the 15 year old El Dorado rums. Because the basic information is similar in general – the original 15 year old is the core of it all, of course – I'll use the short form to describe them rather than an essay in each case, and then wrap them all up with a summary on the last day.
The rums were all tasted together, blind, in a four-hour session, using the original (retasted) El Dorado 15 with a non-blind score of 82, as a control baseline. All point scores relate to that rum.
---
This rum is also finished in a French oak cask, one which held Ruby Port (a fortified red wine from the Douro valley), which is characterized by being bottled young and maintaining a rich fruity flavour. As for all these finished El Dorados, the basic component is the 15 year old, and an additional 18-24 months of finishing is done, which is edging close to a double maturation territory so effectively colonized by Foursquare in recent years.
Colour – Amber
Strength as labelled – 43%
Strength as measured (RumShopBoy) – 40.5%
Nose – This has a light, sweet, almost delicate series of smells. There are acetones, flowers and some faint medicinal, varnish and glue aromas floating around (I liked those – they added something different), and initially the rum noses as surprisingly dry (another point I enjoyed). These then morph gradually into a more fruity melange – tinned cherries in syrup, ripe pears, pineapples, watermelons – while remaining quite crisp. It also hinted at salted caramel, crunchy peanut butter, breakfast spices and a little brine, and the balance among all these seemingly competing elements is handled really well.
Palate – Not sure what happened between nose and palate, but it comes across on the tongue as rather watery and mild. The fruits exist, pears, watermelons and so on, as well as the caramel, anise and toffee, but the overwhelming mental image that I get is of rum-and-syrup-soaked pears, and those chocolates with a soft cognac filling. All very quiet and restrained, with little else.
Finish – Wispy and faint, short, weakest point of the exercise. Plums and cherries, with some vanilla and okay undertones.
Thoughts – Some Ruby Port wines are dry and some quite sweet, but after the nose, little of the former and more of the latter were in evidence with this rum. Strength remains an issue for me here, I think 43% is simply insufficient to properly showcase the effects of the finish. It's there, just not enough of it and it rather chokes on the taste, where the mildness becomes a factor in trying to separate out the various components. Still, this one is pretty good, and the nose is outstanding, well balanced and a joy to sniff for a long time.
(#530)(80/100)
---
Links to other rums in the "additional finish" series:
0530

El Dorado

15

Year Old

–

Ruby Port Finish