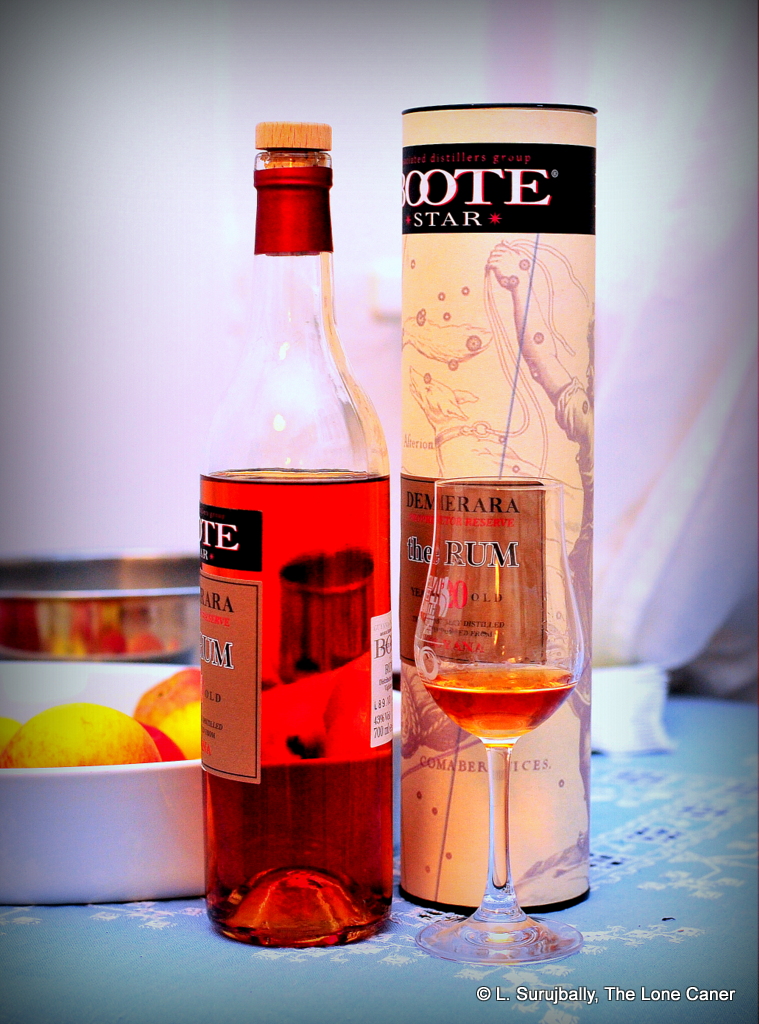 The finishing regime of this rum may not work for all comers, but does at least create a decent aged product from a well-known still.
This is quite an international rum – made in Guyana, shipped to the UK by an Italian importer and bottled by a Dutch company. Boote Star is a Dutch bottler (actually called the Associated Distillers Group), about which there is maddeningly little hard information, aside from the fact that (a) they also have a ten year old, and (b) they appear to have sourced the rum from an Italian distributor and distiller called Distilleria Dellavalla situated to the northwest of Genoa. That little outfit seems more interested in making grappa than rum, so it's anyone's guess how they came upon a barrel of PM distillate, unless it was to age one of their grappas, and then they had to the problem of what to do with the rum that came in barrels (my conjecture). Much like the various low end expressions of Navy or Demerara rums issued in Canada, Boote Star – no matter how they got the rum — essentially issued its own version of a PM rum, perhaps hoping to take some shine off of more established and better known companies.

Its main claim to fame is the age, a very impressive twenty years old (five years in Guyana and the remainder in Scotland): at a time when rum makers are trending more towards low teens, to see something this old is quite an achievement in itself, though I feel that the rum was undone by the makers doing the finish in port and sherry casks, which had a powerful influence over the finished product that it didn't really need. Naturally, in keeping with the rather bizarre lack of information surrounding the thing, there's no indication of the ageing regimen in detail, or how much time it spent finishing, and in which casks, so let's just accept this with a shake of the head at the lack of anything resembling a marketing effort, and move on.
The nose immediately suggested the licorice woody fruitiness of the Port Mourant; it lacked the beefcake power of full proof Veliers (no surprise), and the single minded purity of both those and the ~45% Rum Nation products. Still, it presented well, almost sweetish, with ripe bananas, honey, licorice and oak tannins leading the charge. It didn't stop there either, and as it developed, added cherries, orange zest, some vanilla and molasses, which in turn morphed easily into the tartness of apples and almost-ripe pears – yet none of these scents, were in any way heavy or thick, but relatively light – maybe it was the lack of strength? Possibly. Overall, the nose was delicious, if a little jagged.
The taste showed up some of the rums shortcomings, and I'll go on record as suggesting it may have been doctored over and beyond the sherry/port cask finishing – it was a lot heavier than the nose had suggested, and somewhat sweeter than expected: dark pipe shag, black tea, dollops of molasses-laden brown sugar, and the characteristic anise and licorice of the wooden stills. Whatever raw pot-still aggro a higher proof might have showcased more effectively, was tamed by the 43% at which it had been issued. It suggested more funky complexity than it displayed, I thought, as it threw black grapes and lightly salted red olives in brine to the mix…yet the overarching impression was one of potentially more: better tastes just outside the reach of the senses to detect. They were there, shy, reticent. faint…just not arrogantly so, and the tannic and tart notes of other components only partly came to the fore to round things out. Basically, the rum had been dampened down too much by a lack of strength and the fruitiness of the port and sherry finishing, hiding what could have been a great stage for displaying the PM profile (which I really enjoy); and it led to a short finish that reinforced the molasses and anise tastes, without being allowed to add anything more subtle or enticing to the mix as it wrapped up – and that's a shame for a rum that started out so decently.
This is one of the more off-the-beaten-track PM variations to cross my path, and there are few other products from the still to which I can reasonably compare it (Rum Nation's Demeraras may come closest, though I think those are better). Having been conditioned to more elemental, stronger, more intense profiles, that made me like it somewhat less, yet I could not entirely tell you it's a bad buy – this is a rum where the finishing created a mélange that lesser makers would have tried with sugar and additives, none of which I sensed on this one.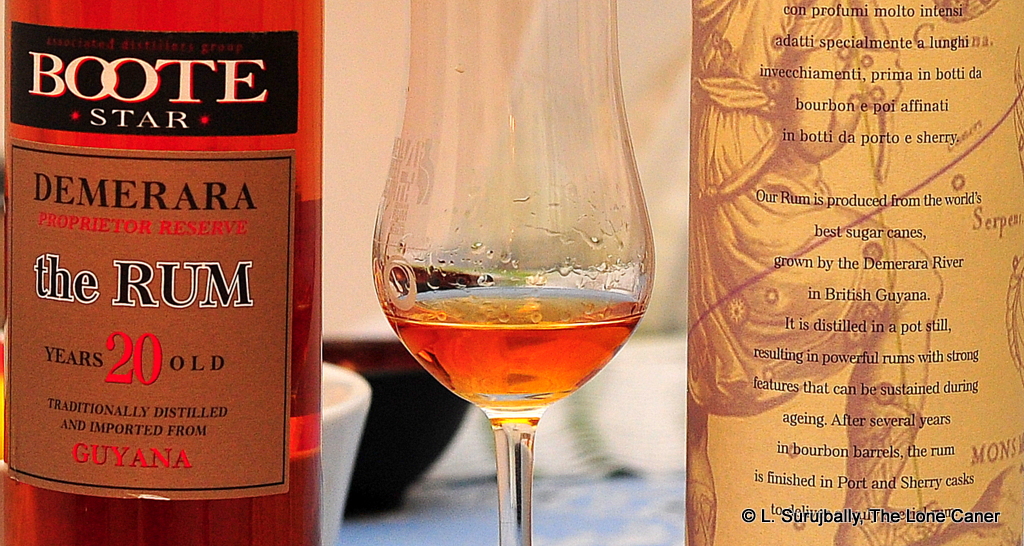 So, I'm scoring it as I do to express both my appreciation for its decent heft and body and some good introductory tastes, and the potential of a profile which unfortunately never gelled. My personal feeling is that it could have been much more if the makers had stopped messing around with the fancy finishing altogether, and just gone with the profile that the stills could have given on their own. For that kind of age, and with what they've managed to do even here, it could conceivably have ranked quite a bit higher.
(#296)(84/100)
---
Other Notes:
I really wish people would do their research

:

Guyana is the post independence spelling of the country's name

;

before May

1966

it was called British Guiana

.

There has never been a British Guyana

.

Bottle courtesy of Henrik of

RumCorner

,

who also provided the biographical details

.

For what it's worth

,

he liked it a lot less than I did

.