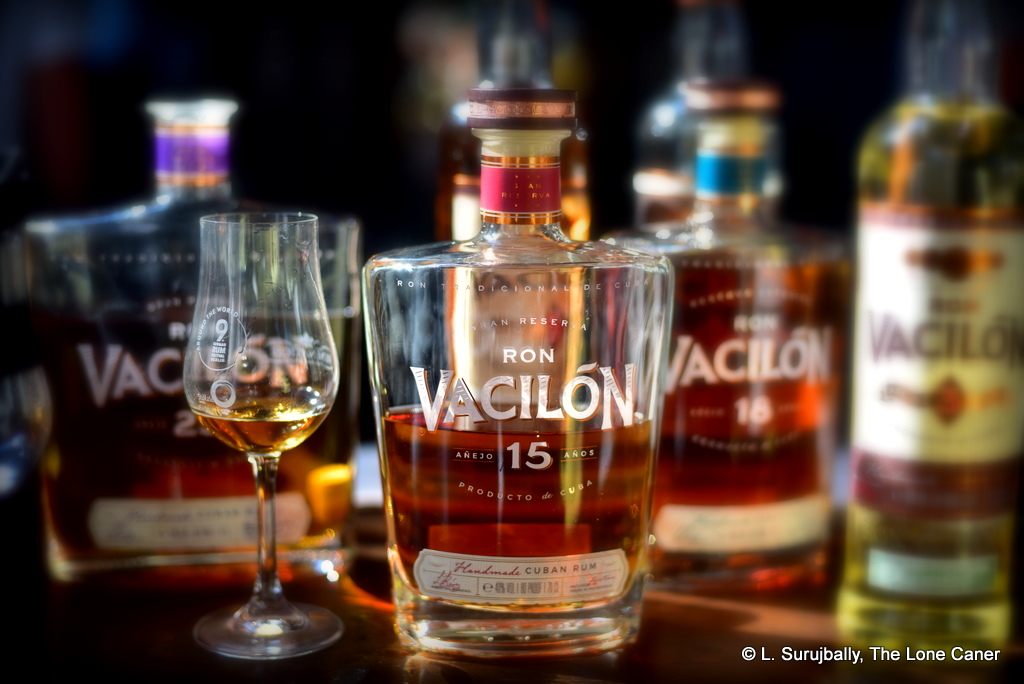 The Cuban-made Vacilón brand was launched in 2016 (as a relaunch of an apparently very popular brand from the 1950s) and has been making the rounds of the various rum festivals off and on.  It's part of the brand's "luxury range" of 15 / 18 / 25 year old rums, which is fine, except that as usual, there's very little to actually go on about the production details – which remains one of the more annoying things about latin rons in general, hardly unique to Cuba. 
Suffice to say, it is made by Destilería Heriberto Duquesne attached to the local sugar mill located in Remedios in the north-central coast of Cuba under the overlordship of Cuba's government entity Tecoazúcar. Founded in 1844 and previously known as Santa Fe, this is a distillery that produces pure alcohol as well as export rum, and makes the Vigia and the Mulata rum brands — so consolidating the information we have from those (here and here) we can say with some assurance that it's a column still light rum, aged in ex-bourbon barrels…and that barrel strategy, coupled with skilful blending by the roneros, is behind its taste profile, not any kind of terroire or pre-distillation techniques or pot still component. 
How does that all come together when it's time for the theory to take a back seat? Judge for yourself. Personally, I found the strength to be anemic at 40%.  It allowed aromas of caramel, nuts, flowers, coffee and cocoa to come through, just not with any kind of punch or assertiveness. Some light fruits — watermelon, papaya, guava, nothing too bold — shyly tiptoed on to the stage but at the first sigh of appreciation they panicked and ran back off again.
Tasting it made it clear this is a soft, warm sipping rum to be had by itself, and savoured that way – even ice might destroy its fragile and delicate construction.  That's both its appeal and (for me) it's downfall – I tasted caramel, butterscotch, bon bons, a bit of hazelnut, lemon zest, cumin and dill, a touch of ripe pear and that was it. The finish…well, it trailed off like an unfinished sentence, trending towards silence without ever having drawn attention to itself.  Which is, I must concede, about what I had expected (though not what I had hoped for) and which defined the rum as a whole.
Let me be clear – the Vacilón is a perfectly "nice" rum. On the surface, based on the label, it hits all the high points. It's from Cuba, home of a long and proud tradition of rum making stretching back centuries. It is fifteen "true" years old.  And if it's only 40% well, cask strength isn't the rumiverse and standard strength rums should not be looked down upon just because they lack the spirituous equivalent of Ahnold's biceps in his prime. 
Except that that was not the way the experience unfolded. I can live with the faint, quiet, wispy proof, I just needed to focus more, and harder, to tease out the tasting notes.  But it was simply unexciting, lacking appeal, not making any kind of serious statement for its own uniqueness and quality. It could have been five years younger and not been appreciably different. Why in this day and age they didn't at least try to jolly it up to maybe 43% or 46% remains one of those unanswered questions to which rons have yet to respond.  Maybe it's because they sell quite enough of what they do already and see no reason to change.
That of course is their privilege – rums like this do have their fans and markets. But as long as rons' makers only keep trotting along the same old track at the same old pace, they're only ever going to end up getting dismissive reviews like this one, and placing themselves in the "also-ran" finishing spot. Or even further back in the listings, which is something of a shame for an otherwise decent product on which maestros roneros expend so much time and effort. I think they can do better for today's audiences, and they should at least give it a try, instead of recreating blends that were popular the 1950s but which are no longer as much in fashion now as they were back then.
(#787)(76/100)