Rumaniacs Review #098 | 0642
Everything about this rum is fascinating, and while there are gaps in its provenance, there's still more available than some other rums in this series we've looked at. Note that it comes from the same timeframe as the Sangster's Jamaican (R-097), but this one is much better and has more convoluted historical antecedents.
A.A. Baker & Co was founded back in 1898 by Arthur and Arnold Baker (and their cousin George) in Trieste, which at the time was the fourth largest city of the Austro-Hungarian empire, and their main trading port and shipbuilding centre (it later got annexed into Italy, where it remains, for reasons too complex for a rum review). These gentlemen were forerunners of today's independent bottlers, producing various rums deriving from the West Indies, Australia and Central America (as well as cognacs and whiskies), which were sourced by trading with ships that stopped over in Trieste. It still exists to this day, producing the Battle Axe Jamaican and other blended rums, though the Bakers have long since sold out to other (Italian) owners and the company moved to Gorizia, a ways up the road.
This 2-liter bottle is tricky – Nicolai Wachmann, who generously provided me with the sample, was told it was from the 1960s by the person he had sourced it from, but most of the pictures found online from a recent auction, suggest it was from the 1970s. Neither is the age mentioned anywhere, or which estate in Jamaica was the source of the rum, so what we are left with is the rather impressive proof, and questions we wish — not without regret — had more answers.
Colour – gold
Strength – 60%
Nose – Even if I didn't know it was Jamaican going in, I would have guessed. Glue, acetone, funk, rotting bananas and orange peel, brine, paint, and that's just the first ten seconds. There's also the damp sawdust of freshly-sawn lumber, ginger, nail polish, aged balsamic vinegar and some good soup under all that. But once it opens it also settles down and the fruits begin to take over, like apples, grapes, mangoes…and at the last, some slightly rotten meat.
Palate – Well, at that strength, it's not a surprise that it attacks with ferocity; it's hot and sharp and (oddly) even a little sweet. Salt, brine, black pepper, olives, and the vague mintiness of a cough syrup, including the medicinal aspect of it. Fortunately the gaminess of the nose is very much in the background here, and what one gets after some time is a rich – if scrawny – panoply of sharp and tart fruit flavours mixed up with some oddball elements. A touch of toffee and blancmange, quite faint, complete this picture.
Finish – Long, hot and very spicy. Lots of spices and herbs here: ginger, dill, thyme, as well as caramel, vanilla and unripe apples and other sharp fruits.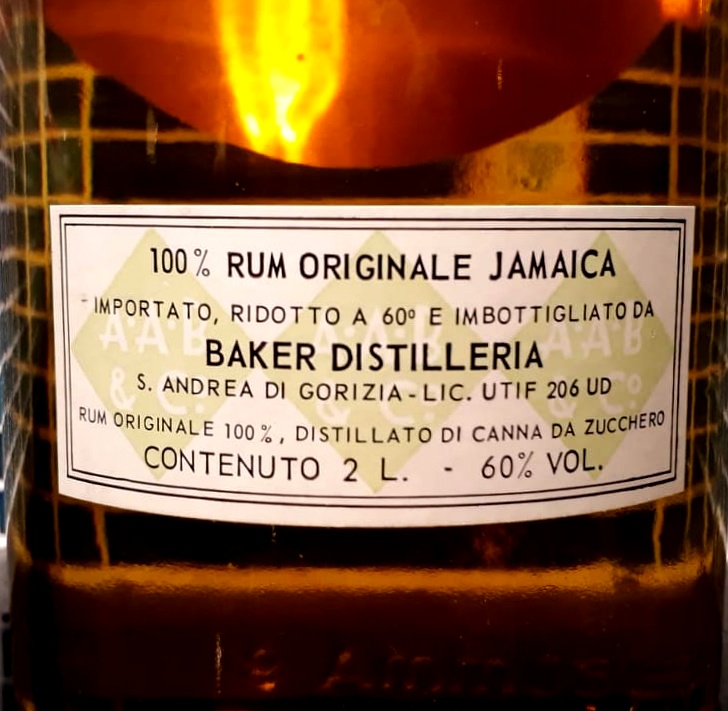 Thoughts – Not very full bodied or musky, presents as somewhat thin and very clear. The strength for what is probably a rather young rum may be excessive for true appreciation, but even so, for the 1970s when light rums were all the rage, it took guts to make this thing at all.
Obviously the production methodologies of the estates have changed somewhat since this rum was made, or it's a blend of multiple marques. Maybe both. Whatever the case, identifying which distillery in Jamaica produced it is not easy – I'd hazard a guess that there's some pot still in here (but not all) and that there's Longpond and maybe Worthy Park in the blend – but it's all a guess, because, who knows for sure? And that's a real shame, because with the ascendancy of the New Jamaicans these days, how cool would it be to say you had one of their rums, dating back fifty years or more?
(#642 | R-098)(83/100)