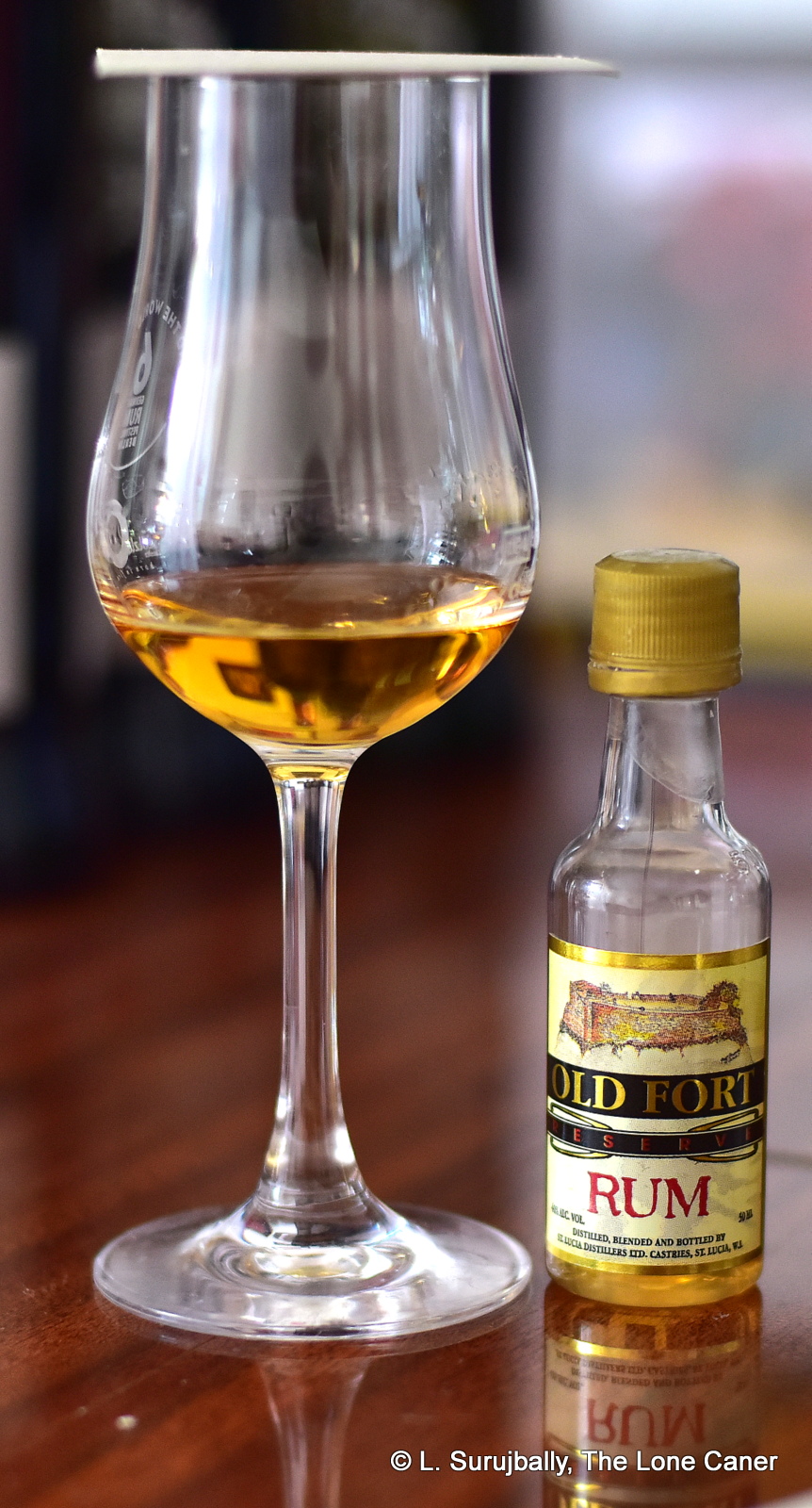 Rumaniacs Review #087 | 0574
As with the Bucaneer rum in R-086, the Old Fort Reserve rum is from St. Lucia Distillers, and while it won an award in the 80-proof light category in an (unknown) 2003 "Rumfest", it was withdrawn from the company's lineup in that same year. Bucaneer did not fit the portfolio as the company had decided to concentrate on brands like Bounty; and the Old Fort Reserve had a similar fate – it was overtaken by the Chairman's Reserve brand. What this means, then, is when you taste an Old Fort (and you are interested in such historical matters) then you are actually trying the precursor to one of the better known current St Lucia marks.
Although somewhat overtaken by developments in the rum world in the new century, back in the 1980s and 1990s, the Old Fort was considered to be the premium rum of the distillery, and was blended in such a way as to represent the best the company had to offer. As far as I know, it was 6-8 years old, matured in ex-bourbon casks (Note – the original Chairman's Reserve was aged for 4½ years and then aged a further six months after blending so if the philosophy from Old Fort was continued then my ageing figures may be in error – I'm checking on that).
Colour – Gold
Strength – 40%
Nose – A little sharp, but also sweet, fruity (apricots, orange marmalade, ripe apples), dusty, dry with just a little honey, brine and pickled gherkins in the background. Somewhat earthy and "dirty" at the tail end. A nice nose, though demonstrating more promise than actuality.
Palate – Diluted syrup decanted from a tin of peaches. Pears, cucumbers, sugar water, watermelon, and a nicely incorporated deeper tone of molasses and caramel. Still somewhat briny, which gives it a touch of character that I liked, and some gently emerging notes of dill and cumin round off what these days is an unaggressive profile, but which back in the day was considered top of the line.
Finish – Longer than expected for standard proof, dry, dusty, salty finishing off with molasses and light fruits.
Thoughts – It's unexceptional by today's standards, and its successor the Chairman's Reserve (especially the Forgotten Cask variation) is better in almost every way. But as a historical artifact of the way things were done and how rum brands developed on St. Lucia, it really is a fascinating rum in itself.
(77/100)
---
Other reviews by various members of the Rumaniacs can be found at the website, here.