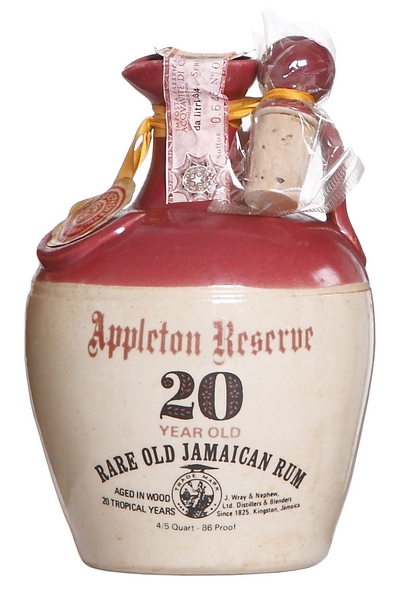 Rumaniacs Review #040 | 0440
As with the 12 year old ceramic jug, I don't think that Appleton is exaggerating in the slightest when they call this a "Rare Old Jamaican Rum," – at the time it was issued in the 1960s or 1970s they might have been hyping the product a tad, but now? Not likely. Still, you can actually find it if you're prepared to pay Masters of Malt, who name this a 1970s era rum, the £700 it costs. And that's more than the Longpond 1941 fetches these days. I must confess that for an aged artifact bottled (or "jugged") at a mouth-watering, drool-worthy twenty years old, I'm tempted. Consider too – at that age, it means at the very latest it had to have been distilled in 1959, and very likely earlier than that, and what lover of historical rums wouldn't want to try that?
Colour – Amber
Strength – 43%
Nose – Pure tamed Jamaican, with elements of the profile being showcased, but not strong or violent enough to put one off…a Trenchtown Rasta in a Savile Row suit, if you will. Rolling waves of salt and sweet, bananas, pineapple, chocolate and coffee, with caramel and toffee hastening to catch up from the rear. Some tobacco and smoke, a touch of vanilla, honey, anise, and very strong black tea. There's a persistent — if faint — background odour of vegetable soup in here, both the veg and the soya. Really.
Palate – More of that dialled down bad boy attitude, nicely integrated into a profile that starts with "dirt". By which I mean a sort of loamy, earthy, vegetable taste (far from unpleasant, I hasten to add), rye bread, cumin, garam massala, molasses, and oh, a lovely clear line of florals and citrus. Did I mention the vegetable soup? All wrapped up in a bow with the usual dessert menu of salted caramel and vanilla ice cream. And as an aside, it's quite rich and intense…It may be jugged at 43% but it sure feels more powerful than that.
Finish – Falls down here after the high point of tasting it. It just fades too damn quick, and for some inexplicable reason, the wood starts to take on an unhealthy dominance. Salted caramel, brine, olives,, breakfast and cooking spices, and a twist of licorice. All very faint and too watered down.
Thoughts – It's actually very different from the younger Appletons, the 12 year old jug, or the older 21 year old. Points of greatness are unfortunately ameliorated by weakness and an increasing lack of balance over the hours spent comparing it to all the others. In short, somewhat of a Shakespearean tragedy — potential and hubris being brought low by inherent flaws. Though even with all that, it leaves me somewhere closer to praising the rum than coming to bury it.
(86/100)
Other Rumaniacs reviews of this rum can be found on the website, here. Note that Serge was enthralled with it, while Marco was much more disapproving.