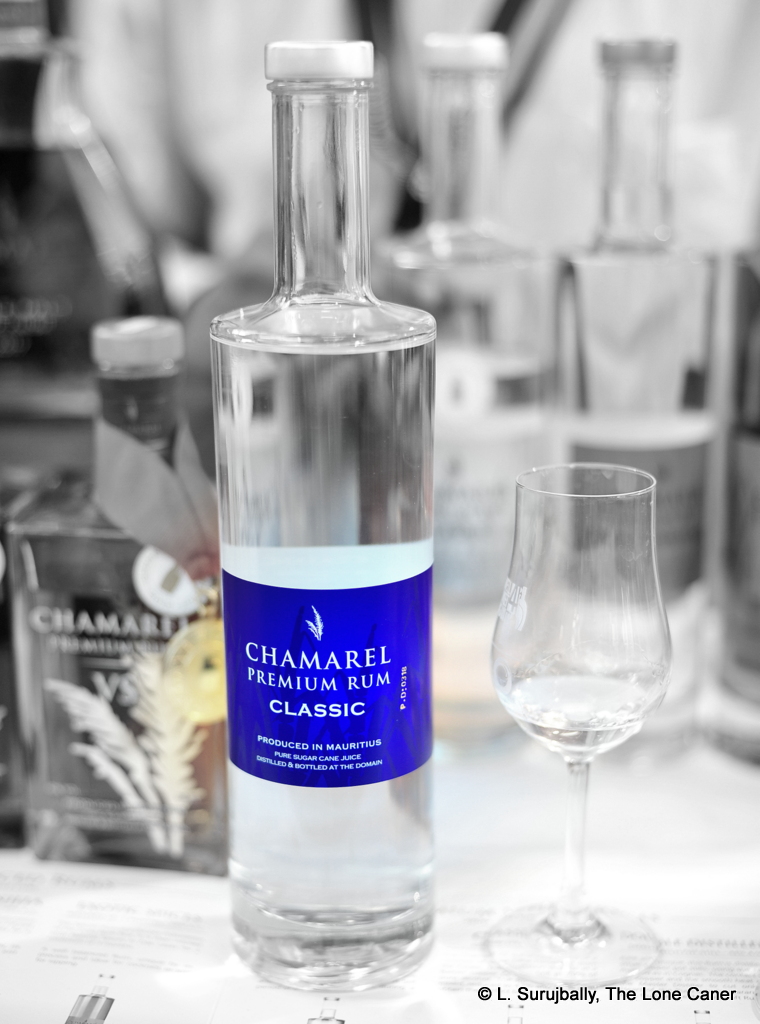 La Rhumerie de Chamarel, that Mauritius outfit we last saw when I reviewed their 44% pot-still white, doesn't sit on its laurels with a self satisfied smirk and think it has achieved something. Not at all. In point of fact it has a couple more whites, both cane juice derived and distilled on their Barbet columnar still: one at 42º (the "Classic 42") for cocktails like a mojito, and the other delivering a sharper 52º and clearly meant for the islanders' own beloved Ti-punch.
Chamarel distillery is situated in a small valley in the south west of Mauritius, cultivates its own sugarcane, and has a history on the island going back centuries. The distillery takes the title of a small nearby village named after a Frenchman who lived there around 1800 and owned most of the land upon which the village now rests. The area has had long-lived plantations growing pineapples and sugar cane, and a very long history of distilling its own back-country hooch for local consumption, much like the grogues of Cape Verde or the clairins of Haiti..
After 2006, when rum production was finally legalized (previously all cane had to be made into sugar by law), it began to emerge from the shadows, to become something the world started paying attention to. It's no coincidence that it was in 2008, at a time of weakening demand and reduced EU subsidies and a time of renewed interest in rum, that the owners of the Beachcomber Hotel chain (New Mauritius Hotels, one of the largest companies in Mauritius), created their new distillery on a 400-hectare estate.
The sugar cane is grown onsite and cut without pre-burning between July and December. The harvest is transported directly to the distillery and the crushed sugarcane juice filtered and taken to steel tanks for fermentation after which the wash is run through a copper pot still (for one of their white rums), or the two-column 24-plate still they call an alembic (for aged and other white rums). In all cases the rums are left post-distillation in inert stainless steel vats for three months (or more) before being transferred to ageing barrels of various kinds, or released as white rums, or further processed into spiced variations. In this case the classic is slowly reduced to 52% ABV over six months.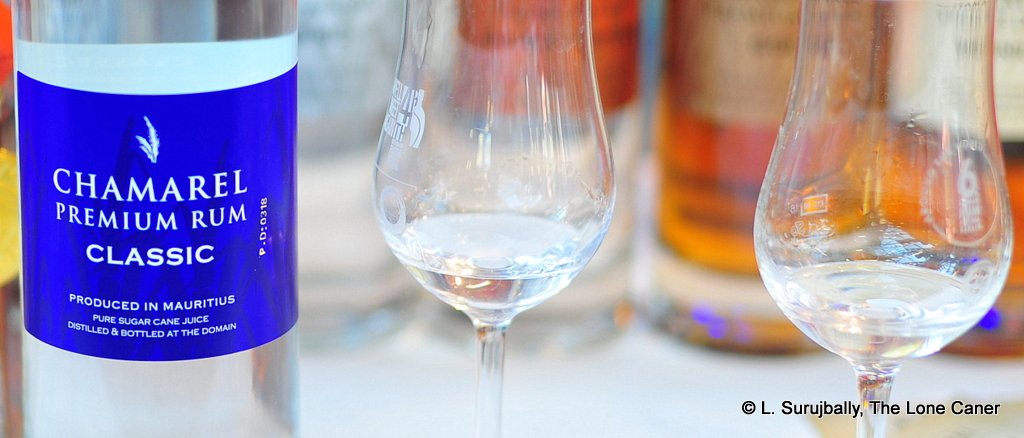 What comes out the other end and is released in a bottle smart enough to sport a doctorate from Cambridge, is a sleek stunner of a rum with a cosh in its back pocket. It's an intense and crisply fiery taste bomb, and my Lord, was there a lot going on under its crinoline – a hot combo of wax, olives, brine and sugar water, acetone and paint thinner, which vied with a veritable smorgasbord of light and watery fruit for the dominance of the nose: guavas, pears, Thai mangoes, watermelon and guavas with a touch of pineapple and strawberry infused water. Slightly sweet, salty and sour, a really distinctive, slightly-addled nose. It's sharp to smell, yet it's the sharpness of clear and crisp aromas rather than any deficiency of youth and poor cuts such as too often mars young rums subsequently marketed as cocktail fodder: this thing, on the contrary, smells like you could take it to dinner at the Ritz.
Having already tried – and felt somewhat let down by – the restrained, near-lethargic nature of the Chamarel pot still white, I wasn't looking for anything particularly "serious" when it came to how it tasted, aside from, perhaps, a bit of extra jolt from the higher proof point. I was happy to be disappointed: it was a firm and solid rhum on all fronts, both deep and sharp at the same time, laden with vegetals, wet grass, green apples, grapes, citrus, vanilla, pineapple and a mischievous hint of cider to shake things up. Waiting a bit and then coming back to it, I noted a crisp melange of lemon, thyme, biryani spices, marzipan, more light and tart fruits, some unsweetened yoghurt and even the creamy back end of white chocolate and almonds. It ended up closing the show with a last joyous and furiously spinning sense of fruit, citrus, pepper and a very hot green tea gurgling its way down.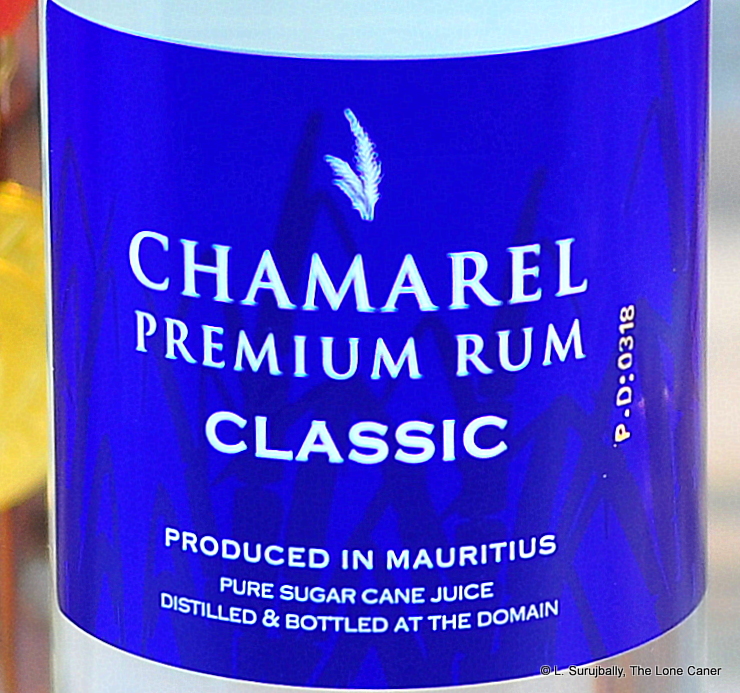 Personally I have a thing for pot still hooch – they tend to have more oomph, more get-up-and-go, more pizzazz, better tastes. There's more character in them, and they cheerfully exude a kind of muscular, addled taste-set that is usually entertaining and often off the scale. The Jamaicans and Guyanese have shown what can be done when you take that to the extreme. But on the other side of the world there's this little number coming off a small column, and I have to say, I liked it even more than its pot still sibling, which may be the extra proof or the still itself, who knows.
The Premium Classic was simply a rhum that invigorated, and was hugely fun to try without any attempt to be "serious" or "important". And that's a good thing here, I think, because it allows us to relax and just go with it. Now, a lot of us drink rums just to get hammered, start a convo, have a good time – and if we don't like it we chuck it away, or into a mix and any weakness is shrugged off by saying "others will like it" or "it's not meant for sipping." Meh. For me, either it works or it doesn't and this one – frenetic, alcoholic and cheerfully unapologetic – does its thing so well, that the day I tried it I looked at the guy at the booth doing the talk and the pour and laughed in sheer delight, didn't say a word and just held out my glass for more. I haven't heard much about this company or this rum since then, but I sure hope that gent remembers how much I liked his company's product.
(#807)(85/100)
---
Other notes
Although this is a rum

(

or rhum

)

deriving from cane juice

,

Mauritius does not have the right to call its products

agricoles

,

and I follow the practise in my naming and description.

.