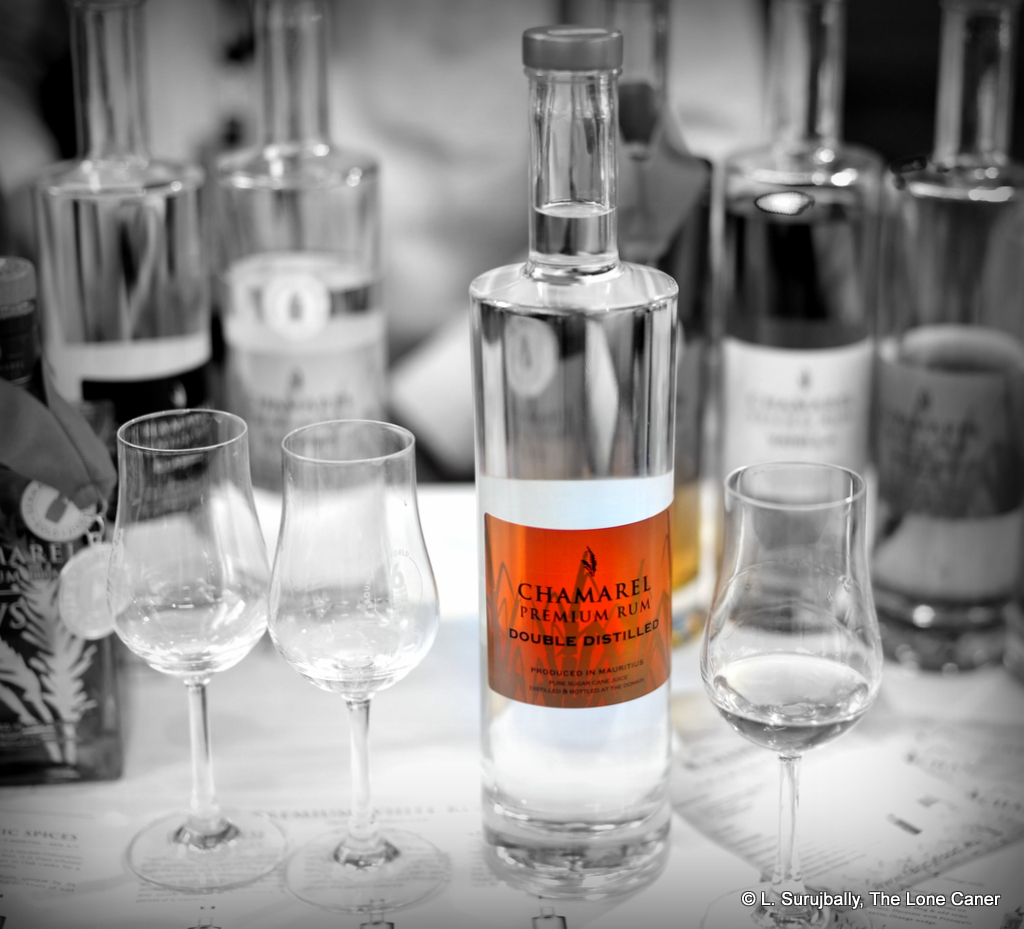 It says "rum" on the label, but for all intents and purposes we should be calling it rhum. Chamarel made it out of cane juice on the island of Mauritius, and it's an easy-going, sweet-smelling, good-tempered cane juice rhum that got wrung out of a pot still on the island and somehow didn't turn into some foul-smelling, cantankerous harridan in the process.  That's probably deliberate, because had they done so, while it might have enthused the fanboys of unaged white lightning made in the backwoods, it might also cost a sale or two among the less adventurously minded.
Suffice to say, the rhum derives from cane that is grown and harvested on their estate, crushed within the day and the juice fermented for around 36 hours; then it's run twice through Chamarel's small (20 hL) copper pot stills and that's about it.  Into the bottle with you, at a workmanlike 44%, white as water. It presents demurely and innocently – nothing to see here, folks, move along.
What comes out of it and into your glass is, to say the least, surprising.  You know me, I like those feral white rums north of 60% that barely contain their untamed ferocity and wild screaming tastes, and strut around thumping their chests like King Kong in a glass.  This one isn't anything like that.  It's warm and firm, with a sort gentle complexity rising to the nose: brine, olives, wax, swank, and watery fruit like pears and white guavas.  There's a nice snap of sugar cane juice here, coconut water, vanilla, and a bagful of fruits that aren't aggrieved and pissed off so much as resigned to just chilling out.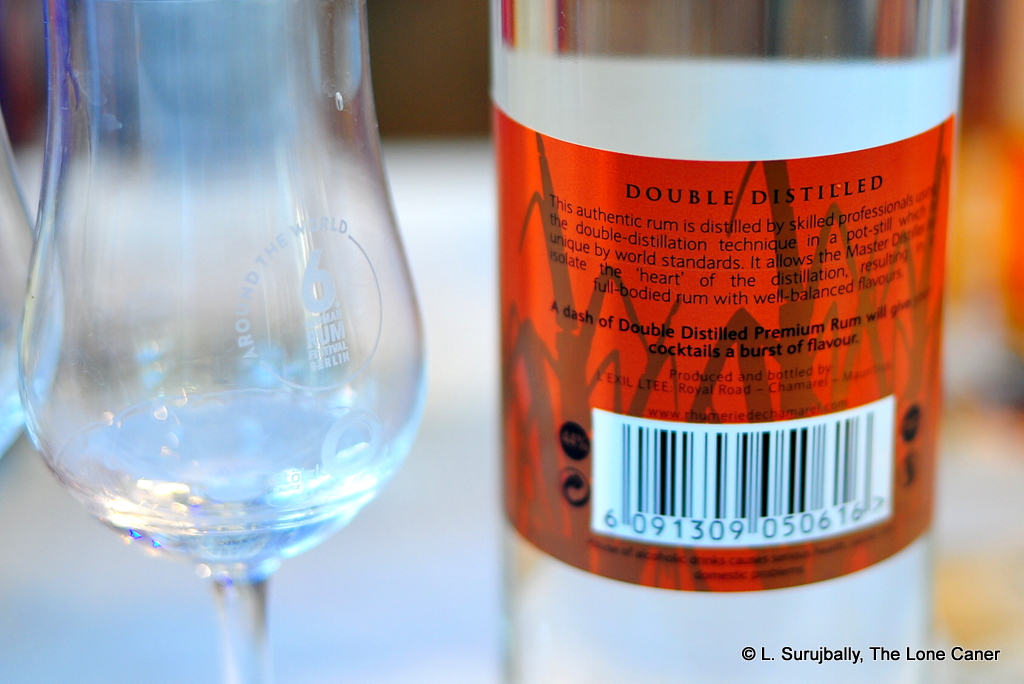 On the tongue it gets crisper, clearer: which is good in its own way, yet creates other problems, the most notable of which is that it becomes evident that there are just a few clean tastes here, and that's all. Light vanilla, cereals, nuts, almonds and chocolate, developing gradually into some acidic yellow fruits (unripe mangoes, pears, apricots) and a subtle line of citrus that could have been stronger.  It's pleasant and easy to drink, and the finish is short and breezy — fruits and vanilla and some white chocolate — with nothing substantially new to add.
Overall, it's a perfectly nice drink, yet I'm left vaguely dissatisfied, since it started so well and then just kind of dribbled away into an anonymity from which I felt the pot still and lack of ageing should have saved it. Was it perhaps too well tended and planed away to appeal to the masses?  Maybe.
So, no, this isn't Rumzilla, or a King Kong of the blancs.  But with some effort it might get close to that big bad boy, because you can sense the potential, were it to be stronger and babied less in the cuts, allowed to have its head to go (no pun intended) a little ape. Then it could be, at the very least, the Son of Kong.  In a nice little perfume box.  I could completely live with that.
(#781)(79/100)
---
Other Notes
La Rhumerie de Chamarel, located in a small valley in the south west of Mauritius, cultivates its own sugarcane, and has a history on the island going back centuries. The distillery takes the title of a small nearby village named after a Frenchman who lived there around 1800 and owned most of the land upon which the village now rests. The area has had long-lived plantations growing pineapples and sugar cane, and in 2008 the owners of the Beachcomber Hotel chain (New Mauritius Hotels, one of the largest companies in Mauritius), created the new distillery on their estate of 400 hectares, at a time of weakening demand and reduced EU subsidies. Rum really started taking off in post 2006 when production was legalized – previously all sugar cane had to be processed into sugar by law. 
The sugar cane is grown onsite and cut without pre-burning between July and December. The harvest is transported directly to the distillery and the crushed sugarcane juice filtered and taken to steel tanks for fermentation after which the wash is run through a copper Barbet-type plate still (for white rums), or the two-column 24-plate still they call an alembic (for aged and other rums). In all cases the rums are left post-distillation in inert stainless steel vats for three months before being transferred to ageing barrels of various kinds, or released as white rums, or further processed into spiced variations.