Savanna's 2005 Cuvée Maison Blanche 10 Year Old rum, in production since 2008 is a companion to the 2005 10 YO Traditionnel and a somewhat lesser version of the superb 2006 10YO HERR issued a year later, and that one, you will remember, blew my socks off back when I tried it.
Going strictly by the numbers, it hardly seems to be very different from the various traditionnel (i.e., molasses based) rums that are released with great regularity by the distillery. But actually, these "White House" 10 YO rums date back to when the 1998 edition was first released as a millesime and has always denoted something a bit more special from the season. Such rums are intermittently issued, not annually, and have become something of an underground search-for by some (myself included) even if they are not that well known and are nowadays eclipsed by the various Grand Arômes and special series that pop up with much fanfare every year or two. The title, as an aside, references the original Savanna distillery in Saint Paul which bore the name of "Maison Blanche."
We know a fair bit about Savanna by now (see here for a mini bio if you don't), so we'll get straight into what it's like. Note, first off, that the name has nothing to do with its type – it's not a white rum, but an aged dark gold one, which would seem obvious, but isn't always, so I mention it in passing.
The nose is very nice for something at 43%, and I've always wondered why they kept the strength that low: but for sure it'll provide its adherents many pleasures, like the warm, creamy aromas of honey and caramel, to start. There's some vanilla, flowers, oak tannins and bite, the vague fruitiness of peaches and ripe cherries and something a bit lighter (pears, I'd say). The balance among the various pieces is nicely done, though it feels somewhat faint, which may be my schnozz, not yours.
I'm not sure if I mentioned this before, but I usually do standard strength rum tastings first thing in the morning when the palate is at its most sensitive and I haven't (yet) been brutalized by a bunch of stampeding overproofs. That helps here, because although it also makes it seem sharpish, what it really is, is clean and fresh and bright, a delicate smorgasbord of caramel, nuts, molasses, vanilla, fresh red and white fruits (apples, peaches, pears, watermelon, strawberries, papaya, cherries). That's enjoyable, but the finish – short, clear, clean, minty and with some caramel, vanilla and sour cream – departs too soon and is gone too fast for any sort of real appreciation.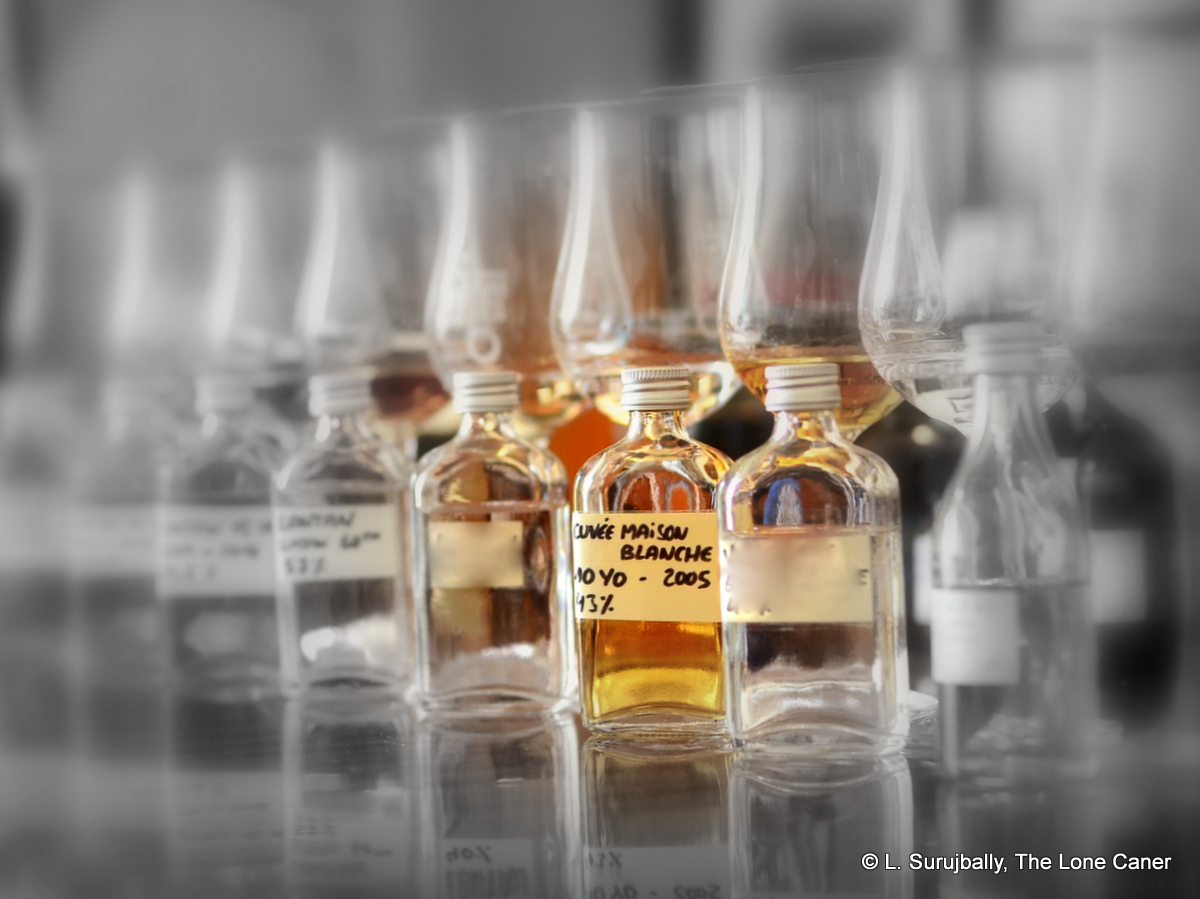 That finish is representative of what I consider something of a deficiency for the Maison Blanche's – the low strength, which hamstrings tastes that need jacking up to be appreciated more fully. The rum walks a neat line between acid and tart and musk, between soft and sharp notes, and I did enjoy it, especially for that peculiar note to it on the end, a wispy salt-tobacco-pineapple thing that to me is the creole island twang of Savanna. But I honestly wish they had bottled it at a higher proof, something to give it a bit more oomph and smack, that would draw out and showcase those tastes more decisively. Too much is lost in the obscuring fog of 43% for me to consider it truly special — and that's a shame for a rum that is in most other respects quite a lovely drink.
(#762)(83/100)
---
Other Notes
The year of the edition is always on the front label

,

at the bottom

As always

,

thanks and my appreciation to Nico Rumlover

,

who sent me the sample

.