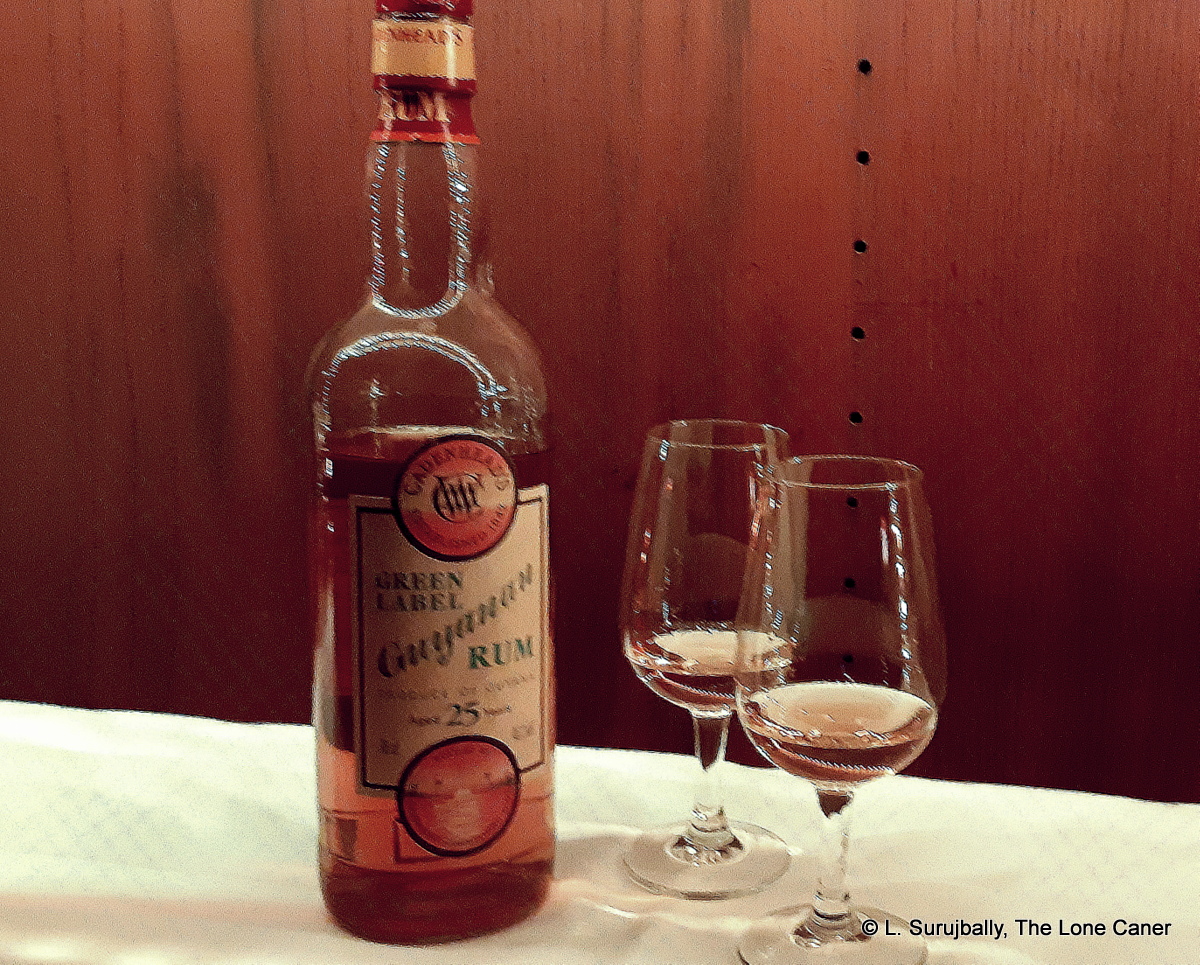 Cadenhead just refuses to depart the rum scene, which is probably a good thing for us. We see rums too rarely from Berry Bros & Rudd, Gordon & MacPhail or AD Rattray, who were among the first introductions many of us ever had to fullproof single cask rums (even if they were sadly misguided whisky bottlers who didn't know where or what the good stuff truly was). And there's Cadenhead, persistently truckin' away, releasing a bit here and a bit there, a blend or a single cask, and their juice goes up slowly but steadily in value (e.g. the fabled 1964 Uitvlugt which sold on RumAuctioneer a few months back for a cool three grand).
Cadenhead has always marched to its own tune and idiosyncratic, offbeat bent. They never really created a consistent feel for their rums, and had a number of different rum lines, however small, however similar (or peculiar). There's the blended one-off of the Classic Green Label rum, there is the whole "standard" Green Label range with their cheap-looking, puke yellow/green labelling design and occasional playful experimentation; there's the green box and more professional ethos of the 1975 Green Label Demerara, and then there's the stubby yellow- label "dated distillation" bottlings of the single casks, which carries three- or four-letter marques on them, about which I have always joked they themselves never knew the meanings.
Usually I go after the single casks, which seem to be made with more serious intent. But the lower-end Green Labels have some interesting ones too, like that Laphroaig finished Demerara 12 YO, or the Barbados 10 YO (no it's not a Foursquare). Even the Panama 8 YO had its points for me, back when I was still getting a handle on things. So to see a 25 year old "Guyanan" rum (that term irritates me no end) is quite enough to get my attention, especially since this is the top end of a small range-within-a-range that also has an 8 and a 15 year old. Alas, age aside, there are few details to be going on with – no still, no year of distillation or bottling, no outturn. It is 46% and non filtered, not added to, and I think we can take it for granted that it's continentally aged.
As with all Guyanese rums where the provenance is murky, part of the fun is trying to take it apart and guessing what's inside when it's not mentioned. The nose gives a few clues: it's warm and fruity, with ripe prunes and peaches right up front. Some nuttiness and sweet caramel and molasses the slightest bhoite of oak. But none of the distinctive wooden-still glue, pencil shavings, sawdust and anise are in evidence here. Actually I find the smell to be rather underwhelming – hardly the sort of power and complexity I would expect from a quarter century in a barrel, anywhere.
Perhaps redemption is to be found when tasting it, I mutter to myself, and move on actually drinking what's in the glass. Mmmm….yeah…but no. Again, not quite spicy – initial tastes are some toffee, toblerone and gummi bears, dark fruits (prunes, plums and raisins for the most part, plus a slice of pineapple, maybe an apple or two). Molasses, smoke, leather, a touch of licorice, brine, olives. With a drop of water, it gets drier and a tad woody, but never entirely loses the thinness of the core profile, and this carries over into the finish, which is sharp and scrawny, leaving behind the memory of some fruits, some marshmallows, some softer white chocolate notes, and that's about it.
Leaving aside the paucity of the labelling, I'd say this was not from any of the wooden stills, and very likely an Uitvlugt French Savalle still rum. There seems to be quite a bit of this washing around Cadenhead in the late 1990s, so I'll date it from there as a sort of educated guesstimate.
But with respect to an opinion, I find the rum something of a disappointment. The deeper notes one would expect from a Guyanese rum are tamped down and flattened out, their majestic peaks and valleys smoothened into a quaffable rum, yes, but not one that does much except exist. Part of the problem for me is I honestly don't think I could tell, blind, that this thing was 25 years old, and therefore the whole point of ageing something that long (no matter where) is lost of the drinker can't sense and enjoy the voluptuous experience and rich complexity brought about by chucking something into a barrel until it's old enough to vote. With this 25 year old, Cadenhead implicitly promises something that the rum just doesn't deliver, and so it is, while drinkable, not really one of their stellar must-haves.
(#758)(82/100)
---
Other notes
It's surprising how there is almost no reference to this rum online at all. It suggests a rarity that might make it worth getting, if the taste was not a factor.