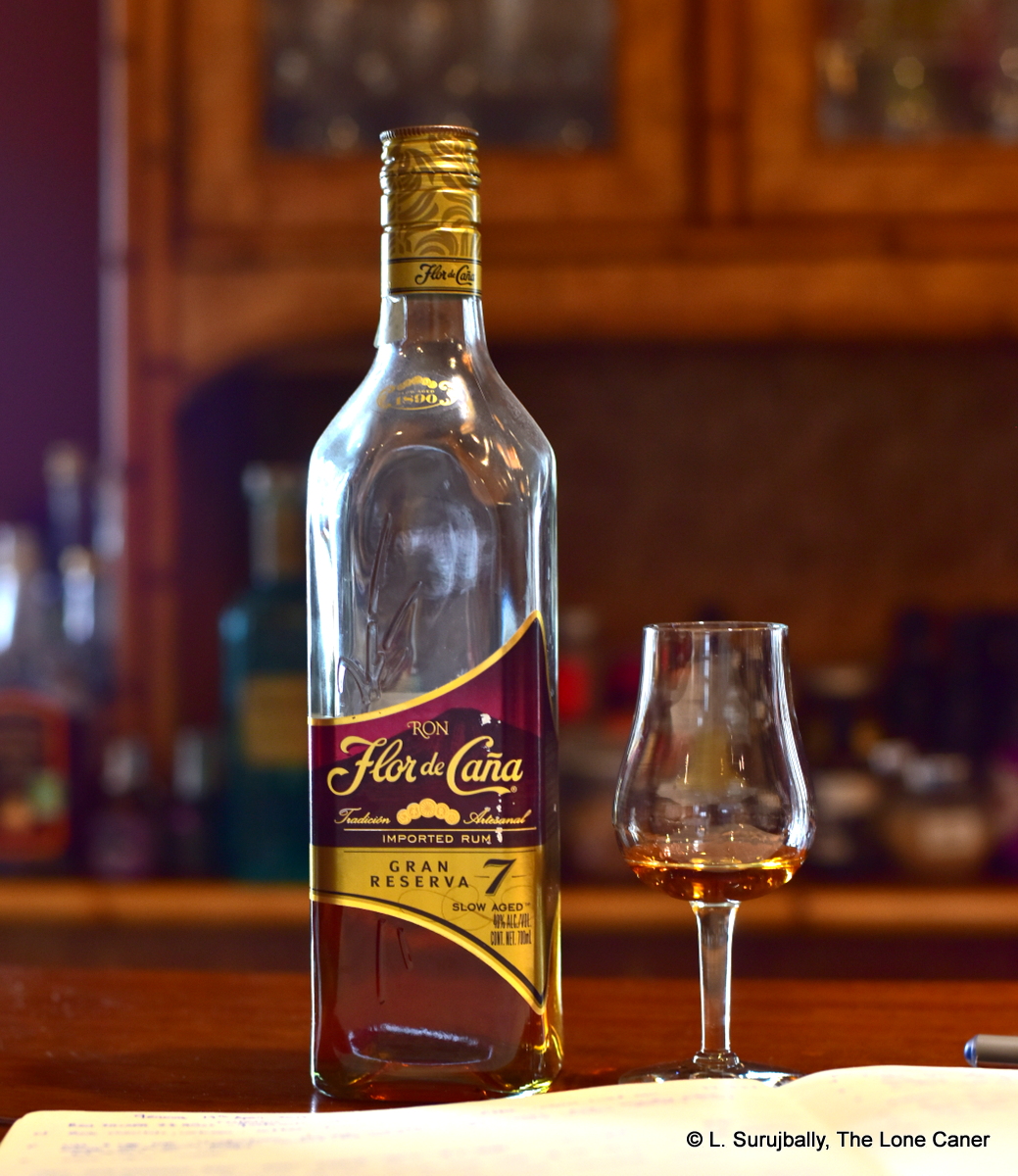 There was a very good reason why I took this bottle off a shelf and tried it, even when surrounded by many other rums from equally proud old houses, better made, stronger, of greater quality, produced to more exacting standards, with less kerfuffling oin the label. And that was because I was evaluating Flor de Caña's entry-to-mid-level rum to see whether it could or should be named to the Key Rums series. The price was attractive, and I retained good memories of an epic bender with my Newfie squaddie Keenan, where we polished off a bottle in labba time on his deck while discoursing on method, critiquing pure reason and waxing poetical on ethical conundrums.
At the time, I had long been a fan of the Flor rums, and they were among my favourite of the first 100 reviews written here, including the original 7 year old I had cut my baby rum teeth on. But back in 2010, they were not the same rums I was drinking now, nor was the same person doing the drinking. Ten years ago, for example, they really did say "7 años" on the label, and not just the deceptive looking numeral 7 without any elaboration at all. The completely meaningless, clueless, pointless and useless — but evocative — "slow aged" and "handcrafted" monikers was on both bottles, but now they had gone a step further and trademarked the former, just to make sure, I guess, that somebody else didn't come up with the time dilation effects of being around a glass of the stuff. These days, I just pass that kind of stuff with some impatience and get right into the glass.
The nose started decently enough – warm, fruity, welcoming. It was a bit too sharp for easy sniffing, and the burn of cheap acetone and furniture polish denigrated the experience some. Still, what came after was pleasant – blancmange, bananas, cigar smoke, raisins and some molasses, a bit of tinned peaches, nothing too out of left field, or too aggressive. For a column still product pushed out at 40% ABV, it was all right, and didn't blow the roof off, or fade into tasteless bland listlessness that sometimes characterizes such bottom shelf products.
The palate really needed work. There was quite a bit more than the nose, mind — bitter chocolate, almonds, orange peel, stale cigar smoke (in an unventilated bar the day after a late close – ever been in one of those?), black tea, some brown sugar and brine, sweet soya, molasses, and the further bitterness of wet charcoal and ashes. The problem was, the whole palate was unbalanced and weak. I don't say that entirely because of the strength, though that didn't help, but because there everything was so dialled down and faint that it took me the best part of an hour to dissect it…and worse, the discordant pieces clashed and banged against each other without harmony, and instead of leading to the quiet glide of a smooth finish, it shoved brine and caramel and vanilla roughly down the gullet and pronounced itself satisfied it had given what had been paid for.

So, after trying it and feeling a distinct sense of being let down, I had to concede that the passage of ten years had changed me and my profile preferences, as well as, probably, the company.
It's possible that the now-famous 2015 Vice magazine hit piece (about Flor's purported responsibility for Chronic Kidney Disease which was killing workers at an alarming rate, which was long on inconvenient truths and short on contradictory evidence or Big Picture, but that nevertheless caused a partial bartender's boycott of their rums in North America) took Flor by surprise. And in their scrambling to retain market share and recover from the mountain of bad press, they started to cut corners to save money. Or maybe they just misread the tea leaves, completely ignored the head of steam that pure single rums were just starting to make and went cheap and mass market and standard strength, instead of to the niche top end where real profits lie.
Whatever the case for the devolution of the rum from its progenitor, it cannot be considered as being an undiscovered steal. It's not the same rum I had back then. Is it younger? No way to tell — it's a blend now, and some of the trust the company had once possessed has now evaporated, so who's to tell? The important take-away is that drinking it didn't make the hours fly faster, just slower, enough to get the tasting over and done with, and with less enjoyment. A decent rum this was. A good mixing agent, yes, surely. A key rum, though? Not really – it is, in point of fact, quite a bit less.
(#723)(76/100)
---
Other notes
My low-to-middling opinion here is something of a minority. Several others quite liked it, so if you want some balance to my snark, check these guys out: