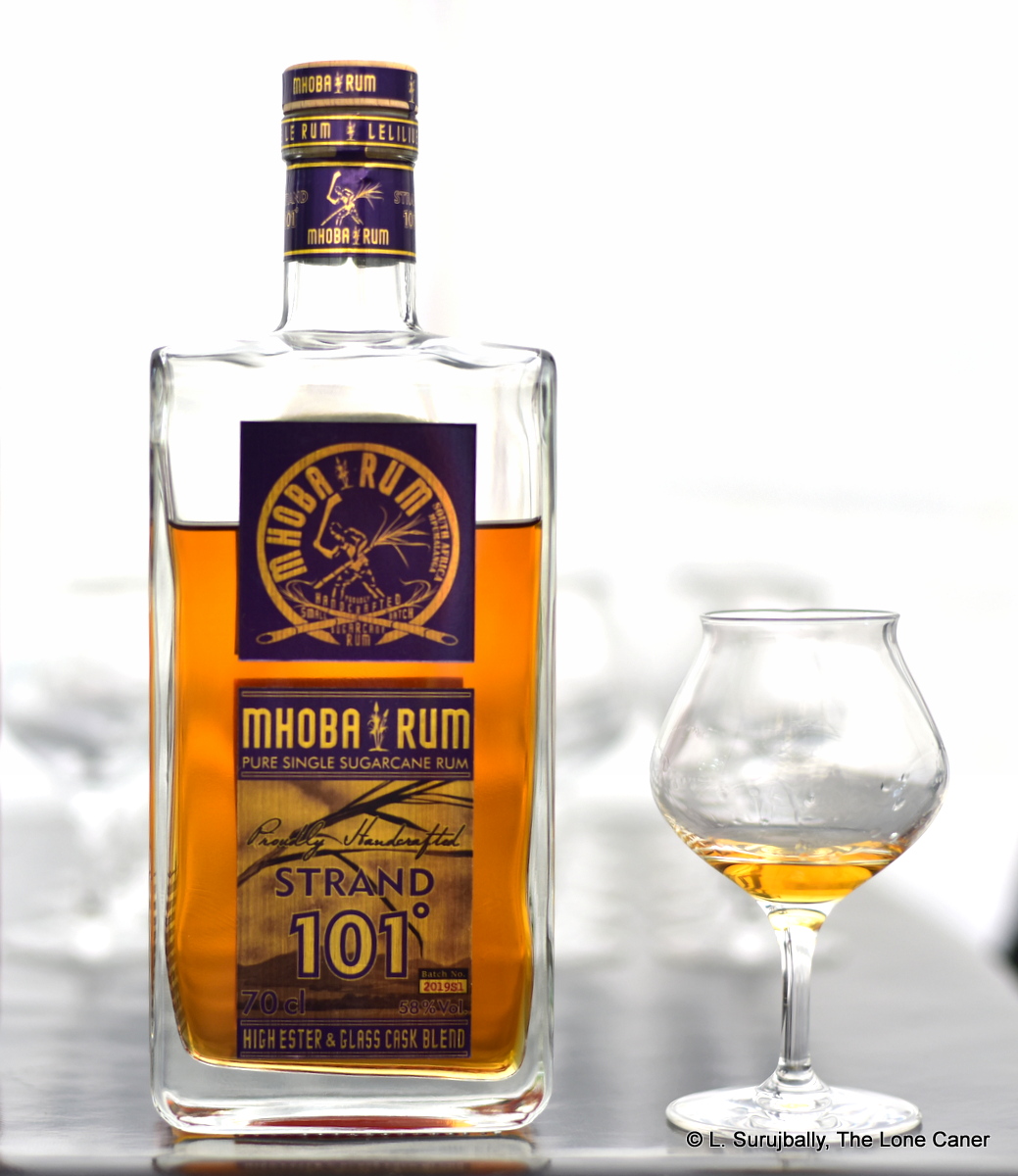 It's when you smell and then taste the Strand 101° (58% ABV) rum from South Africa's Mhoba, that you begin to get an appreciation for what this relative newcomer has accomplished in so short a time. The initial punch is all pot still, all righteous reek, all the time — there's no holding back and it's just fascinating to inhale. It smells sharply of paint thinner, nail polish, turpentine and rancid fruit left to go bad in the sun…after a tropical rain, with the steam still coming off the ground. It contains the tartness of a lemon meringue pie mixed up with green apples and gooseberries and a flaky, buttery crust. Sugar cane sap, cider, sour cream, brine, and the rising aromas off a loaf of sourdough bread fresh from the oven. And over all that is the clear scent of candy floss and bubble gum. I mean, is that a great beginning or what? If I closed my eyes I could hear the Wailers.
A combination of rums from a single still – part was aged, part was unaged, and blended after the fact – the taste was low key and enormously satisfying, and it reminded me of nothing so much as a slightly off-kilter Smith & Cross. Which is not surprising, since that was exactly what they were aiming for (see below). Right away there came a blast of rotten and overripe fruits doused with caramel, then baked into a pie (yeah, I know how that sounds). Strawberries, white chocolate, apricots, bubble gum, vanilla, toffee and nuts. There's just enough to make for complexity, some real funkiness, yet held back enough to make for a a fascinating, well-balanced synthesis.
Mhoba's white was uniquely itself, while French cask suffered (only in my opinion) from trying to be too much and the elements jangled restlessly and failed to come together – here there was no such problem. Even the finish succeeded – long, dry, briny, creamy and toffee-like. There was a touch of citrus and tart sweetness, and the fruits relinquished the stage, ceding the foreground and taking a step back.

The Strand 101° was specifically designed by Knud Strand, a colourful Danish distributor who worked closely with Robert Greaves (as he had with many brands before) to bring the Mhoba line to market. What he was looking for was to create a blend of unaged and aged rum from pot stills, adhering to something of the S&C profile but from only one still (not two or more). He was messing around with samples some time back and after making his selections finally came back to two, both fullproof — one, slightly aged was too woody, with the other unaged one perhaps too funky.
The idea to market such a rum to the South African high-end bar scene, while ensuring it would not tread on the corns of or compete with Havana Club or Bacardi (who had commercial contractual relations with many of them), and at the same time provide a balance of freshness, funkiness and woodiness. He mixed them up in varying proportions and came up with one blend that was so absolutely right that after testing it around and being given loads of plaudits, he and Greaves decided to bottle it. And in a gesture of unusual generosity, Greaves named it after Knud, since, as he put it, "It is your blend."
Well, the story may have a few more steps, and maybe there's more (or less) than I've recounted. What's clear to me is how good the rum really is. Just about everything works here, the strength, the still, the cuts, the assembly, the balance between babyhood and youth, herbals and woods, the lot. It's a rum without doubt hewing to the path of rums of yore, while twisting things just a smidgen to highlight it own origin, its own still and its own design. If one small outfit with a tinkered pot still and some gumption can make a series of rums so well, so fast (and it really does seem to be something of a trend nowadays, doesn't it?) then not only will the better known Caribbean houses have to make some room for this new kid and others like it, but you know what? — they may seriously have to up their game and look to their laurels, because a whole raft of such new and nimble fast-movers is coming.
(#673)(86/100)
---
Other Notes
The small South African company of Mhoba needs no more introduction after Steve James's three part write up

(

Part

1

,

Part

2

and

Part

3),

and the more recent

Rum Revelations interview

,

but I include the links here for completeness

.

The blend is roughly

50-50

between the unaged high ester component and the very slightly aged part

,

depending on their relative concentrations

.

Strength is

58%

which in Imperial measurements works out to

101

proof

.

The blue and gold colours of the label were chosen in homage to the Smith

&

Cross Jamaican rum which was its initial inspiration

.