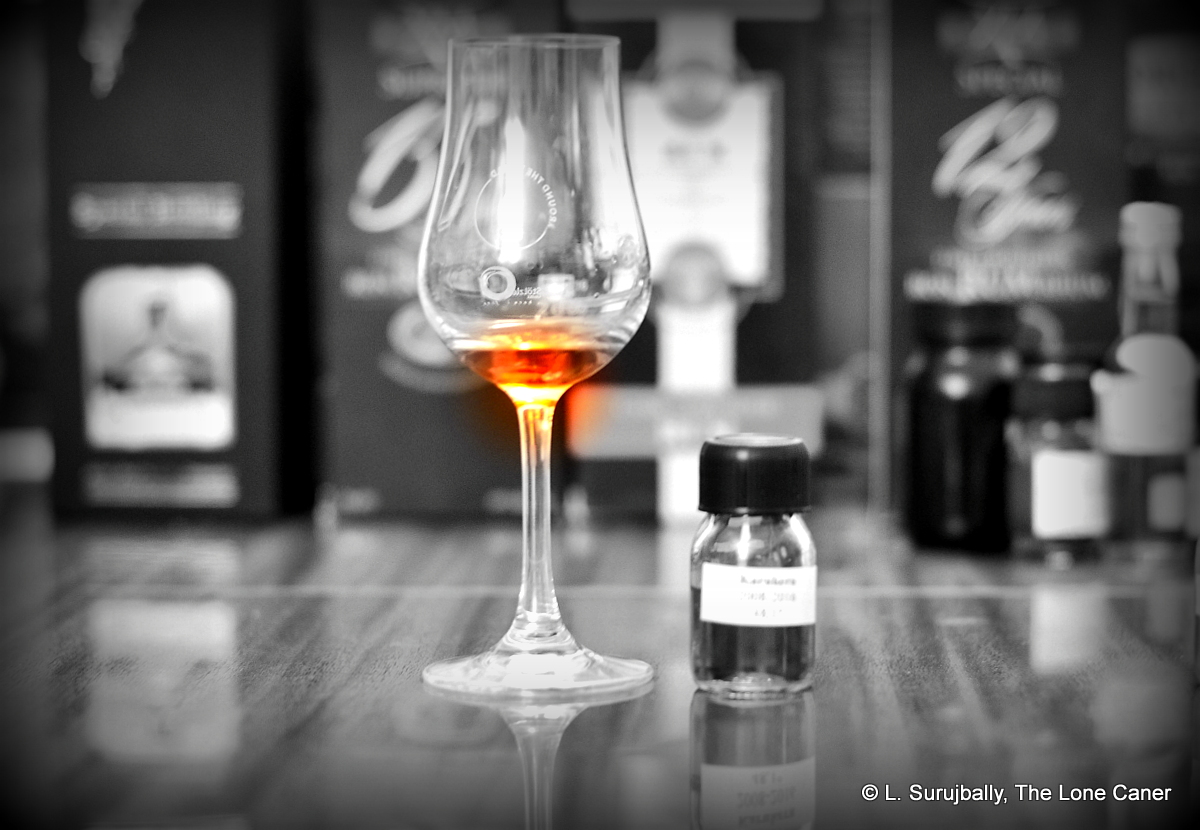 Karukera, that small distillery on the eastern side of the left wing of Guadeloupe also known as Basse-Terre (in the Domain of Marquisat de Sainte–Marie) used to release bottles with an AOC designation — it was clearly visible on the labels of the Millesime 1997 and the Rhum Vieux Reserve Speciale I went through some years ago. However, by the time 2016 rolled around this apparently had been discontinued, since the "L'expression" 8 year old bottled in that year shows no sign of it.
While Guadeloupe as a whole has always been somewhat ambivalent about going the whole hog with the AOC, no-one can doubt that their rhums do not suffer from any lack just because they are or are not part of the protocol. The rhum under review today, for example, is quite a good product, made as it is from cane juice of the famed high sugar-content canne bleue (which also makes a rip-snorting white), column-still distilled, a firm 48.1% ABV, and released to some fanfare in early 2017, during which several prizes came its way.
That said, I did find it somewhat…odd. For one thing, though the nose initially presented as nicely sweet and deep — with pineapple, fresh baked bread, toffee, nuts, bon bons, nougat, vanilla, licorice and salted caramel in particular perking thinks up — there was a background hint of molasses that I couldn't pin down – what was it doing there, y'know? There was also some cumin, ginger, fennel and rosemary, a good bit of citrus zest (lemon), so it was a pleasant rhum to smell, but overall it displayed less of the grassy, sap and dry watery aromas that would normally distinguish any agricole.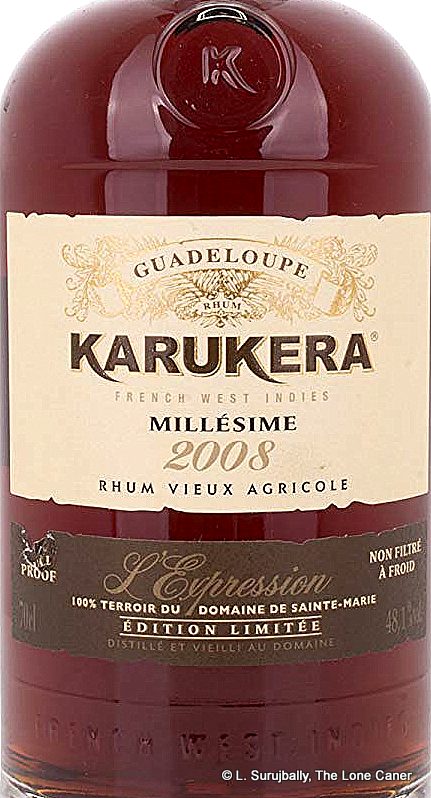 Unlike many aged agricoles that have run into my glass (and down my chin), I found this one to be quite sweet, and for all the solidity of the strength, also rather scrawny, a tad sharp. At least at the beginning, because once a drop of water was added and I chilled out a few minutes, it settled down and it tasted softer, earthier, muskier. Creamy salt butter on black bread, sour cream, yoghurt, and also fried bananas, pineapple, anise, lemon zest, cumin, raisins, green grapes, and a few more background fruits and florals, though these never come forward in any serious way. The finish is excellent, by the way – some vague molasses, burnt sugar, the creaminess of hummus and olive oil, caramel, flowers, apples and some tart notes of soursop and yellow mangoes and maybe a gooseberry or two. Nice.
So yeah, like I said, it's good, but a little confusing too — initially, not much seems to be happening and then you realize it already has, and sorting out the impressions later you conclude that what you were getting was not entirely what you were expecting. For my money, it was not anything outstanding. I personally preferred the 2004 Double Maturation a lot more – that one was intriguing and complex, and navigated salt and sweet, soft and crisp, in a way this one tried to, but didn't. The nose and the palate were at odds not just with each other but themselves, in a way, and it was overly fruity-sweet. That's not enough for me to give it a bad score, just to make me look elsewhere at the company's rhums, for something that might erase the memory of a Hawaiian pizza which the L'Expression so effortlessly brings to mind every time I sip it.
(#647)(83/100)
---
Other Notes
Big thanks to Cyril of

DuRhum

for the sample

A smaller 1500-bottle outturn of the

2008

millesime was released for La Maison du Whisky's 60th Anniversary in the same year

,

at

48.4%.

A

2008

Batch

2

was released at

47.5%

with

3500

bottles but the year of bottling is unknown

–

it can be distinguished by a blue portion of the label

,

missing on the one I tried here

.

My bottles from

2012-2013

show an AOC moniker on the labels

,

which is not there now

.

The website also makes no mention of it

,

so I am left to conclude that it no longer conforms to the AOC designation

.

If anyone has some details

,

please let me know and I'll update the post

.